As shown in the given location Bucharest location map that Bucharest is located on the bank of Dambovita River in southern region of Romania. Bucharest is the largest and capital city Romania.
Location Map of Bucharest, Romania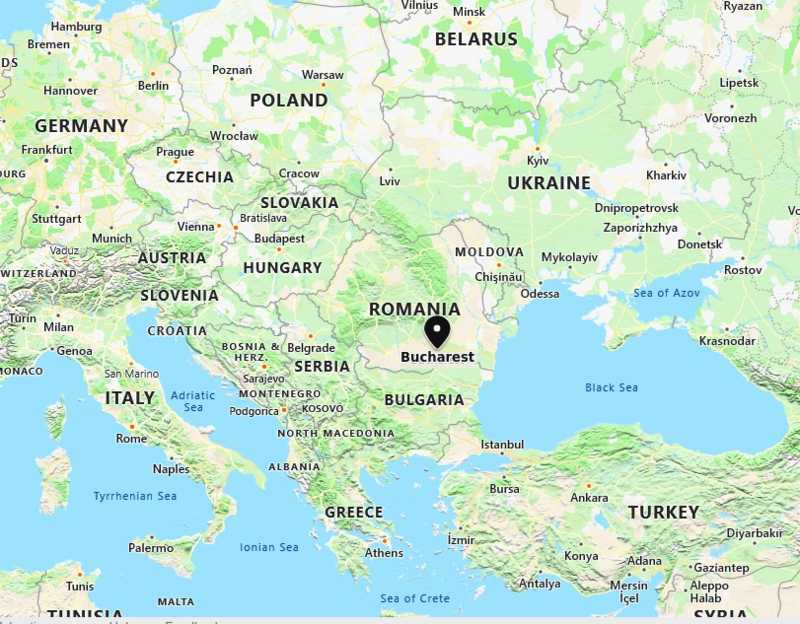 About Map:
The map showing location of Bucharest in the Romania.
Where is Bucharest City Located?
Bucharest, is the capital and largest city of Romania, as well as its cultural, industrial, and financial centre. Bucharest is situated in the southeastern corner of the Romanian Plain at 44°25′57″N 26°06′14″E, on the banks of the Dâmbovița River. It is the political, financial, industrial, and cultural center of Romania. It is also known as the "Little Paris of the East" (Micul Paris) because of its beautiful and elegant architecture.
The city Bucharest was officially founded in 1459. Since that it has experience very much changes and finally in the year 1862, it became the state capital of Romania. At present, the city is major industrial center of Romania. It has very good education facility, convention facilities, cultural venues, shopping arcades, and recreational areas.
Moreover, Bucharest has various beautiful landscapes along with many parks that keep it green and clean.
UEFA Euro 2020 - Bucharest Stadium schedule, venues, teams
Sunday June 13 - Group C: Austria vs North Macedonia; Kick-off 5pm (Bucharest)
Thursday June 17 - Group C: Ukraine vs North Macedonia; Kick-off 2pm (Bucharest)
Monday June 21 - Group C: Ukraine vs Austria; Kick-off 5pm (Bucharest)
Sunday June 27 - Game 6: Group F winners vs third-placed side from Group A/B/C; Kick-off 8pm (Bucharest)
Bucharest City - Facts
| | |
| --- | --- |
| Continent | Europe |
| Country | Romania |
| County | Nonea |
| Coordinates: | 44°25′57″N 26°6′14″E |
| First attested | 1459 |
| Area | 228 km2 (88 sq mi) |
| Metro Area | 1,811 km2 (699 sq mi) |
| Elevation | 55.8-91.5 m (183.1-300.2 ft) |
| Population (1 July 2020) | 2,155,240 |
| • Rank | 1st in Romania (4th in the EU) |
| Density | 8,026/km2 (20,790/sq mi) |
| Dailing Code | +40-1-xxx-xxxx |
| Zipcode | Bucharest has 12,403 zip codes and they range from 010011 to 077191 |
| Area Codes: | 21, 31 |
| Demonyms | Bucharester (en) bucureștean, bucureșteancă (ro) |
| Time zone | UTC+02:00 (EET), in Summer DST - UTC+03:00 (EEST) |
| GDP (Nominal) | €52.2 billion (23.9% of Romania) |
| - Per capita | €28,573 |
| HDI (2018) | 0.917- very high |
| Airport | Henri Coandă International Airport (IATA: OTP, ICAO: LROP) |
| Roads | A1 , A2 Sun Motorway, A3 |
| Railway ( Căile Ferate Române) | Gara de Nord ('North Station') |
| Climate | Humid subtropical climate |
| Website | pmb.ro |
Places to Visit in Bucharest, Romania
| | | | |
| --- | --- | --- | --- |
| Palace of Parliament | National Museum of Romanian History | Tineretului Park | House of the Free Press |
| Romanian Athenaeum | MNAC Bucharest | Bucharest Botanical Garden | Bucharest National Opera House |
| Dimitrie Gusti National Village | Antipa Museum | Vacaresti Park Nature Reserve | Drumul Taberei Park |
| Stavropoleos Monastery Church | Revolution Square | Zoo Bucharest | Izvor Park |
| King Mihai I Park | Mogoşoaia Palace | Herăstrău Lake | Divertiland Parks |
| Cișmigiu Gardens | Carol Park | National Military Museum | Linden Park |
| The Arch Of Triumph | University's Square | Museum of Senses | Cernica Monastery |
| The National Museum of Art of Romania | Therme Bucharest | Children's Town Bucharest | The Fire Tower |