California is the third biggest state in the U.S. It covers a total area of 411,048 square kilometers. Bordered by Oregon, Nevada, and Arizona on its three sides, the Pacific Ocean forms its western border, the state has 58 political subdivisions or counties.
Map of California with Cities, Road, River, Highways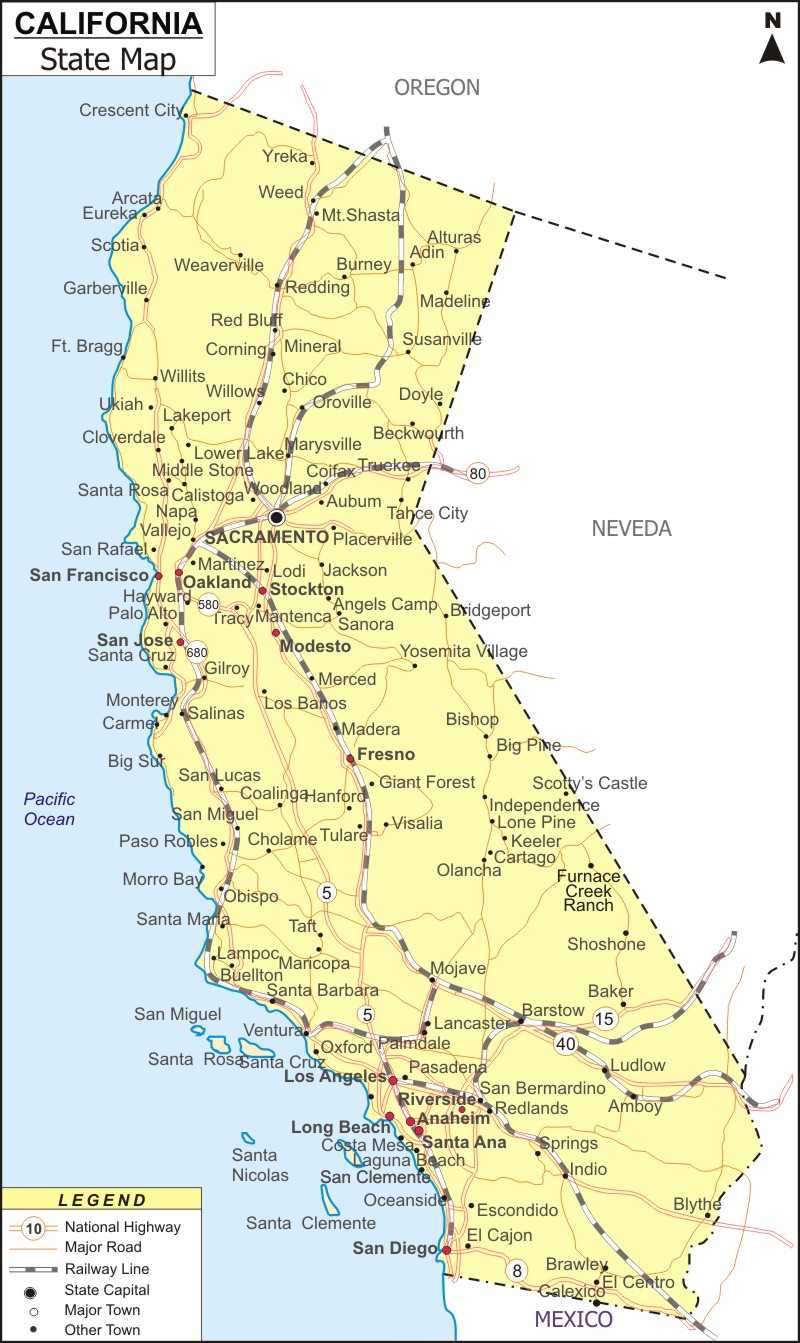 About Map: California Map showing state boundary, the capital, highways, roads, rails, rivers, major cities and towns.
About Map of California
The map of California provides a comprehensive overview on the exact geographical location, heterogeneous topography, and political divisions of the state. California is located on the southwestern part of the United States of America (USA). It is the 3rd biggest state in the country. California is the most populous U.S. state, It has a population of 39,512,223 as of 2019 U.S. Census Bureau Facts.
The State of California is the third-largest by area, covers total area of about 163,696 square miles. The land area of the state is 155,959 sq mi and total water area of the state is 7,737 sq mi. The state is surrounded by Oregon on its northern border, by Nevada on its eastern border, by Arizona on its southeastern border, by Baja California Norte of the Mexican State on its southern border, and by the Pacific Ocean on its western border. Politically, the state is subdivided into 58 counties for administrative convenience and each county is efficiently administered by the respective county seats.
The California State Map points out the important cities of the state. It helps you clearly locate Sacramento, the capital of the state. Several lakes and rivers flow through the State of California. The state falls under the watershed area of the Pacific Ocean.
Some of the prominent rivers that you can locate on a map of California are as follows:
San Joaquin, Eel, Salinas, Smith, Klamath, Salmon, Scott, Copper Creek, Shasta, Lost, Mad, Mattole, Sacramento
Mono, Tulare, Clear, Owens, Havasu, and Tahoe are few of the important lakes of the state.
Major Cities in California:
California holds two of the top-ten most populous cities: Los Angeles and San Diego.
Los Angeles lays claim to the world's largest outdoor amphitheater, the Hollywood Bowl.
Fresno, in Central California, proclaims itself the Raisin Capital of the World.
In Sacramento , the California State Railroad Museum is the largest museum of its kind in North America.
Castroville is the Artichoke Capital of the World.
San Francisco is home to the Pez Memorabilia Museum and the American Antique Slot Machine Museum.
Berkeley was the first city in America to mail education pamphlets on AIDS to every household in the city.
Interstates Highways in California:
East-West interstates include: Interstate 8, Interstate 10, Interstate 40 and Interstate 80.
North-South interstates: Interstate 5 and Interstate 15.
US Highways and State Routes in California:
Route 6, Route 50, Route 101, Route 199 and Route 395.
California State Facts:
| | |
| --- | --- |
| State Name | California |
| Country | United States |
| Continent | North America |
| Capital City | Sacramento |
| Lagest city | Los Angeles |
| Abbreviation | CA, Calif., Cali., US-CA |
| Joined the Union | September 9, 1850 (31st) |
| Nickname | The Golden State |
| area | 163,696 sq mi (423,970 km2) |
| Timezone | UTC-08:00 |
| Population | 38,340,000 (2014 est) |
| Highest Point | Mount Whitney |
| Lowest Point | Death Valley |
| Official Website | www.ca.gov |
Last Updated: Nov 15, 2020