Pittsburgh Located in the south-eastern part of Pennsylvania and north-east part of the United States, Pittsburgh is one of the most industrialized cities of the United States. However, with the metro city population of 300,286 (2019), it is second largest city of Pennsylvania and the 66th-largest city in the United States.
Locationn Map of Pittsburgh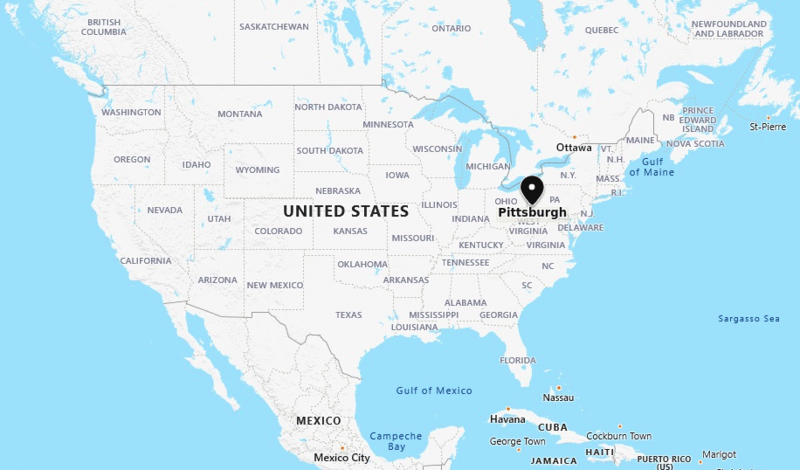 About Map: Map showing location of Pittsburgh in the south-eastern part of the Pennsylvania.
Pennsylvania More Maps & Info
Where is Pittsburgh Located?
Pittsburgh is a city in the state of Pennsylvania in the United States, and is the county seat of Allegheny County.
The economic centre of the region, Pittsburgh has surprisingly 151 high-rise buildings and 446 bridges; because of hundreds of bridges, the city is also known as 'the City of Bridges'. Secondly, the city has huge steel industry and hence, it has also been given the name 'Steel City'. However, the trend gradually changing and now the economy of the city is largely depends upon technology, healthcare, education and some other financial services. Likewise, the city has grown with plenty of industrial sites along with various offices buildings, shopping complex, and housings.
By virtue of its shape, the downtown area of Pittsburgh is known as 'Golden Triangle'; interestingly, the surrounding areas are categorised into four main areas namely North Side, South Side or South Hills, East End, and West End.
Major attractions of Pittsburgh are:
Heinz Field
PNC Park
Carnegie Science Center
National Aviary
Andy Warhol Museum
Mattress Factory installation art museum
Children's Museum of Pittsburgh
The Carnegie Institute's Museums of Art and Natural History
Frick Art & Historical Center
Soldiers and Sailors Memorial Hall
Pittsburgh Zoo and PPG Aquarium
Pittsburgh hosts Annual sports events
Three Rivers Regatta
Pittsburgh Vintage Grand Prix
Dirty Dozen Cycle Race
Pittsburgh Marathon
Great Race 10K
Head of the Ohio Regatta
Pittsburgh City Facts
| | |
| --- | --- |
| Country: | United States |
| Region Type: | State |
| Capital: | Harrisburg |
| pennsylvania Abbreviation: | PA, Pa. or Penna. US-PA |
| Largest City: | Philadelphia |
| Area of pennsylvania: | 46,055 sq mi (119,283 km2) |
| pennsylvania Population: | 12,773,801 (2013 est) |
| Joined The Union: | -40925 |
| pennsylvania Nickname: | Keystone State, Oil State, Coal State, Quaker State |
| Highest Point: | Mount Davis |
| Lowest Point: | Delaware River at Delaware border |
| pennsylvania Timezone: | Eastern: UTC −5/−4 |
| Official Website: | www.pa.gov |