Wyoming Map: Wyoming is a state in the Mountain West subregion of the Western United States. Wyoming is the 10th largest state, with an area of 97,914 sq mi (253,600 km2), and the least populous state, with population of 576,851 people according to 2020 U.S. Census. The state capital and most populous city is Cheyenne.
Map of Wyoming with Cities, Road, River, Highways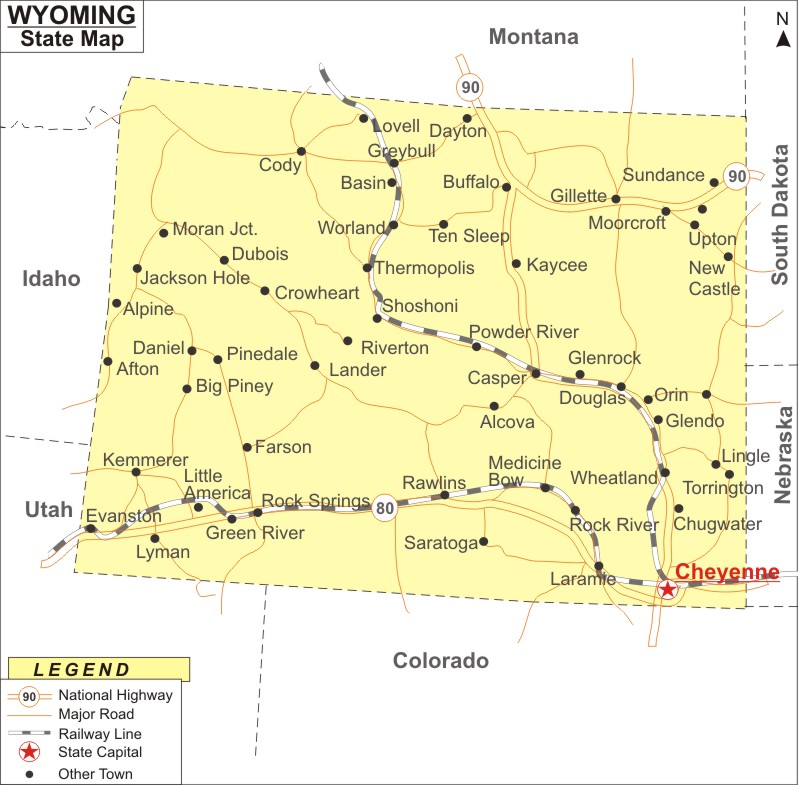 About Map: Wyoming Map showing the capital, state boundary, roads, rail network,rivers, interstate highways, major cities and towns.
Wyoming More Maps & Info
About Wyoming State Map
State of Wyoming can be found in the Western United States' Mountain West region. The state shares the borders with Montana to the north and northwest, South Dakota and Nebraska to the east, Idaho to the west, Utah to the southwest, and Colorado to the south. Despite being the 10th largest in terms of land, Wyoming has the lowest population density, making it the least populated state. Cheyenne is the largest city and the state capital. The Rocky Mountain ranges and rangelands dominate Wyoming's western half, while the High Plains, a region of prairie at high elevation, make up the eastern half of the state
Map of Wyoming
The Wyoming map furnished on this page depicts the entire state. Wyoming Map depicts not only the state boundaries but also major highways, roads, railway lines, the state capital, and other towns. The Wyoming map can be used to determine location orientation. Wyoming map provided on this page can be used for your educational purpose as well. One can use Wyoming map during your visit to the state of Wyoming.
Wyoming Map Illustrates Major Cities
The Wyoming map shows the location of following cities and towns in Wyoming. Cities and towns like Cheyenne ,Casper, Laramie , Gillette , Rock Springs, Douglas, Evanston, Farson, Fort Laramie, Kemmerer, Lander, Lovell, Lusk, Medicine, Afton, Alpine, Big Piney, Buffalo, Cody, Green River, Greybull, Jackson, Bow, Moorcroft, Newcastle, Pinedale, Thermopolis, Torrington, Wheatland, Powell, Rawlins, Riverton, Saratoga, Sheridan, Shoshoni, Sundance Worland and Wright can be located easily on the Wyoming map.
Wyoming Map Indicates National Highways & Routes of the State
The Wyoming map indicates the National Highways and Routes of Vermont. The details of National Highways and Routes are mentioned below.
Wyoming State Facts
| | |
| --- | --- |
| State Name | Wyoming |
| Country | United States |
| Continent | North America |
| Capital City | Cheyenne |
| Largest city | Cheyenne |
| Abbreviation | WY, US-WY |
| Joined the Union | July 10, 1890 (44th) |
| Nickname | Cowboy State, Big Wyoming, Equality State |
| Area | 97,914 sq mi (253,600 km2) - Rank 10th |
| Timezone | Mountain: UTC -7/-6 |
| Population | 576,851 (2020) |
| Highest Point | Gannett Peak |
| Lowest Point | Belle Fourche River at South Dakota border |
| Official Website | http://wyo.gov/ |