The U.S. state of Delaware is divided into 3 Counties. Explore the Delaware County Map, list of 3 Counties in Delaware along with their County Seats in alphabetical order and their population, areas and the date of formation.
Delaware County Map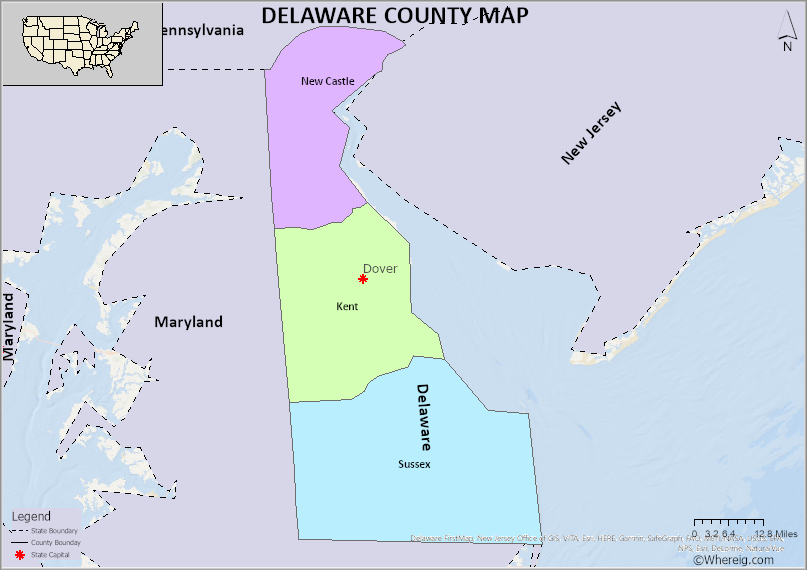 About Delaware County Map
: The map showing the county boundary, all counties boundary, state capital and neighbouring states.
Most Viewed Links
About Counties in Delaware
Delaware is a state of United States of America. The state was named after one of the famous rivers of place namely Delaware River which was then named after the governor of State called Virginia. It is known as the First state to join in the union. Delaware is located in Mid-Atlantic region of the United States. It is one among 13 original states of U.S.A. It is the second smallest state in terms of area. The total area of Delaware is 1949 square meters which accounts for 5047 square kilometers. The state is bordered to the north by Pennsylvania, to the east by Delaware River New Jersey to the west and Maryland to the south. Delaware is called as The Diamond state and The First state. The capital city of Delaware is Dover.
Delaware has only 3 counties in the state. They are Kent County, New Castle County and Sussex County. The largest county is New Castle. The state vests its political power in three branches namely Executive branch is headed by Governor of the state, Legislative branch which is consists of House of Representatives and Senate, Judicial branch that has a number of courts. Each county has liberty to elect its own legislative body. This legislative body of county is called with two terms as County Council and Levy County.
The population of Delaware is expected to be 994,735 people. Delaware's most populated city is Wilmington and moreover it is city that generates income for the state to run administration smoothly. The other major cities of the state are Dover and Newark. Delaware has three state forests, a number of beaches and swampland. The state has attracted a lot of tourists to its wonder and fantastic natural beauty. The state offers a few scenic and beautiful places to visit and they Rehoboth beach, Bombay Hook Wildlife Preserve, Dewey beach and Blackbird Creek Preserve and Cape Henlopen.
List of Counties in Delaware and County Seats
The U.S. state of Delaware has 3 Counties. This is list of Delaware Counties and County Seats in alphabetical order along with check their population, areas and the date of formation.
County Map of U.S. 50 States
Edited by: Vijay Kanth | Updated: June 13, 2022