The U.S. state of Maryland is divided into 24 Counties. Explore the Maryland County Map, all Counties list along with their County Seats in alphabetical order and their population, areas and the date of formation.
Maryland County Map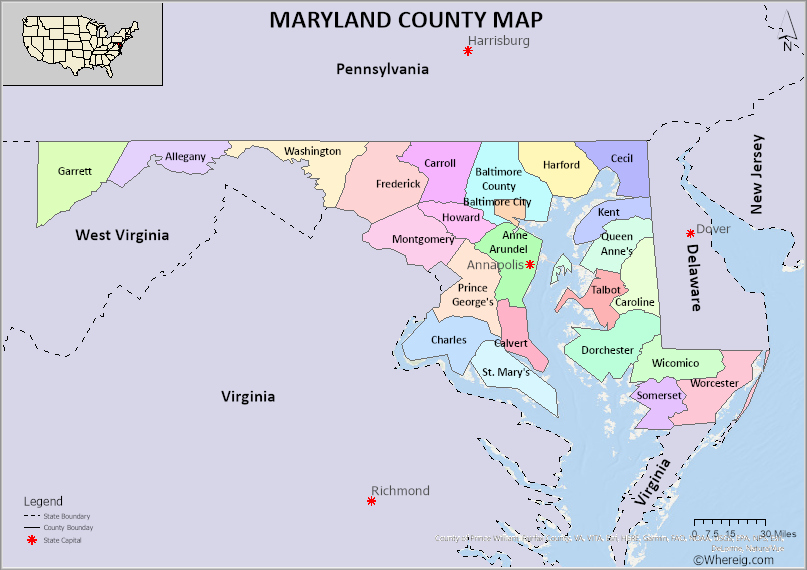 About Maryland County Map
: The map showing the county boundary, all counties boundary, state capital and neighbouring states.
More Maryland Maps & Info
About Counties of Maryland
Maryland is one of the states of US which is situated mid-Atlantic region of the country. The state is bordered with four states in different directions Pennsylvania to the north, Delaware to the east Virginia to the south, West Virginia to the west. Maryland is spread over 9707 square miles which would account for 25142 square kilometres. The capital city of Maryland is Annapolis. The state is blessed with nick name as 'the old Line State and the Free State '. The state in fact the home to the Chesapeake Bay, Maryland is famous for its blue crabs. Maryland has a very popular historic trading port at Baltimore. The state is called also as America in Miniature. Maryland Counties are twenty three in number and it has one Independent City. Maryland`s the largest County is Frederick and second biggest county is Garrett. The smallest county in Maryland is Calvert County. Montgomery County is the most populous county in the state. The least populous County is Kent in the state of Maryland. Maryland consists of 157 cities, towns and villages in the state. There are 154 Municipalities which are in Maryland Counties. Among all the cities of the state Baltimore is considered as independent city by state`s Constitution of Maryland now it is in fact the largest city in the state.
The state Maryland and its Counties are abide by the constitution of the state. The political power of Maryland is divided among the three branches of the Government. They are executive, legislative and judicial. The executive branch consists of the Governor, his cabinet and a number of departments.
The legislative branch of the government consists of The Maryland General Assembly which is composed of House of Delegates and Senate. The Judicial branch of the government consists of Supreme Court and all other courts. Maryland Counties are notable for having small number of local governments. There are 3 forms of county government in the state. They are Commissioner Counties, Charter Counties and Code Home Rule Counties.
The U.S. state of Maryland has 24 Counties. This is list of Maryland Counties and County Seats in alphabetical order along with check their population, areas and the date of formation.
List of Counties in Maryland with County Seats
| S.N | County | County Seat | Population | Area | Formed |
| --- | --- | --- | --- | --- | --- |
| 1 | Allegany County | Cumberland | 74,012 | 430 sq mi | 1789 |
| 2 | Anne Arundel County | Annapolis | 550,488 | 588 sq mi | 1650 |
| 3 | Baltimore City | Baltimore City | 621,342 | 92 sq mi | 1851 |
| 4 | Baltimore County | Towson | 817,455 | 682 sq mi | 1659 |
| 5 | Calvert County | Prince Frederick | 89,628 | 345 sq mi | 1654 |
| 6 | Caroline County | Denton | 32,718 | 326 sq mi | 1773 |
| 7 | Carroll County | Westminster | 167,217 | 452 sq mi | 1837 |
| 8 | Cecil County | Elkton | 101,696 | 418 sq mi | 1672 |
| 9 | Charles County | La Plata | 150,592 | 643 sq mi | 1658 |
| 10 | Dorchester County | Cambridge | 32,551 | 540 sq mi | 1668 |
| 11 | Frederick County | Frederick | 239,582 | 667 sq mi | 1748 |
| 12 | Garrett County | Oakland | 29,854 | 656 sq mi | 1872 |
| 13 | Harford County | Bel Air | 248,622 | 527 sq mi | 1773 |
| 14 | Howard County | Ellicott City | 299,430 | 254 sq mi | 1851 |
| 15 | Kent County | Chestertown | 20,191 | 414 sq mi | 1642 |
| 16 | Montgomery County | Rockville | 1,004,709 | 507 sq mi | 1776 |
| 17 | Prince George's County | Upper Marlboro | 881,138 | 498 sq mi | 1696 |
| 18 | Queen Anne's County | Centreville | 48,595 | 510 sq mi | 1706 |
| 19 | Saint Mary's County | Leonardtown | 108,987 | 611 sq mi | 1637 |
| 20 | Somerset County | Princess Anne | 26,253 | 611 sq mi | 1666 |
| 21 | Talbot County | Easton | 38,098 | 477 sq mi | 1662 |
| 22 | Washington County | Hagerstown | 149,180 | 468 sq mi | 1776 |
| 23 | Wicomico County | Salisbury | 100,647 | 400 sq mi | 1867 |
| 24 | Worcester County | Snow Hill | 51,578 | 695 sq mi | 1742 |
Explore Map of Maryland Counties
County Map of U.S. 50 States
Edited by: Vijay Kanth | Updated On: June 13, 2022