The U.S. state of Arizona is divided into 15 counties. Explore the Arizona County Map, list of Counties in Arizona along with their County Seats in alphabetical order along with their population, areas and the date of formation.
Arizona County Map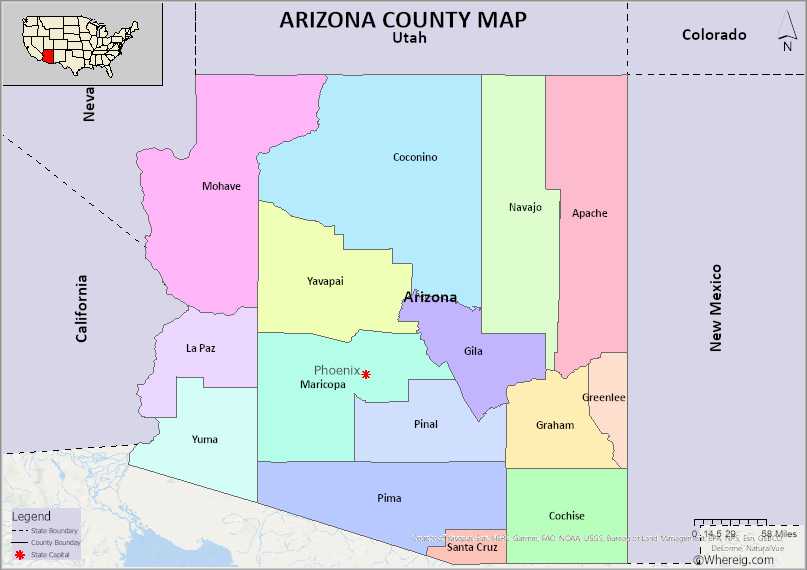 About Arizona County Map
: The map showing the county boundary, all counties boundary, state capital and neighbouring states.
Most Viewed Links
About Arizona County
Arizona is one of the southwestern states of United States of America. Arizona ranked as 6th largest state in U.S. The capital city of the state is Phoenix. Phoenix is in fact the largest city of Arizona. The state has 113594 square miles area. It has fifteen counties. Arizona is bordered with Utah towards north and New Mexico to the east, Nevada and California share boarder in west and towards south Baja California is situated. The climatic condition of southern Arizona is extremely hot in summer and pleasant in winter, in Northern Arizona has the modest summer and winter snowfalls.
Arizona is known for its unique natural beauty and it has 35 state parks and natural areas preserving its precious ecosystem. The great Grand Canyon National Park which is one of the seven wonders of the world is located in the state of Arizona. Copper is abundant in Arizona. Queen of Copper mine is known as Bisbee.
Executive, legislative and Judicial are three branches of government of Arizona state. The executive branch of government consists of 130 agencies, bords and other organizations. The legislative branch of Arizona composed of two main bodies of law making, they are Senate of Arizona and the house of Representatives. These two main bodies work along with Legislative Council, Joint Legislative Budget Committee and Auditor General. The judicial branch of government consists of Supreme court of Arizona. The population of Arizona is estimated to be 7.2 million. Maricopa county is most populated county in Arizona as well as fast growing county in the entire country. The smallest county of Arizona is Santa Cruz County.
List of Counties in Arizona with County Seats
The U.S. state of Arizona has 15 counties. This is list of Arizona Counties and County Seats in alphabetical order and check their population, areas and the date of formation.
Click on any county for Its detailed Map and Info
| County | County Seat | Population | Area | Formed |
| --- | --- | --- | --- | --- |
| Apache County | St. Johns | 69,980 | 11,218 sq mi | 1,879 |
| Cochise County | Bisbee | 127,866 | 6,219 sq mi | 1,881 |
| Coconino County | Flagstaff | 134,421 | 18,661 sq mi | 1,891 |
| Gila County | Globe | 51,994 | 4,796 sq mi | 1,881 |
| Graham County | Safford | 34,769 | 4,641 sq mi | 1,881 |
| Greenlee County | Clifton | 7,754 | 1,848 sq mi | 1,909 |
| La Paz County | Parker | 20,172 | 4,513 sq mi | 1,983 |
| Maricopa County | Phoenix | 3,990,181 | 9,224 sq mi | 1,871 |
| Mohave County | Kingman | 194,944 | 13,470 sq mi | 1,864 |
| Navajo County | Holbrook | 111,273 | 9,959 sq mi | 1,895 |
| Pima County | Tucson | 1,003,235 | 9,189 sq mi | 1,864 |
| Pinal County | Florence | 324,962 | 5,374 sq mi | 1,875 |
| Santa Cruz County | Nogales | 42,845 | 1,238 sq mi | 1,899 |
| Yavapai County | Prescott | 212,635 | 8,128 sq mi | 1,864 |
| Yuma County | Yuma | 190,557 | 5,519 sq mi | 1,864 |
County Map of U.S. 50 States