The U.S. state of Georgia is divided into 159 Counties. Explore the Georgia County Map, list of 159 Counties in Georgia along with their County Seats in alphabetical order and their population, areas and the date of formation.
Georgia County Map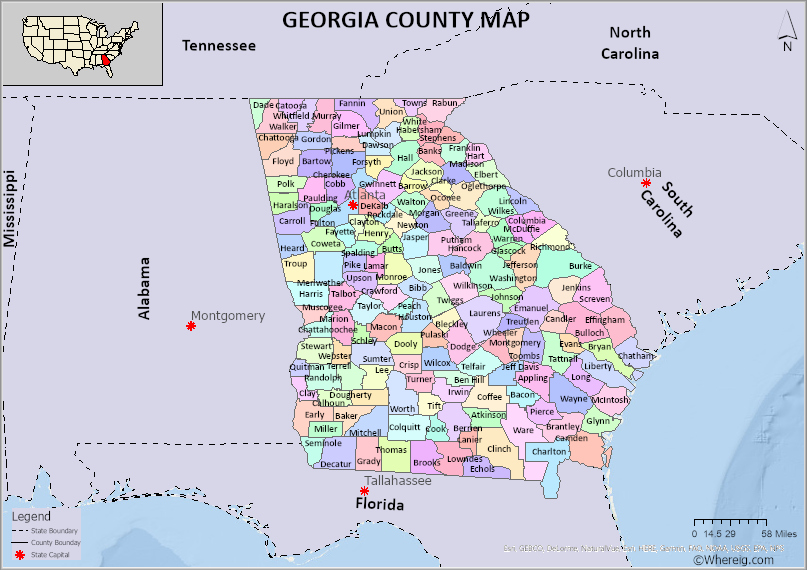 About Georgia County Map
: The map showing the county boundary, all counties boundary, state capital and neighbouring states.
Most Viewed GA Maps
About Counties in Georgia
Georgia is a state which is located in the South-eastern region of the United State. Georgia is ranked as the 24th largest state in area among 50 states of United States of America. The capital city of Georgia is Atlanta. The state shares the borders with Tennessee and North Carolina towards north, South Carolina to the northeast, Florida to the south and Alabama to the west. Georgia is one the most populous state in the country and stands in 8th position. According to the census taken by census Bureau of United States of America the population of the state is 10,711,908. The climate of the state is very hot during the summer as it has humid summers and in winter, it is too cool as it has wild winter.
The number of Counties that exist in the state are 159. All the counties of Georgia vests with political power to rule themselves. The largest county of Georgia is Fulton County. The highest earning counties of Georgia are Forsyth County, Oconee County, Fayette County, Columbia County. Georgia has poorest county too, which is known as Telfair. The state is blessed with 537 cities. The richest place to visit in Georgia are Milton, Peachtree City, Dunwoody and many more. The smallest city of the state is Edge Hill.
Georgia follows like any other state in United States of America Federal Government, where powers vest on three branches of Government. Executive branch is headed by the Governor of the state. The Legislative authority rests on General Assembly which consist of Senate and House of Representatives. Senate is presided over by the Lieutenant Governor and the House of Representatives has its own speaker. The judicial powers are with Supreme Court of the state. With regarding local government in counties of Georgia, the counties have the privilege to elect their own legislative members who are called as Board of Commissioners. The constitution of Georgia provides Home Rule authority to all the counties and cities of the state.
List of Counties in Georgia with County Seats
The U.S. state of Georgia has 159 Counties. This is list of Georgia Counties in alphabetical order along with check their population, areas and the date of formation.
| S.N | County | County Seat | Population | Area (Sq mi) | Formed |
| --- | --- | --- | --- | --- | --- |
| 1 | Appling County | Baxley | 18,368 | 509 sq mi | 1818 |
| 2 | Atkinson County | Pearson | 8,284 | 338 sq mi | 1917 |
| 3 | Bacon County | Alma | 11,198 | 285 sq mi | 1914 |
| 4 | Baker County | Newton | 3,366 | 343 sq mi | 1825 |
| 5 | Baldwin County | Milledgeville | 46,367 | 258 sq mi | 1803 |
| 6 | Banks County | Homer | 18,316 | 234 sq mi | 1859 |
| 7 | Barrow County | Winder | 70,169 | 162 sq mi | 1914 |
| 8 | Bartow County | Cartersville | 100,661 | 460 sq mi | 1832 |
| 9 | Ben Hill County | Fitzgerald | 17,538 | 252 sq mi | 1906 |
| 10 | Berrien County | Nashville | 19,041 | 452 sq mi | 1856 |
| 11 | Bibb County | Macon | 156,462 | 250 sq mi | 1822 |
| 12 | Bleckley County | Cochran | 12,913 | 217 sq mi | 1912 |
| 13 | Brantley County | Nahunta | 18,587 | 444 sq mi | 1920 |
| 14 | Brooks County | Quitman | 15,403 | 494 sq mi | 1858 |
| 15 | Bryan County | Pembroke | 32,214 | 442 sq mi | 1793 |
| 16 | Bulloch County | Statesboro | 72,694 | 683 sq mi | 1796 |
| 17 | Burke County | Waynesboro | 23,125 | 831 sq mi | 1777 |
| 18 | Butts County | Jackson | 23,524 | 187 sq mi | 1825 |
| 19 | Calhoun County | Morgan | 6,504 | 280 sq mi | 1854 |
| 20 | Camden County | Woodbine | 51,402 | 630 sq mi | 1777 |
| 21 | Candler County | Metter | 11,117 | 247 sq mi | 1914 |
| 22 | Carroll County | Carrollton | 111,580 | 499 sq mi | 1826 |
| 23 | Catoosa County | Ringgold | 65,046 | 162 sq mi | 1853 |
| 24 | Charlton County | Folkston | 13,295 | 781 sq mi | 1854 |
| 25 | Chatham County | Savannah | 276,434 | 440 sq mi | 1777 |
| 26 | Chattahoochee County | Cusseta | 13,037 | 249 sq mi | 1854 |
| 27 | Chattooga County | Summerville | 25,725 | 314 sq mi | 1838 |
| 28 | Cherokee County | Canton | 221,315 | 424 sq mi | 1831 |
| 29 | Clarke County | Athens | 120,266 | 121 sq mi | 1801 |
| 30 | Clay County | Fort Gaines | 3,116 | 195 sq mi | 1854 |
| 31 | Clayton County | Jonesboro | 265,888 | 143 sq mi | 1858 |
| 32 | Clinch County | Homerville | 6,718 | 809 sq mi | 1850 |
| 33 | Cobb County | Marietta | 707,442 | 340 sq mi | 1832 |
| 34 | Coffee County | Douglas | 43,170 | 599 sq mi | 1854 |
| 35 | Colquitt County | Moultrie | 46,137 | 552 sq mi | 1856 |
| 36 | Columbia County | Appling (de jure) and Evans (de facto) | 131,627 | 290 sq mi | 1790 |
| 37 | Cook County | Adel | 16,923 | 229 sq mi | 1918 |
| 38 | Coweta County | Newnan | 130,929 | 443 sq mi | 1826 |
| 39 | Crawford County | Knoxville | 12,600 | 325 sq mi | 1822 |
| 40 | Crisp County | Cordele | 23,606 | 274 sq mi | 1905 |
| 41 | Dade County | Trenton | 16,490 | 174 sq mi | 1837 |
| 42 | Dawson County | Dawsonville | 22,422 | 211 sq mi | 1857 |
| 43 | Decatur County | Bainbridge | 27,509 | 597 sq mi | 1823 |
| 44 | DeKalb County | Decatur | 707,089 | 268 sq mi | 1822 |
| 45 | Dodge County | Eastman | 21,329 | 501 sq mi | 1870 |
| 46 | Dooly County | Vienna | 14,318 | 393 sq mi | 1821 |
| 47 | Dougherty County | Albany | 94,501 | 330 sq mi | 1853 |
| 48 | Douglas County | Douglasville | 133,971 | 199 sq mi | 1870 |
| 49 | Early County | Blakely | 10,594 | 511 sq mi | 1818 |
| 50 | Echols County | Statenville | 3,988 | 404 sq mi | 1858 |
| 51 | Effingham County | Springfield | 53,293 | 480 sq mi | 1777 |
| 52 | Elbert County | Elberton | 19,684 | 369 sq mi | 1790 |
| 53 | Emanuel County | Swainsboro | 22,898 | 686 sq mi | 1812 |
| 54 | Evans County | Claxton | 10,689 | 185 sq mi | 1914 |
| 55 | Fannin County | Blue Ridge | 23,492 | 386 sq mi | 1854 |
| 56 | Fayette County | Fayetteville | 107,524 | 197 sq mi | 1821 |
| 57 | Floyd County | Rome | 96,177 | 513 sq mi | 1832 |
| 58 | Forsyth County | Cumming | 187,928 | 226 sq mi | 1832 |
| 59 | Franklin County | Carnesville | 21,894 | 263 sq mi | 1784 |
| 60 | Fulton County | Atlanta | 977,773 | 529 sq mi | 1853 |
| 61 | Gilmer County | Ellijay | 28,190 | 427 sq mi | 1832 |
| 62 | Glascock County | Gibson | 3,142 | 144 sq mi | 1857 |
| 63 | Glynn County | Brunswick | 81,022 | 422 sq mi | 1777 |
| 64 | Gordon County | Calhoun | 55,766 | 355 sq mi | 1850 |
| 65 | Grady County | Cairo | 25,440 | 458 sq mi | 1905 |
| 66 | Greene County | Greensboro | 16,092 | 388 sq mi | 1786 |
| 67 | Gwinnett County | Lawrenceville | 842,046 | 433 sq mi | 1818 |
| 68 | Habersham County | Clarkesville | 43520 | 278 sq mi | 1818 |
| 69 | Hall County | Gainesville | 185416 | 394 sq mi | 1818 |
| 70 | Hancock County | Sparta | 8996 | 473 sq mi | 1793 |
| 71 | Haralson County | Buchanan | 28400 | 282 sq mi | 1856 |
| 72 | Harris County | Hamilton | 32550 | 464 sq mi | 1827 |
| 73 | Hart County | Hartwell | 25518 | 232 sq mi | 1853 |
| 74 | Heard County | Franklin | 11633 | 296 sq mi | 1830 |
| 75 | Henry County | McDonough | 209053 | 323 sq mi | 1821 |
| 76 | Houston County | Perry | 146136 | 377 sq mi | 1821 |
| 77 | Irwin County | Ocilla | 9600 | 357 sq mi | 1818 |
| 78 | Jackson County | Jefferson | 60571 | 342 sq mi | 1796 |
| 79 | Jasper County | Monticello | 13630 | 370 sq mi | 1807 |
| 80 | Jeff Davis County | Hazlehurst | 15156 | 333 sq mi | 1905 |
| 81 | Jefferson County | Louisville | 16432 | 528 sq mi | 1796 |
| 82 | Jenkins County | Millen | 9213 | 350 sq mi | 1905 |
| 83 | Johnson County | Wrightsville | 9897 | 304 sq mi | 1858 |
| 84 | Jones County | Gray | 28577 | 394 sq mi | 1807 |
| 85 | Lamar County | Barnesville | 18057 | 185 sq mi | 1920 |
| 86 | Lanier County | Lakeland | 10400 | 187 sq mi | 1920 |
| 87 | Laurens County | Dublin | 48041 | 813 sq mi | 1807 |
| 88 | Lee County | Leesburg | 28746 | 356 sq mi | 1826 |
| 89 | Liberty County | Hinesville | 65471 | 519 sq mi | 1777 |
| 90 | Lincoln County | Lincolnton | 7737 | 211 sq mi | 1796 |
| 91 | Long County | Ludowici | 16048 | 401 sq mi | 1920 |
| 92 | Lowndes County | Valdosta | 114552 | 504 sq mi | 1825 |
| 93 | Lumpkin County | Dahlonega | 30611 | 284 sq mi | 1832 |
| 94 | Macon County | Oglethorpe | 14263 | 403 sq mi | 1837 |
| 95 | Madison County | Danielsville | 27922 | 284 sq mi | 1811 |
| 96 | Marion County | Buena Vista | 8711 | 367 sq mi | 1827 |
| 97 | McDuffie County | Thomson | 21663 | 260 sq mi | 1870 |
| 98 | McIntosh County | Darien | 13839 | 434 sq mi | 1793 |
| 99 | Meriwether County | Greenville | 21273 | 503 sq mi | 1827 |
| 100 | Miller County | Colquitt | 5969 | 283 sq mi | 1856 |
| 101 | Mitchell County | Camilla | 23144 | 512 sq mi | 1857 |
| 102 | Monroe County | Forsyth | 26637 | 396 sq mi | 1821 |
| 103 | Montgomery County | Mount Vernon | 8913 | 245 sq mi | 1793 |
| 104 | Morgan County | Madison | 17881 | 350 sq mi | 1807 |
| 105 | Murray County | Chatsworth | 39392 | 344 sq mi | 1832 |
| 106 | Muscogee County | Columbus | 198413 | 216 sq mi | 1826 |
| 107 | Newton County | Covington | 101505 | 276 sq mi | 1821 |
| 108 | Oconee County | Watkinsville | 33619 | 186 sq mi | 1875 |
| 109 | Oglethorpe County | Lexington | 14618 | 441 sq mi | 1793 |
| 110 | Paulding County | Dallas | 144800 | 314 sq mi | 1832 |
| 111 | Peach County | Fort Valley | 27622 | 151 sq mi | 1924 |
| 112 | Pickens County | Jasper | 29268 | 232 sq mi | 1853 |
| 113 | Pierce County | Blackshear | 18844 | 343 sq mi | 1857 |
| 114 | Pike County | Zebulon | 17810 | 218 sq mi | 1822 |
| 115 | Polk County | Cedartown | 41188 | 311 sq mi | 1851 |
| 116 | Pulaski County | Hawkinsville | 11720 | 247 sq mi | 1808 |
| 117 | Putnam County | Eatonton | 21198 | 344 sq mi | 1807 |
| 118 | Quitman County | Georgetown | 2404 | 152 sq mi | 1858 |
| 119 | Rabun County | Clayton | 16297 | 371 sq mi | 1819 |
| 120 | Randolph County | Cuthbert | 7327 | 429 sq mi | 1828 |
| 121 | Richmond County | Augusta | 202587 | 324 sq mi | 1777 |
| 122 | Rockdale County | Conyers | 85820 | 131 sq mi | 1870 |
| 123 | Schley County | Ellaville | 4990 | 168 sq mi | 1857 |
| 124 | Screven County | Sylvania | 14202 | 648 sq mi | 1793 |
| 125 | Seminole County | Donalsonville | 8947 | 238 sq mi | 1920 |
| 126 | Spalding County | Griffin | 63865 | 198 sq mi | 1851 |
| 127 | Stephens County | Toccoa | 25891 | 179 sq mi | 1905 |
| 128 | Stewart County | Lumpkin | 6042 | 459 sq mi | 1830 |
| 129 | Sumter County | Americus | 31554 | 485 sq mi | 1831 |
| 130 | Talbot County | Talbotton | 6517 | 393 sq mi | 1827 |
| 131 | Taliaferro County | Crawfordville | 1680 | 195 sq mi | 1825 |
| 132 | Tattnall County | Reidsville | 25384 | 484 sq mi | 1801 |
| 133 | Taylor County | Butler | 8420 | 378 sq mi | 1852 |
| 134 | Telfair County | McRae | 16349 | 441 sq mi | 1807 |
| 135 | Terrell County | Dawson | 9045 | 336 sq mi | 1856 |
| 136 | Thomas County | Thomasville | 44724 | 548 sq mi | 1825 |
| 137 | Tift County | Tifton | 41064 | 265 sq mi | 1905 |
| 138 | Toombs County | Lyons | 27315 | 367 sq mi | 1905 |
| 139 | Towns County | Hiawassee | 10495 | 166 sq mi | 1856 |
| 140 | Treutlen County | Soperton | 6769 | 201 sq mi | 1918 |
| 141 | Troup County | LaGrange | 68468 | 414 sq mi | 1826 |
| 142 | Turner County | Ashburn | 8410 | 286 sq mi | 1905 |
| 143 | Twiggs County | Jeffersonville | 8447 | 360 sq mi | 1809 |
| 144 | Union County | Blairsville | 21451 | 323 sq mi | 1832 |
| 145 | Upson County | Thomaston | 26630 | 326 sq mi | 1824 |
| 146 | Walker County | Lafayette | 68094 | 446 sq mi | 1833 |
| 147 | Walton County | Monroe | 84575 | 329 sq mi | 1818 |
| 148 | Ware County | Waycross | 35821 | 903 sq mi | 1824 |
| 149 | Warren County | Warrenton | 5578 | 286 sq mi | 1793 |
| 150 | Washington County | Sandersville | 20879 | 680 sq mi | 1784 |
| 151 | Wayne County | Jesup | 30305 | 645 sq mi | 1803 |
| 152 | Webster County | Preston | 2793 | 210 sq mi | 1853 |
| 153 | Wheeler County | Alamo | 7888 | 298 sq mi | 1912 |
| 154 | White County | Cleveland | 27556 | 242 sq mi | 1857 |
| 155 | Whitfield County | Dalton | 103359 | 290 sq mi | 1851 |
| 156 | Wilcox County | Abbeville | 9068 | 380 sq mi | 1857 |
| 157 | Wilkes County | Washington | 10076 | 471 sq mi | 1777 |
| 158 | Wilkinson County | Irwinton | 9577 | 447 sq mi | 1803 |
| 159 | Worth County | Sylvester | 21741 | 570 sq mi | 1853 |
County Map of U.S. 50 States
Edited by: Vijay Kanth | Updated: June 13, 2022