The United Kingdom is located in Western Europe. The United Kingdom consists of England, Scotland, Wales and Northern Ireland. It is bordered by the Atlantic Ocean, The North Sea to the east, the English Channel to the south, the Celtic Sea to the southwest and the Irish Sea. It lies between latitudes 55.0000° North and longitudes 3.00° West.
Location Map of UK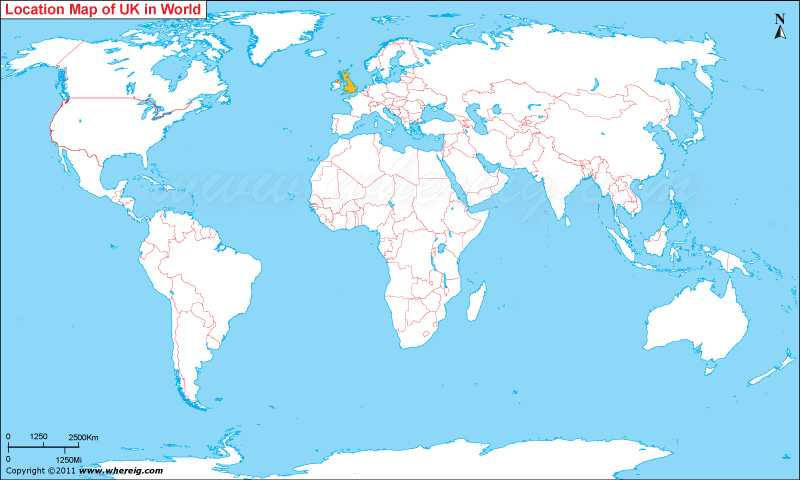 About Map:
Map showing location of United Kingdom.
Top Viewd Pages
Where is UK Located?
The given United Kingdom location map shows that United Kingdom is located in the off coast of Western Europe. UK map shows that it is an archipelago that includes Great Britain, northern part of Ireland and numerous smaller islands in the nearby vicinity. The country has maritime boundaries with nearby countries including France, Belgium, Netherlands, Denmark, and Norway; however, it has international boundary with only country that is Ireland. Ireland itself is an Island country and UK has sovereignty over the Northern Ireland. UK is separated by France by English Channel and North Sea lies east of UK and Irish Sea lies between Great Britain and Ireland.
The capital city of UK is London located in the south-eatern part of Great Britain. The government type of United Kingdom is a constitutional monarchy and unitary state. However, it is governed by the Parliamentry system. The Prime Minister is the head of governemnt. Politically, it is a country that comprises four countries i.e. England, Scotland, Wales, and Northern Ireland. It is a permanent member of the United Nations Security Council, and a member of the Commonwealth of Nations, European Union, G8, G20, NATO, OECD, the Council of Europe and the World Trade Organization.
Interestinlgy, the UK is first industrilized country of the world. At present, it is quite developed country and its economy is the sixth largest economy by nominal GDP and eighth largest economy by purchasing power parity in the world. The country has very resourceful in terms of cultural, military, scientific and also political influence. Moreover, UK is a recognised nuclear weapons state. Its military expenditure ranks third in the world; however, by some other people it is also calculated as 4th rank in the world.
List of British Overseas Territories
| Name | Capital | Location | Area | Population |
| --- | --- | --- | --- | --- |
| Anguilla | The Valley | Caribbean, North Atlantic Ocean | 91 sq km (35.1 sq mi) | 14,869 (201) |
| Bermuda | Hamilton | North Atlantic Ocean between the Azores, the Caribbean, Cape Sable Island and Canada | 54 sq km (20.8 sq mi) | 62,506 (201) |
| British Antarctic Territory | Rothera (main base) | Antarctica | 1,709,400 sq km (660,000 sq mi) | 50-400 |
| British Indian Ocean Territory | Diego Garcia (base) | Indian Ocean | 60 sq km (23 sq mi) | 3,000 non-permanent |
| British Virgin Islands | Road Town | Caribbean, North Atlantic Ocean | 153 sq km (59 sq mi) | 31,758 (2018) |
| Cayman Islands | George Town | Caribbean | 264 sq km (101.9 sq mi) | 68,076 (201) |
| Falkland Islands | Stanley | South Atlantic Ocean | 12,173 sq km (4,700 sq mi) | 3,377 (201) |
| Gibraltar | Gibraltar | Iberian Peninsula, Continental Europe | 6.5 sq km (2.5 sq mi) | 33,701 (201) |
| Montserrat | Plymouth (abandoned due to volcano—de facto capital is Brades) | Caribbean, North Atlantic Ocean | 101 sq km (39 sq mi) | 5,215 (2019) |
| Pitcairn, Henderson, Ducie and Oeno Islands | Adamstown | Pacific Ocean | 47 sq km (18 sq mi) | 50 (2018) |
| "Saint Helena, Ascension and Tristan da Cunha, | Jamestown | South Atlantic Ocean | 420 sq km (162 sq mi) | 5,633 (2016) |
| Saint Helena | Jamestown | South Atlantic Ocean | | 4,349 (2019) |
| Ascension Island | Jamestown | South Atlantic Ocean | | 880 estimate |
| Tristan da Cunha | Jamestown | South Atlantic Ocean | | 300 estimate |
| South Georgia and the South Sandwich Islands | King Edward Point | South Atlantic Ocean | 3,903 sq km (1,507 sq mi) | 99 non-permanent |
| Sovereign Base Areas of Akrotiri and Dhekelia | Episkopi Cantonment | Cyprus, Mediterranean Sea | 255 sq km (98 sq mi) | 7700 estimate |
| Turks and Caicos Islands | Cockburn Town | Lucayan Archipelago, North Atlantic Ocean | 430 sq km (166 sq mi) | 38,191 |
Facts About UK:
| | |
| --- | --- |
| Country | United Kingdom |
| Continent | Europe |
| Constituent countries | England, Scotland, Wales, Northern Ireland |
| British Overseas Territories | 14 territories |
| Where is Located | United Kingdom is a country located in the Northern Europe |
| Coordinates | 51.5, -0.116667 |
| Capital | London |
| Largest City | London |
| Neighboring Countries | Ireland |
| Administrative divisions | 4 Regions |
| Area | 93,628 sq mi (242,495 sq km)(78th) |
| Population | 68,02 Millions (2020) |
| Official Language | English, Irish, Scottish, Welsh, Cornish |
| Currency | Pound Sterling (GBP) |
| ISO Alpha-2 Code | GB |
| ISO Alpha-3 Code | GBR |
| ISO Numeric Code | 826 |
| GDP (PPP) | $3.131 trillion(9th) |
| Calling code | 44 |
| Time Zone | GMT (UTC±0) |
| Internet TLD | .uk |
Places to See in United Kingdom:
| | | | | |
| --- | --- | --- | --- | --- |
| London Eye | Giant's Causeway | Peak District National Park | Ben Nevis | Warwick Castle |
| Tower of London | Westminster Abbey | The Shard | Hadrian's Wall | York Minster |
| Stonehenge | Palace of Westminster | Lake District National Park | ZSL London Zoo | Land's End Landmark Attraction |
| The British Museum | The National Gallery | Oxford Street | Urquhart Castle | Shakespeare's Globe |
| Big Ben | Windsor Castle | Loch Lomond | Royal Botanic Gardens, Kew | Windsor Resort |
| Buckingham Palace | Trafalgar Square | The Regent's Park | Stirling Castle | Science Museum |
| Tower Bridge | London Bridge | Victoria and Albert Museum | Dartmoor National Park | Royal Albert Dock Liverpool |
| St. Paul's Cathedral | Loch Ness | Palace of Holyroodhouse | Blenheim Palace | Conwy Castle |
| Hyde Park | Snowdonia National Park | Borough Market | National Trust Carrick-a-Rede | Greenwich Park |
| Edinburgh Castle | Natural History Museum | Kensington Palace | Alton Towers | SEA LIFE Centre London Aquarium |
Location Map of UK Cities