Mexico officially the United Mexican States is a country located in North America. With an estimated population of 112 million, Mexico is the 11th most populous country, covers 761,610 sq mi (1,972,550 sq km), making it the world's 13th-largest country by area. It is a federation comprising thirty-one states and a Federal District, the capital city.
Mexico Location Map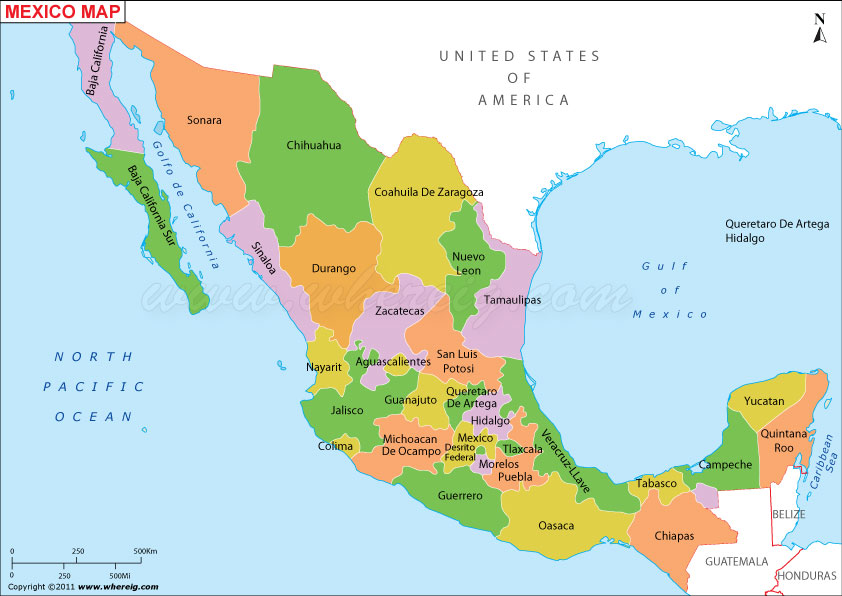 About Map: Political map of Mexico shows the administrative divisions of the country. All the states and their capital cities, along with neighboring countries are shown in political map of Mexico.
About Mexico
Mexico (officially the United Mexican States) is a country in North America. With a population of 126,014,024, it is the third-largest country in Latin America after Brazil and Argentina. It has the largest population of Spanish speakers in the world. Modern Mexicans are a unique blend of many ancient civilizations, including the Olmec, Zapotec, Toltec, Maya, Aztec, Inca, African, French, and Spanish. Mexico has the world's second-highest number of Catholics..
History of Mexico
From the time of Hernando Cortez's conquest until1821, Mexico was a colony of Spain. Cortez first entered the Valley of Mexico on the Mesa Central in 1519 after marching overland from Veracruz, the town he had founded on the Gulf Coastal Plain. The Spanish usurped the Indian lands and redistributed them among themselves, first as tribute grants, and later as land grants. During the early contact with Indians, millions died from such European diseases as measles and smallpox, against which the natives had no immunity. Central Mexico did not regain its pre-Columbian population numbers until perhaps 1900.
Economy of Mexico
Mexico is both one of the world's largest economies and a regional power. It has the thirteenth- largest nominal GDP and the eleventh-largest by purchasing power parity. According to Goldman Sachs, by 2050 Mexico will be the 5th largest economy in the world. World over, Mexico is the twenty-third highest spender on tourism, and the highest in Latin America. The vast majority of tourists come to Mexico from the United States and Canada. Many other visitors come from Europe and Asia. In 2018 it was the 7th most visited country in the World with 49.6 million international arrivals.
Interesting facts about Mexico
The national animal of Mexico is the Golden Eagle
The jungles of Mexico is home to the apex predator, the one we all know as the jaguar. It is the largest wildcat in North America and with no known predators
Mexico City is located on an underground water body, and so it sinks a few inches each year
Tequila happens to be the national drink of the nation, which existed even before it became what we know it now as the country of Mexico
The marigold is considered to be a symbol of death, hence presenting one, is not taken lightly
The Chichen Itza Pyramid in Mexico was named one of the new Seven Wonders of the World
Bullfighting is very popular in Mexico
Mexican Hot chocolate is called the sacred drink of the Aztecs. The etymology of the word "chocolate" comes from the Aztec language
The first printing press in North America was used in Mexico City in 1539
Swine flu (also called the H1N1 virus) originated in Mexico
Mexico - Quick Facts
| | |
| --- | --- |
| Country | Mexico |
| Continent | North America |
| Coordinates | 19.433333, -99.133333 |
| Capital | Mexico City |
| Largest City | Mexico City |
| Neighboring Countries | Belize, Guatemala, United States |
| Administrative divisions | 31 states |
| Area | 761,610 sq mi (1,972,550 sq km) (13th) |
| Population | 126,014,024 (10th) |
| Official Language | Spanish(Official), English |
| Currency | Peso (MXN) |
| ISO Alpha-2 Code | MX |
| ISO Alpha-3 Code | MEX |
| ISO Numeric Code | 484 |
| GDP | $1.667 trillion (2011 Est.) |
| Calling code | +52 |
| Time Zone | (UTC-8 to -6) |
| Internet TLD | .mx |
North America and Caribbean Countries Location Map
Location of North American Cities