USA Road Map showing the state routes, US highways, interstate highways, major roads, local connecting Road, secondary Road, important local road of the USA.
USA Road Map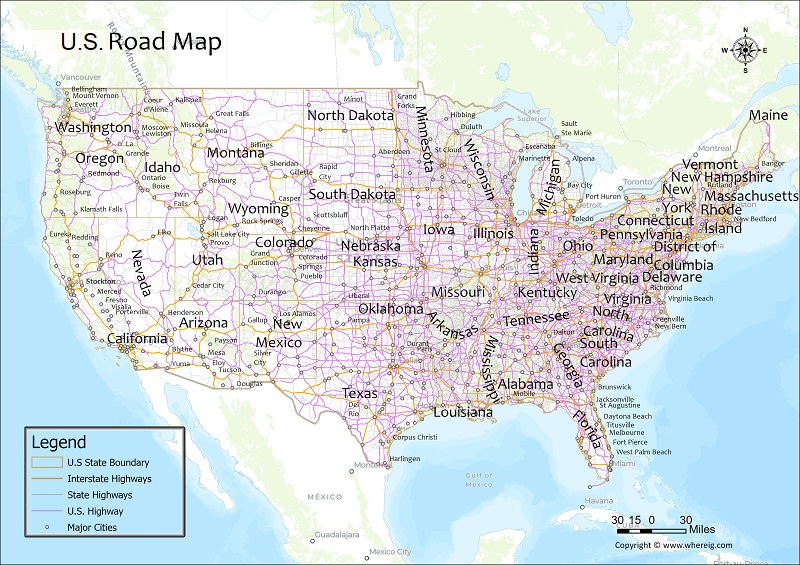 About Map: Map showing major roads, local connecting Road, secondary Road, Important Local Road of the USA, United States.
US Highways & Interstate Highways
There are at least four distinct systems of roadways in the United States and they are Interstate Highways, US Highways, State Highways, and County Highways. Route numbers or letters are typically used to categorize highways. These classifications are typically marked with a highway symbol along the route. Each system has a distinctive shield design that makes it easy to tell which system the route belongs to. The USA Road Map that is given below indicates US Highways, Interstate Highways along with State Highways and so on. The Interstate Highway System is a network of freeways that is funded and managed by the federal government but is maintained by the states. The Interstate Highway System consists of 70 main Interstate Highways. Millions of people depend on it every day for journeys, long-distance travel, and commercial movement, among other things. These Interstate Highways are the backbone to the transportation system of the US. Interstate highways of the US are all built to exact specifications, maximizing high-speed travel safety and productivity.
Auxiliary routes are found on Interstate Highways and are typically assigned a three-digit route number. All Interstate Highways are part of the National Highway System, a network of highways considered important to the country's defense, economy, and mobility. There are Interstate Highways not just in the 48 states of the United States, but also in Hawaii, Alaska, and Puerto Rico.
The American Association of State Highway and Transportation Officials coordinates and maintains the United States Numbered Highway System, which is an older system consisting primarily of surface-level trunk roads. The Interstate system has essentially replaced U.S. Highways for long-distance travel, with the exception of certain regions where the Interstate system is nonexistent or underdeveloped. As a result, U.S. Highways that were formerly essential long-distance routes, including U.S. Route 21 and U.S. Route 66, have been decommissioned and shortened.
State highways of the US are also a feature of every state. State highways come in a variety of sizes, capacities, and qualities. Some state highways have such high levels of traffic that they are constructed to Interstate Highway standards. Others have a smaller capacity and are less often traveled.
List of United States Interstate Highways
| Number | Length (mi) | Length (km) | Formed | Served States |
| --- | --- | --- | --- | --- |
| I-2 | 46.8 | 75.32 | 2013 | Texas |
| I-4 | 132.3 | 212.92 | 1959 | Florida |
| I-5 | 1381.29 | 2,222.97 | 1956 | California, Oregon, Washington |
| I-8 | 348.25 | 560.45 | 1964 | California, Arizona |
| I-10 | 2460.34 | 3,959.53 | 1957 | California, Arizona, New Mexico, Texas, Louisiana, Mississippi, Alabama, Florida |
| I-11 | 22.6 | 36.37 | 2017 | Nevada |
| I-12 | 85.59 | 137.74 | 1967 | Louisiana |
| I-14 | 25.1 | 40.39 | 2017 | Texas ; planned extension east and west |
| I-15 | 1433.52 | 2,307.03 | 1957 | California, Nevada, Arizona, Utah, Idaho, Montana |
| I-16 | 166.81 | 268.45 | 1966 | Georgia |
| I-17 | 145.76 | 234.58 | 1961 | Arizona |
| I-19 | 63.35 | 101.95 | 1972 | Arizona |
| I-20 | 1539.38 | 2,477.39 | 1957 | Texas, Louisiana, Mississippi, Alabama, Georgia, South Carolina |
| I-22 | 202.22 | 325.44 | 2012 | Mississippi, Alabama |
| I-24 | 316.36 | 509.13 | 1962 | Illinois, Kentucky, Tennessee, Georgia |
| I-25 | 1061.67 | 1,708.59 | 1957 | New Mexico, Colorado, Wyoming |
| I-26 | 304.64 | 490.27 | 1960 | Tennessee, North Carolina, South Carolina |
| I-27 | 124.13 | 199.77 | 1969 | Texas |
| I-29 | 755.51 | 1,215.88 | 1958 | Missouri, Iowa, South Dakota, North Dakota |
| I-30 | 366.76 | 590.24 | 1957 | Texas, Arkansas |
| I-35 | 1568.38 | 2,524.06 | 1956 | Texas, Oklahoma, Kansas, Missouri, Iowa, Minnesota |
| I-37 | 143 | 230.14 | 1959 | Texas |
| I-39 | 306.14 | 492.68 | 1984 | Illinois, Wisconsin |
| I-40 | 2556.61 | 4,114.46 | 1964 | California, Arizona, New Mexico, Texas, Oklahoma, Arkansas, Tennessee, North Carolina |
| I-41 | 175 | 281.64 | 2015 | Illinois, Wisconsin |
| I-42 | 142 | 228.53 | proposed | Future Interstate, will serve North Carolina |
| I-43 | 191.55 | 308.27 | 1981 | Wisconsin |
| I-44 | 636.69 | 1,024.65 | 1958 | Texas, Oklahoma, Missouri |
| I-45 | 284.91 | 458.52 | 1971 | Texas |
| I-49 | 528.02 | 849.77 | 1984 | Louisiana, Arkansas, Missouri |
| I-55 | 964.25 | 1,551.81 | 1960 | Louisiana, Mississippi, Tennessee, Arkansas, Missouri, Illinois |
| I-57 | 386.12 | 621.4 | 1965 | Missouri, Illinois |
| I-59 | 445.23 | 716.53 | 1960 | Louisiana, Mississippi, Alabama, Georgia |
| I-64 | 963.52 | 1,550.64 | 1961 | Missouri, Illinois, Indiana, Kentucky, West Virginia, Virginia |
| I-65 | 887.3 | 1,427.97 | 1958 | Alabama, Tennessee, Kentucky, Indiana |
| I-66 | 76.28 | 122.76 | 1961 | Serves DC and one state: Virginia |
| I-66 | — | — | 1991 | Proposed, never built |
| I-68 | 113.15 | 182.1 | 1991 | West Virginia, Maryland |
| I-69 | 721.57 | 1,161.25 | 1957 | |
| I-70 | 2172.16 | 3,495.75 | 1956 | Utah, Colorado, Kansas, Missouri, Illinois, Indiana, Ohio, West Virginia, Pennsylvania, Maryland |
| I-71 | 345.57 | 556.14 | 1959 | Kentucky, Ohio |
| I-72 | 179.29 | 288.54 | 1970 | Missouri, Illinois |
| I-73 | 99.43 | 160.02 | 1997 | North Carolina ; planned extension north and south |
| I-74 | 491.74 | 791.38 | 1974 | Iowa, Illinois, Indiana, Ohio, North Carolina |
| I-75 | 1786.47 | 2,875.04 | 1958 | Florida, Georgia, Tennessee, Kentucky, Ohio, Michigan |
| I-76 | 186.48 | 300.11 | 1975 | Colorado, Nebraska |
| I-76 | 435.66 | 701.13 | 1964 | Ohio, Pennsylvania, New Jersey |
| I-77 | 610.1 | 981.86 | 1958 | South Carolina, North Carolina, Virginia, West Virginia, Ohio |
| I-78 | 146.28 | 235.41 | 1957 | Pennsylvania, New Jersey, New York |
| I-79 | 343.46 | 552.75 | 1967 | West Virginia, Pennsylvania |
| I-80 | 2899.59 | 4,666.44 | 1956 | California, Nevada, Utah, Wyoming, Nebraska, Iowa, Illinois, Indiana, Ohio, Pennsylvania, New Jersey |
| I-81 | 855.02 | 1,376.02 | 1961 | Tennessee, Virginia, West Virginia, Maryland, Pennsylvania, New York |
| I-82 | 143.58 | 231.07 | 1957 | Washington, Oregon |
| I-83 | 85.03 | 136.84 | 1959 | Maryland, Pennsylvania |
| I-84 | 769.62 | 1,238.58 | 1980 | Oregon, Idaho, Utah |
| I-84 | 232.71 | 374.51 | 1963 | Pennsylvania, New York, Connecticut, Massachusetts |
| I-85 | 666.05 | 1,071.90 | 1958 | Alabama, Georgia, South Carolina, North Carolina, Virginia |
| I-86 | 62.85 | 101.15 | 1980 | Idaho |
| I-86 | 223.39 | 359.51 | 1999 | Pennsylvania, New York |
| I-87 | 12.9 | 20.76 | 2017 | North Carolina , planned Northern extension. |
| I-87 | 333.49 | 536.7 | 1957 | New York |
| I-88 | 140.6 | 226.27 | 1987 | Illinois |
| I-88 | 117.75 | 189.5 | 1968 | New York |
| I-89 | 191.12 | 307.58 | 1960 | New Hampshire, Vermont |
| I-90 | 3020.44 | 4,860.93 | 1956 | Washington, Idaho, Montana, Wyoming, South Dakota, Minnesota, Wisconsin, Illinois, Indiana, Ohio, Pennsylvania, New York, Massachusetts |
| I-91 | 290.37 | 467.31 | 1958 | Connecticut, Massachusetts, Vermont |
| I-93 | 189.95 | 305.69 | 1957 | Massachusetts, New Hampshire, Vermont |
| I-94 | 1585.2 | 2,551.13 | 1956 | Montana, North Dakota, Minnesota, Wisconsin, Illinois, Indiana, Michigan |
| I-95 | 1919.31 | 3,088.83 | 1957 | Serves DC and 15 states: Florida, Georgia, South Carolina, North Carolina, Virginia, Maryland, Delaware, Pennsylvania, New Jersey, New York, Connecticut, Rhode Island, Massachusetts, New Hampshire, Maine |
| I-96 | 192.06 | 309.09 | 1959 | Michigan |
| I-97 | 17.62 | 28.36 | 1987 | Maryland |
| I-99 | 98.34 | 158.26 | 1998 | Pennsylvania, New York |
List of United States Numbered Highways
| US 1- 71 | US 72- 165 | US 166 - 302 | US 309 - 830 |
| --- | --- | --- | --- |
| US 1 | US 72 | US 166 | US 309 |
| US 2 | US 73 | US 167 | US 310 |
| US 2 | US 74 | US 168 | US 311 |
| US 3 | US 75 | US 169 | US 312 |
| US 4 | US 76 | US 170 | US 319 |
| US 5 | US 77 | US 171 | US 320 |
| US 6 | US 78 | US 175 | US 321 |
| US 7 | US 79 | US 176 | US 322 |
| US 8 | US 80 | US 177 | US 330 |
| US 9 | US 81 | US 178 | US 331 |
| US 10 | US 82 | US 180 | US 331 |
| US 11 | US 83 | US 180 | US 340 |
| US 12 | US 84 | US 181 | US 341 |
| US 13 | US 85 | US 183 | US 350 |
| US 14 | US 87 | US 185 | US 360 |
| US 15 | US 89 | US 187 | US 366 |
| US 16 | US 90 | US 189 | US 366 |
| US 17 | US 91 | US 189 | US 370 |
| US 17-1 | US 92 | US 190 | US 371 |
| US 18 | US 93 | US 191 | US 371 |
| US 19 | US 94 | US 192 | US 377 |
| US 20 | US 95 | US 195 | US 378 |
| US 21 | US 96 | US 197 | US 380 |
| US 22 | US 96 | US 199 | US 383 |
| US 23 | US 97 | US 201 | US 385 |
| US 24 | US 98 | US 202 | US 385 |
| US 25 | US 99 | US 206 | US 395 |
| US 26 | US 101 | US 209 | US 399 |
| US 27 | US 102 | US 210 | US 400 |
| US 28 | US 104 | US 211 | US 401 |
| US 29 | US 106 | US 212 | US 401 |
| US 30 | US 109 | US 213 | US 401 |
| US 31 | US 110 | US 216 | US 410 |
| US 32 | US 111 | US 217 | US 411 |
| US 33 | US 112 | US 218 | US 411 |
| US 34 | US 113 | US 219 | US 411 |
| US 35 | US 116 | US 220 | US 412 |
| US 36 | US 117 | US 221 | US 420 |
| US 37 | US 117 | US 222 | US 421 |
| US 38 | US 118 | US 223 | US 422 |
| US 40 | US 119 | US 224 | US 425 |
| US 41 | US 120 | US 227 | US 430 |
| US 42 | US 121 | US 230 | US 431 |
| US 43 | US 121 | US 231 | US 441 |
| US 44 | US 122 | US 240 | US 450 |
| US 45 | US 122 | US 241 | US 460 |
| US 46 | US 123 | US 241 | US 466 |
| US 48 | US 123 | US 250 | US 466 |
| US 48 | US 124 | US 250 | US 470 |
| US 48 | US 126 | US 258 | US 485 |
| US 49 | US 127 | US 259 | US 491 |
| US 50 | US 129 | US 260 | US 501 |
| US 51 | US 130 | US 264 | US 511 |
| US 52 | US 131 | US 266 | US 521 |
| US 53 | US 136 | US 270 | US 522 |
| US 54 | US 138 | US 270 | US 530 |
| US 55 | US 140 | US 271 | US 541 |
| US 56 | US 141 | US 275 | US 550 |
| US 57 | US 143 | US 276 | US 566 |
| US 58 | US 150 | US 277 | US 601 |
| US 59 | US 151 | US 278 | US 611 |
| US 60 | US 152 | US 280 | US 622 |
| US 61 | US 154 | US 281 | US 630 |
| US 62 | US 156 | US 283 | US 630 |
| US 63 | US 158 | US 285 | US 641 |
| US 64 | US 159 | US 285 | US 650 |
| US 65 | US 160 | US 287 | US 666 |
| US 66 | US 161 | US 290 | US 701 |
| US 67 | US 163 | US 295 | US 711 |
| US 68 | US 163 | US 299 | US 730 |
| US 69 | US 164 | US 301 | US 789 |
| US 70 | US 164 | US 301 | US 830 |
| US 71 | US 165 | US 302 | |
Roadr Map OF U.S. 50 States - Click on State name for its Road Map
City Maps of United States