The U.S. state of New Mexico is divided into 33 Counties. Explore the New Mexico County Map, all Counties list along with their County Seats in alphabetical order and their population, areas and the date of formation.
New Mexico County Map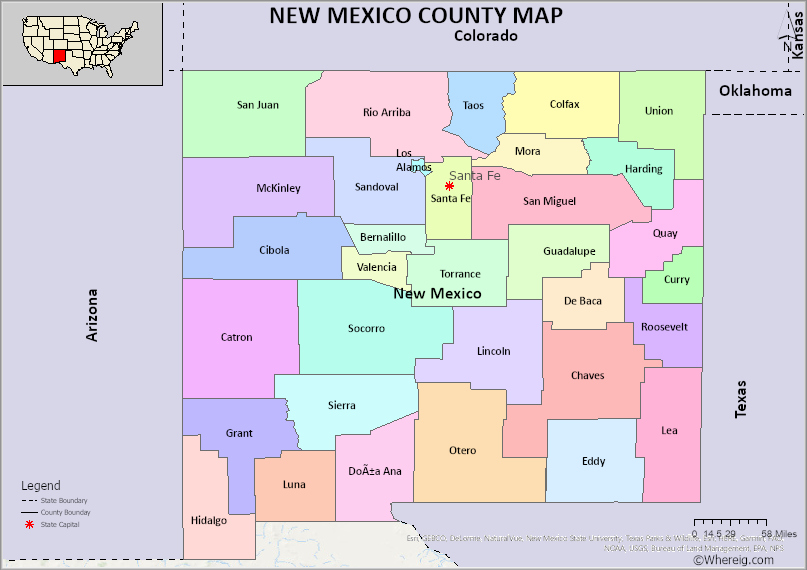 About New Mexico County Map
: The map showing the county boundary, all counties boundary, state capital and neighbouring states.
Other New Mexico Maps & Info
About Counties of New Mexico
New Mexico is one of the states in United States of America that is situated in the South-western region of the country. It is one of the mountain states of the country. New Mexico is the fifth largest state in the country. The total area of the state is 121298 square miles. The state ranks as the 36th state in the aspect of population. The state is bordered by Colorado to the north, Oklahoma and Texas to the east, Mexico in the south and Arizona in the west. The capital of New Mexico is Santa Fe. The state is also known as Land of Enchantment. New Mexico is wonderful and colourful place to visit. One would love to visit New Mexico for its charming and beautiful sceneries, wonderful national park and historical sites. New Mexico has a lot of nick names as it is called with 'The Cactus State', The Spanish State', The Land of Sunshine and so on.
There are 33 Counties in New Mexico. Among Counties in New Mexico Bernalillo is the most populous county in the state. Bernalillo has the largest city called 'Albuquerque'. It is situated in the central northern part of the state. The other famous cities of New Mexico are Las Cruces, Rio Rancho, and Santa Fe which also capital of the state New Mexico. Counties in New Mexico as well as the government give a lot of importance to Women to and often elect them as public servants. According a research conducted by Center for American Women and Politics at Rutgers University analyzed that two- third of non-white women have ever been elected as governors in the country are from New Mexico, even the present governor Grisham.
The state of New Mexico follows federal system like all other states of United States. New Mexico state government consists of Executive branch, Legislative branch and judicial branch of the government. The executive branch of the government is led by the governor, lieutenant governor, attorney general, Secretary of state, state auditor, state treasurer and other officials. The local government of Counties in New Mexico comprises of counties and municipalities. Counties are governed by an elected body of five members called County Commission, sheriff, clerk and treasurer. A municipality may consist of village, town or city. All the laws related to municipality are the same for villages, towns or cities.
The U.S. state of New Mexico has 33 Counties. This is list of New Mexico Counties and County Seats in alphabetical order along with check their population, areas and the date of formation.
List of Counties in New Mexico with County Seats
| S.N | County | County Seat | Population | Area | Formed |
| --- | --- | --- | --- | --- | --- |
| 1 | Bernalillo County | Albuquerque | 670968 | 1,166 mi² | 1852 |
| 2 | Catron County | Reserve | 3733 | 6,928 sq mi | 1921 |
| 3 | Chaves County | Roswell | 65890 | 6,071 sq mi | 1889 |
| 4 | Cibola County | Grants | 27658 | 4,540 sq mi | 1981 |
| 5 | Colfax County | Raton | 13640 | 3,757 sq mi | 1869 |
| 6 | Curry County | Clovis | 49649 | 1,406 sq mi | 1909 |
| 7 | De Baca County | Fort Sumner | 1945 | 2,325 sq mi | 1917 |
| 8 | Doña Ana County | Las Cruces | 213598 | 3,807 sq mi | 1852 |
| 9 | Eddy County | Carlsbad | 54152 | 4,182 sq mi | 1887 |
| 10 | Grant County | Silver City | 29380 | 3,966 sq mi | 1868 |
| 11 | Guadalupe County | Santa Rosa | 4619 | 3,031 sq mi | 1891 |
| 12 | Harding County | Mosquero | 740 | 2,126 sq mi | 1921 |
| 13 | Hidalgo County | Lordsburg | 4861 | 3,446 sq mi | 1920 |
| 14 | Lea County | Lovington | 65423 | 4,393 sq mi | 1917 |
| 15 | Lincoln County | Carrizozo | 20454 | 4,831 sq mi | 1869 |
| 16 | Los Alamos County | Los Alamos | 18222 | 109 sq mi | 1949 |
| 17 | Luna County | Deming | 25281 | 2,965 sq mi | 1901 |
| 18 | McKinley County | Gallup | 73664 | 5,449 sq mi | 1899 |
| 19 | Mora County | Mora | 4773 | 1,931 sq mi | 1859 |
| 20 | Otero County | Alamogordo | 65703 | 6,627 sq mi | 1899 |
| 21 | Quay County | Tucumcari | 9026 | 2,855 sq mi | 1903 |
| 22 | Rio Arriba County | Tierra Amarilla | 40446 | 5,858 sq mi | 1852 |
| 23 | Roosevelt County | Portales | 20446 | 2,449 sq mi | 1903 |
| 24 | San Juan County | Aztec | 128200 | 5,514 sq mi | 1887 |
| 25 | San Miguel County | Las Vegas | 29301 | 4,717 sq mi | 1852 |
| 26 | Sandoval County | Bernalillo | 134259 | 3,710 sq mi | 1903 |
| 27 | Santa Fe County | Santa Fe | 145648 | 1,909 sq mi | 1852 |
| 28 | Sierra County | Truth or Consequences | 11943 | 4,180 sq mi | 1884 |
| 29 | Socorro County | Socorro | 17873 | 6,647 sq mi | 1852 |
| 30 | Taos County | Taos | 32917 | 2,203 sq mi | 1852 |
| 31 | Torrance County | Estancia | 16345 | 3,345 sq mi | 1903 |
| 32 | Union County | Clayton | 4433 | 3,830 sq mi | 1893 |
| 33 | Valencia County | Los Lunas | 77070 | 1,068 sq mi | 1852 |
Explore Map of New Mexico Counties
County Map of U.S. 50 States
Edited by: Vijay Kanth | Updated On: June 13, 2022