The U.S. state of Arkansas is divided into 75 counties. Explore the Arkansas County Map, list of Counties in Arkansas along with their County Seats in alphabetical order along with their population, areas and the date of formation.
Arkansas County Map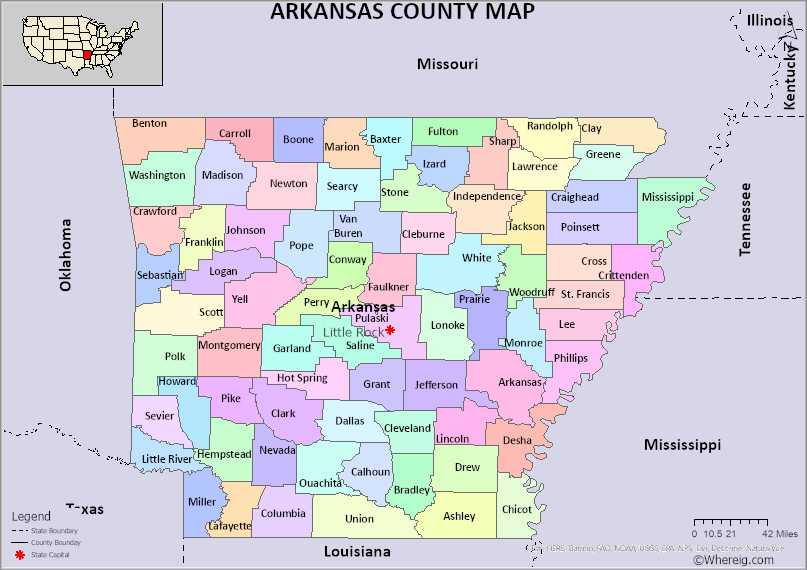 About Arkansas County Map
: The map showing the county boundary, all counties boundary, state capital and neighbouring states.
Most Viewed Links
About Arkansas County
One of the states of U.S.A namely Arkansas has a wonderful nick name and it is called as Natural state because it has got beautiful lakes, rivers mountains and wildlife. Arkansas is located in South Central part of United States. The capital of state is Little Rock. The state shares the border with other six states, Missouri is located to the north of the state, while Louisiana is in to the south, Texas which is also known as Lone star state is towards southwest and Oklahoma in the west and Tennessee and Mississippi are to the east. The number of Counties in Arkansas is 75. Among all counties of Arkansas, Union County is the biggest county by area while Calhoun is the smallest county.
Arkansas has got 52035 square meter area and 134771 square kilometres. According to official census taken back in the year 2010 the population was 2,915,918 in Arkansas state that awarded the state as the 32nd largest state in the U.S.A The estimated population of state now is 3,033,946. Pulaski county indeed ranks first in terms of most populated county in the state. Less density of population could be found in Calhoun County. The counties in Arkansas follow Federal government at the centre and the political power in the state is divided into three branches, they are legislative, executive and judiciary.
The natural resources of Arkansas are petroleum, natural gas and coal. The counties of Arkansas are encouraged to produce bauxite with which aluminium. In fact, Arkansas is one of the worlds` largest producer of bromine that is used in the production of pesticides, medications and water purification. Arkansas is one and only state that mines diamonds in US.
List of Counties in Arkansas With County Seats
The U.S. state of Arkansas has 75 counties. This is list of Arkansas Counties and County Seats in alphabetical order and check their population, areas and the date of formation.
| S.N | County | County seat | FIPS code | Formed | Population | Area |
| --- | --- | --- | --- | --- | --- | --- |
| 1 | Arkansas County | Stuttgart, DeWitt | 1 | December 13, 1813 | 16,722 | 1,033.79 sq mi (2,678 km2) |
| 2 | Ashley County | Hamburg | 3 | November 30, 1848 | 18,674 | 939.08 sq mi (2,432 km2) |
| 3 | Baxter County | Mountain Home | 5 | March 24, 1873 | 42,144 | 586.74 sq mi (1,520 km2) |
| 4 | Benton County | Bentonville | 7 | September 30, 1836 | 293,692 | 884.86 sq mi (2,292 km2) |
| 5 | Boone County | Harrison | 9 | April 9, 1869 | 37,830 | 601.82 sq mi (1,559 km2) |
| 6 | Bradley County | Warren | 11 | December 18, 1840 | 10,408 | 654.38 sq mi (1,695 km2) |
| 7 | Calhoun County | Hampton | 13 | December 6, 1850 | 4,741 | 632.54 sq mi (1,638 km2) |
| 8 | Carroll County | Berryville, Eureka Springs | 15 | November 1, 1833 | 28,435 | 638.81 sq mi (1,655 km2) |
| 9 | Chicot County | Lake Village | 17 | October 15, 1823 | 10,019 | 690.88 sq mi (1,789 km2) |
| 10 | Clark County | Arkadelphia | 19 | December 15, 1818 | 21,321 | 882.60 sq mi (2,286 km2) |
| 11 | Clay County | Piggott, Corning | 21 | March 24, 1873 | 14,350 | 641.42 sq mi (1,661 km2) |
| 12 | Cleburne County | Heber Springs | 23 | February 20, 1883 | 25,015 | 591.91 sq mi (1,533 km2) |
| 13 | Cleveland County | Rison | 25 | April 17, 1873 | 7,514 | 598.80 sq mi (1,551 km2) |
| 14 | Columbia County | Magnolia | 27 | December 17, 1852 | 22,672 | 766.86 sq mi (1,986 km2) |
| 15 | Conway County | Morrilton | 29 | October 20, 1825 | 20,873 | 566.66 sq mi (1,468 km2) |
| 16 | Craighead County | Jonesboro, Lake City | 31 | February 19, 1859 | 112,218 | 712.98 sq mi (1,847 km2) |
| 17 | Crawford County | Van Buren | 33 | October 18, 1820 | 60,378 | 604.20 sq mi (1,565 km2) |
| 18 | Crittenden County | Marion | 35 | October 22, 1825 | 47,525 | 636.74 sq mi (1,649 km2) |
| 19 | Cross County | Wynne | 37 | November 15, 1862 | 16,681 | 622.33 sq mi (1,612 km2) |
| 20 | Dallas County | Fordyce | 39 | January 1, 1845 | 6,308 | 668.16 sq mi (1,731 km2) |
| 21 | Desha County | Arkansas City | 41 | December 12, 1838 | 11,090 | 819.52 sq mi (2,123 km2) |
| 22 | Drew County | Monticello | 43 | November 26, 1846 | 17,110 | 835.65 sq mi (2,164 km2) |
| 23 | Faulkner County | Conway | 45 | April 12, 1873 | 125,106 | 664.01 sq mi (1,720 km2) |
| 24 | Franklin County | Ozark, Charleston | 47 | December 19, 1837 | 17,173 | 619.69 sq mi (1,605 km2) |
| 25 | Fulton County | Salem | 49 | December 21, 1842 | 12,145 | 620.32 sq mi (1,607 km2) |
| 26 | Garland County | Hot Springs | 51 | April 5, 1873 | 100,330 | 734.57 sq mi (1,903 km2) |
| 27 | Grant County | Sheridan | 53 | February 4, 1869 | 18,090 | 633.01 sq mi (1,639 km2) |
| 28 | Greene County | Paragould | 55 | November 5, 1833 | 46,317 | 579.65 sq mi (1,501 km2) |
| 29 | Hempstead County | Hope | 57 | December 15, 1818 | 19,694 | 741.36 sq mi (1,920 km2) |
| 30 | Hot Spring County | Malvern | 59 | November 2, 1829 | 33,148 | 622.16 sq mi (1,611 km2) |
| 31 | Howard County | Nashville | 61 | April 17, 1873 | 12,698 | 595.20 sq mi (1,542 km2) |
| 32 | Independence County | Batesville | 63 | October 20, 1820 | 37,723 | 771.57 sq mi (1,998 km2) |
| 33 | Izard County | Melbourne | 65 | October 27, 1825 | 13,911 | 584.02 sq mi (1,513 km2) |
| 34 | Jackson County | Newport | 67 | November 5, 1829 | 16,811 | 641.45 sq mi (1,661 km2) |
| 35 | Jefferson County | Pine Bluff | 69 | November 2, 1829 | 65,861 | 913.70 sq mi (2,366 km2) |
| 36 | Johnson County | Clarksville | 71 | November 16, 1833 | 25,845 | 682.74 sq mi (1,768 km2) |
| 37 | Lafayette County | Lewisville | 73 | October 15, 1827 | 6,163 | 545.07 sq mi (1,412 km2) |
| 38 | Lawrence County | Walnut Ridge | 75 | January 15, 1815 | 16,292 | 592.34 sq mi (1,534 km2) |
| 39 | Lee County | Marianna | 77 | April 17, 1873 | 8,619 | 619.47 sq mi (1,604 km2) |
| 40 | Lincoln County | Star City | 79 | March 28, 1871 | 13,037 | 572.17 sq mi (1,482 km2) |
| 41 | Little River County | Ashdown | 81 | March 5, 1867 | 11,944 | 564.87 sq mi (1,463 km2) |
| 42 | Logan County | Booneville, Paris | 83 | March 22, 1871 | 21,215 | 731.50 sq mi (1,895 km2) |
| 43 | Lonoke County | Lonoke | 85 | April 16, 1873 | 74,722 | 802.43 sq mi (2,078 km2) |
| 44 | Madison County | Huntsville | 87 | September 30, 1836 | 16,960 | 837.06 sq mi (2,168 km2) |
| 45 | Marion County | Yellville | 89 | November 3, 1835 | 16,978 | 640.39 sq mi (1,659 km2) |
| 46 | Miller County | Texarkana | 91 | April 1, 1820[Note 2] | 42,649 | 637.48 sq mi (1,651 km2) |
| 47 | Mississippi County | Blytheville, Osceola | 93 | November 1, 1833 | 39,661 | 919.73 sq mi (2,382 km2) |
| 48 | Monroe County | Clarendon | 95 | November 2, 1829[6] | 6,683 | 621.41 sq mi (1,609 km2) |
| 49 | Montgomery County | Mount Ida | 97 | December 9, 1842 | 8,611 | 800.29 sq mi (2,073 km2) |
| 50 | Nevada County | Prescott | 99 | March 20, 1871 | 8,187 | 620.78 sq mi (1,608 km2) |
| 51 | Newton County | Jasper | 101 | December 14, 1842 | 7,204 | 823.18 sq mi (2,132 km2) |
| 52 | Ouachita County | Camden | 103 | November 29, 1842 | 22,306 | 739.63 sq mi (1,916 km2) |
| 53 | Perry County | Perryville | 105 | December 18, 1840 | 9,964 | 560.47 sq mi (1,452 km2) |
| 54 | Phillips County | Helena | 107 | May 1,1820 | 15,906 | 727.29 sq mi (1,884 km2) |
| 55 | Pike County | Murfreesboro | 109 | November 1, 1833 | 10,066 | 613.88 sq mi (1,590 km2) |
| 56 | Poinsett County | Harrisburg | 111 | February 28, 1838 | 22,660 | 763.39 sq mi (1,977 km2) |
| 57 | Polk County | Mena | 113 | November 30, 1844 | 19,353 | 862.42 sq mi (2,234 km2) |
| 58 | Pope County | Russellville | 115 | November 2, 1829 | 63,789 | 830.79 sq mi (2,152 km2) |
| 59 | Prairie County | Des Arc, DeValls Bluff | 117 | October 25, 1846 | 8,135 | 675.76 sq mi (1,750 km2) |
| 60 | Pulaski County | Little Rock | 119 | December 15, 1818 | 397,821 | 807.84 sq mi (2,092 km2) |
| 61 | Randolph County | Pocahontas | 121 | October 29, 1835 | 18,865 | 656.04 sq mi (1,699 km2) |
| 62 | St Francis County | Forrest City | 123 | October 13, 1827 | 22,739 | 642.40 sq mi (1,664 km2) |
| 63 | Saline County | Benton | 125 | November 2, 1835 | 125,233 | 730.46 sq mi (1,892 km2) |
| 64 | Scott County | Waldron | 127 | November 5, 1833 | 9,822 | 898.09 sq mi (2,326 km2) |
| 65 | Searcy County | Marshall | 129 | December 13, 1838 | 7,880 | 668.51 sq mi (1,731 km2) |
| 66 | Sebastian County | Fort Smith, Greenwood | 131 | January 6, 1851 | 128,400 | 546.04 sq mi (1,414 km2) |
| 67 | Sevier County | De Queen | 133 | October 17, 1828 | 15,783 | 581.35 sq mi (1,506 km2) |
| 68 | Sharp County | Ash Flat | 135 | July 18, 1868 | 17,622 | 606.35 sq mi (1,570 km2) |
| 69 | Stone County | Mountain View | 137 | April 21, 1873 | 12,481 | 609.43 sq mi (1,578 km2) |
| 70 | Union County | El Dorado | 139 | November 2, 1829 | 38,340 | 1,055.27 sq mi (2,733 km2) |
| 71 | Van Buren County | Clinton | 141 | November 11, 1833 | 15,694 | 724.32 sq mi (1,876 km2) |
| 72 | Washington County | Fayetteville | 143 | October 17, 1828 | 250,057 | 951.72 sq mi (2,465 km2) |
| 73 | White County | Searcy | 145 | October 23, 1835 | 77,207 | 1,042.36 sq mi (2,700 km2) |
| 74 | Woodruff County | Augusta | 147 | November 26, 1862 | 6,116 | 594.05 sq mi (1,539 km2) |
| 75 | Yell County | Dardanelle, Danville | 149 | December 5, 1840 | 20,155 | 948.84 sq mi (2,457 km2) |
County Map of U.S. 50 States