The U.S. state of Illinois is divided into 102 Counties. Explore the Illinois County Map, all Counties list along with their County Seats in alphabetical order and their population, areas and the date of formation.
Illinois County Map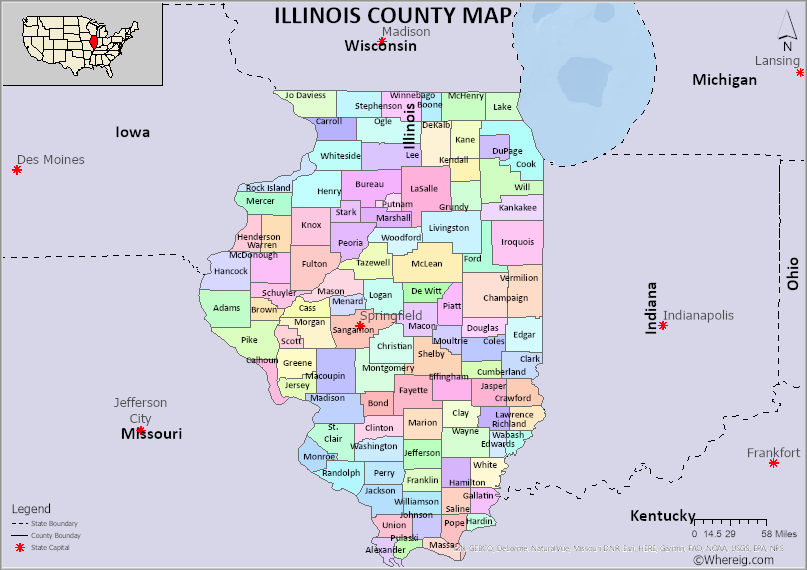 About Illinois County Map
: The map showing the county boundary, all counties boundary, state capital and neighbouring states.
More Illinois Maps & Info
About Counties of Illinois
Illinois is a state of United States which is located in the Midwestern region of the county. The state ranks as the largest state in terms of population. The state occupies an arena of 55519 square miles that accounts for 143793 square kilometers in the country. The capital city of the state is Springfield. The state Illinois is surrounded with other states namely Wisconsin is located to the north of the state where as Iowa and Missouri to the west, Kentucky to the east and south, and Indiana to the east. The state is blessed with many natural resources like coal, timber, petroleum and fertile soil. Illinois is nicknamed as 'The Prairie State'. The state has another nick name too 'Land of Lincoln'.
The state takes privilege of having big cities. The prominent cities of the state are Chicago, Aurora, Rockford and Springfield. Chicago is the largest city in the state of Illinois which is most populated city with 2,679,080 million citizens. Aurora and Naperville stood as second and third largest cities of the state in terms of population. Pingree Grove has been considered as the fastest growing city in the state.
There are 102 counties in the state of Illinois. Cook County in fact is the biggest county regarding population and the smallest county in terms of population is Hardin County. Geographically the biggest County is McLean County and Putnam County is the smallest. According the constitution of Illinois the state government entitled to have three branches of administration; they are executive branch, legislative branch and Judicial branch. As per home rule county is governed by a body of Commissioners. The Commissioners and the president of a County Board are usually elected.
The U.S. state of Illinois has 102 Counties. This is list of Illinois Counties and County Seats in alphabetical order along with check their population, areas and the date of formation.
List of Counties in Illinois and County Seats
Click on any County for Its detailed Map and Info.
| S.N | County | County Seat | Population | Area | Formed |
| --- | --- | --- | --- | --- | --- |
| 1 | Adams County | Quincy | 67,103 | 857 sq mi | 1,825 |
| 2 | Alexander County | Cairo | 8,238 | 236 sq mi | 1,819 |
| 3 | Bond County | Greenville | 17,768 | 380 sq mi | 1,817 |
| 4 | Boone County | Belvidere | 54,165 | 281 sq mi | 1,837 |
| 5 | Brown County | Mount Sterling | 6,937 | 306 sq mi | 1,839 |
| 6 | Bureau County | Princeton | 34,978 | 869 sq mi | 1,837 |
| 7 | Calhoun County | Hardin | 5,089 | 254 sq mi | 1,825 |
| 8 | Carroll County | Mount Carroll | 15,387 | 444 sq mi | 1,839 |
| 9 | Cass County | Virginia | 13,642 | 376 sq mi | 1,837 |
| 10 | Champaign County | Urbana | 201,081 | 997 sq mi | 1,833 |
| 11 | Christian County | Taylorville | 34,800 | 709 sq mi | 1,839 |
| 12 | Clark County | Marshall | 16,335 | 502 sq mi | 1,819 |
| 13 | Clay County | Louisville | 13,815 | 469 sq mi | 1,824 |
| 14 | Clinton County | Carlyle | 37,762 | 474 sq mi | 1,824 |
| 15 | Coles County | Charleston | 53,873 | 508 sq mi | 1,830 |
| 16 | Cook County | Chicago | 5,194,675 | 946 sq mi | 1,831 |
| 17 | Crawford County | Robinson | 19,817 | 444 sq mi | 1,816 |
| 18 | Cumberland County | Toledo | 11,048 | 346 sq mi | 1,843 |
| 19 | DeKalb County | Sycamore | 105,160 | 634 sq mi | 1,837 |
| 20 | DeWitt County | Clinton | 16,561 | 398 sq mi | 1,839 |
| 21 | Douglas County | Tuscola | 19,980 | 417 sq mi | 1,859 |
| 22 | DuPage County | Wheaton | 916,924 | 334 sq mi | 1,839 |
| 23 | Edgar County | Paris | 18,576 | 624 sq mi | 1,823 |
| 24 | Edwards County | Albion | 6,721 | 222 sq mi | 1,814 |
| 25 | Effingham County | Effingham | 34,242 | 479 sq mi | 1,831 |
| 26 | Fayette County | Vandalia | 22,140 | 716 sq mi | 1,821 |
| 27 | Ford County | Paxton | 14,081 | 486 sq mi | 1,859 |
| 28 | Franklin County | Benton | 39,561 | 412 sq mi | 1,818 |
| 29 | Fulton County | Lewistown | 37,069 | 866 sq mi | 1,823 |
| 30 | Gallatin County | Shawneetown | 5,589 | 324 sq mi | 1,812 |
| 31 | Greene County | Carrollton | 13,886 | 543 sq mi | 1,821 |
| 32 | Grundy County | Morris | 50,063 | 420 sq mi | 1,841 |
| 33 | Hamilton County | McLeansboro | 8,457 | 435 sq mi | 1,821 |
| 34 | Hancock County | Carthage | 19,104 | 795 sq mi | 1,825 |
| 35 | Hardin County | Elizabethtown | 4,320 | 178 sq mi | 1,839 |
| 36 | Henderson County | Oquawka | 7,331 | 379 sq mi | 1,841 |
| 37 | Henry County | Cambridge | 50,486 | 823 sq mi | 1,825 |
| 38 | Iroquois County | Watseka | 29,718 | 1,116 sq mi | 1,833 |
| 39 | Jackson County | Murphysboro | 60,218 | 588 sq mi | 1,816 |
| 40 | Jasper County | Newton | 9,698 | 494 sq mi | 1,831 |
| 41 | Jefferson County | Mount Vernon | 38,827 | 571 sq mi | 1,819 |
| 42 | Jersey County | Jerseyville | 22,985 | 369 sq mi | 1,839 |
| 43 | Jo Daviess County | Galena | 22,678 | 601 sq mi | 1,827 |
| 44 | Johnson County | Vienna | 12,582 | 346 sq mi | 1,812 |
| 45 | Kane County | Geneva | 515,269 | 521 sq mi | 1,836 |
| 46 | Kankakee County | Kankakee | 113,449 | 678 sq mi | 1,853 |
| 47 | Kendall County | Yorkville | 114,736 | 321 sq mi | 1,841 |
| 48 | Knox County | Galesburg | 52,919 | 716 sq mi | 1,825 |
| 49 | Lake County | Waukegan | 703,462 | 448 sq mi | 1,839 |
| 50 | LaSalle County | Ottawa | 113,924 | 1,135 sq mi | 1,831 |
| 51 | Lawrence County | Lawrenceville | 16,833 | 372 sq mi | 1,821 |
| 52 | Lee County | Dixon | 36,031 | 725 sq mi | 1,839 |
| 53 | Livingston County | Pontiac | 38,950 | 1,044 sq mi | 1,837 |
| 54 | Logan County | Lincoln | 30,305 | 618 sq mi | 1,839 |
| 55 | Macon County | Decatur | 110,768 | 581 sq mi | 1,829 |
| 56 | Macoupin County | Carlinville | 47,765 | 864 sq mi | 1,829 |
| 57 | Madison County | Edwardsville | 269,282 | 725 sq mi | 1,812 |
| 58 | Marion County | Salem | 39,437 | 572 sq mi | 1,823 |
| 59 | Marshall County | Lacon | 12,640 | 386 sq mi | 1,839 |
| 60 | Mason County | Havana | 14,666 | 539 sq mi | 1,841 |
| 61 | Massac County | Metropolis | 15,429 | 239 sq mi | 1,843 |
| 62 | McDonough County | Macomb | 32,612 | 589 sq mi | 1,826 |
| 63 | McHenry County | Woodstock | 308,760 | 604 sq mi | 1,836 |
| 64 | McLean County | Bloomington | 169,572 | 1,184 sq mi | 1,830 |
| 65 | Menard County | Petersburg | 12,705 | 314 sq mi | 1,839 |
| 66 | Mercer County | Aledo | 16,434 | 561 sq mi | 1,825 |
| 67 | Monroe County | Waterloo | 32,957 | 388 sq mi | 1,816 |
| 68 | Montgomery County | Hillsboro | 30,104 | 704 sq mi | 1,821 |
| 69 | Morgan County | Jacksonville | 35,547 | 569 sq mi | 1,823 |
| 70 | Moultrie County | Sullivan | 14,846 | 336 sq mi | 1,843 |
| 71 | Ogle County | Oregon | 53,497 | 759 sq mi | 1,836 |
| 72 | Peoria County | Peoria | 186,494 | 620 sq mi | 1,825 |
| 73 | Perry County | Pinckneyville | 22,350 | 441 sq mi | 1,827 |
| 74 | Piatt County | Monticello | 16,729 | 440 sq mi | 1,841 |
| 75 | Pike County | Pittsfield | 16,430 | 830 sq mi | 1,821 |
| 76 | Pope County | Golconda | 4,470 | 371 sq mi | 1,816 |
| 77 | Pulaski County | Mound City | 6,161 | 201 sq mi | 1,843 |
| 78 | Putnam County | Hennepin | 6,006 | 160 sq mi | 1,825 |
| 79 | Randolph County | Chester | 33,476 | 578 sq mi | 1,795 |
| 80 | Richland County | Olney | 16,233 | 360 sq mi | 1,841 |
| 81 | Rock Island County | Rock Island | 147,546 | 427 sq mi | 1,831 |
| 82 | Saline County | Harrisburg | 24,913 | 383 sq mi | 1,847 |
| 83 | Sangamon County | Springfield | 197,465 | 868 sq mi | 1,821 |
| 84 | Schuyler County | Rushville | 7,544 | 437 sq mi | 1,825 |
| 85 | Scott County | Winchester | 5,355 | 251 sq mi | 1,839 |
| 86 | Shelby County | Shelbyville | 22,363 | 759 sq mi | 1,827 |
| 87 | St Clair County | Belleville | 270,056 | 664 sq mi | 1,790 |
| 88 | Stark County | Toulon | 5,994 | 288 sq mi | 1,839 |
| 89 | Stephenson County | Freeport | 47,711 | 564 sq mi | 1,837 |
| 90 | Tazewell County | Pekin | 135,394 | 649 sq mi | 1,827 |
| 91 | Union County | Jonesboro | 17,808 | 416 sq mi | 1,818 |
| 92 | Vermilion County | Danville | 81,625 | 899 sq mi | 1,826 |
| 93 | Wabash County | Mount Carmel | 11,947 | 224 sq mi | 1,824 |
| 94 | Warren County | Monmouth | 17,707 | 543 sq mi | 1,825 |
| 95 | Washington County | Nashville | 14,716 | 563 sq mi | 1,818 |
| 96 | Wayne County | Fairfield | 16,760 | 714 sq mi | 1,819 |
| 97 | White County | Carmi | 14,665 | 495 sq mi | 1,815 |
| 98 | Whiteside County | Morrison | 58,498 | 685 sq mi | 1,836 |
| 99 | Will County | Joliet | 677,560 | 837 sq mi | 1,836 |
| 100 | Williamson County | Marion | 66,357 | 424 sq mi | 1,839 |
| 101 | Winnebago County | Rockford | 295,266 | 514 sq mi | 1,836 |
| 102 | Woodford County | Eureka | 38,664 | 528 sq mi | 1,841 |
County Map of U.S. 50 States
Edited by: Vijay Kanth | Updated on: October 25, 2022