The given Germany location map shows that Germany is located in the central western part of Europe continent. Germany map also shows that the country shares its international boundaries with Denmark in the north, Poland and Czech Republic in the east, Austria and Switzerland in the south and in the western side shares its boundaries with France, Luxembourg, Belgium, and the Netherlands.
Location Map of Germany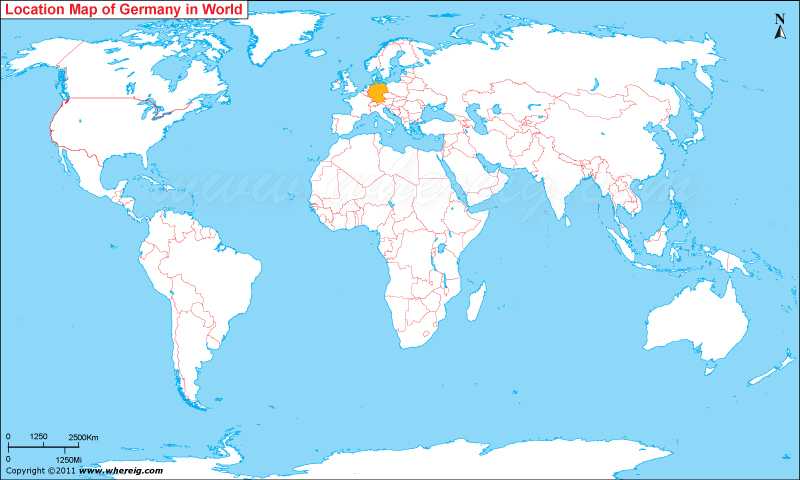 About Map: The map showing Where is Germany located on the World Map?
Where is Germany Located?
Germany is officially known as the Federal Republic of Germany. Germany is situated in west-central Europe. It is surrounded by the North Sea, Denmark, and the Baltic Sea in the North, and in the West it is surrounded by France, Luxembourg, Belgium, and the Netherlands. The maps show that Germany is bounded by Poland and the Czech Republic in the East, and by Austria and Switzerland in the South. Besides, Germany has also coastline in the northern side, which opens into the Baltic Sea in the north-east side and North Sea in the north-west side.
The government type of Germany is a federal parliamentary republic governing the sixteen states of the country. Germany is a member several international organization important of them are the United Nations, NATO, the G8, the G20, and the OECD. With the rank of forth largest economy, Germany is the considered as the significant powerful country. Germany is one of the largest exporter as well as importer countries of the world. Above all, Germany is known for a scientific and technological leader in numerous fields of studies.
Most parts of the country have temperate climate in which humid westerly winds predominate wherein winters are mild (however, some regions experience chilling cold) and summers use to be cool.
Moreover, German cars brands are top in the world. Some of the top German car brands are Mercedes, BMW, Audi etc. Many tourists from different corners of the world come for visiting the car factory. However, Germany has many other tourist places and beautiful landscapes that equally attract tourists round the year.
Facts about Germany
| | |
| --- | --- |
| Country | Germany |
| Continent | Europe |
| Where is Located | Germany is a country located in the Western Europe. |
| Coordinates | 52.516667, 13.383333 |
| Capital | Berlin |
| Largest City | Berlin |
| Neighboring Countries |  Austria, Belgium, Czech Republic, Denmark, France, Luxembourg, Netherlands, Poland, Switzerland |
| Administrative divisions | 16 states |
| Area | 357,022 km2 (137,847 sq mi)[4] (63rd) |
| Population (2020) | 83,190,556[6] (18th) |
| Official Language | German |
| Currency | Euro |
| ISO Alpha-2 Code | DE |
| ISO Alpha-3 Code | DEU |
| ISO Numeric Code | 276 |
| GDP PPP (2021) | $4.743 trillion (5th) |
| Calling code | +49 |
| Time Zone | CET (UTC+1) |
| Internet TLD | .de |