As shown in the given Frankfurt location map that Frankfurt is located in the south-western part of Germany that lies along the Main River about 19 miles upstream from its confluence with the Rhine River at Mainz. Frankfurt is the largest city of German state Hesse.
Location Map of Frankfurt, Hesse, Germany?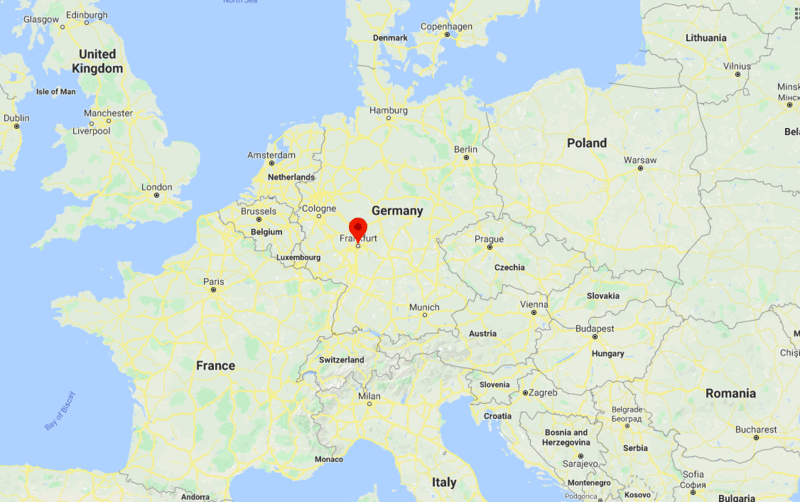 About Map: The map showing location map of Frankfurt in south-western Germany.
Where is Frankfurt Located?
The English name of the city is "Frankfurt on the Main". Since, Franks were the earlier inhabitants and by geographical location it is located on River Main therefore city name represents the legacy i.e. "ford of the Franks".
Frankfurt is one of the most important financial centers of the Europe and largest in Germany. It homes German Federal Bank, European Central Bank, and the Frankfurt Stock Exchange. Above all, the trade Fair of Frankfurt is globally famous. Surprisingly, Frankfurt is the only German city that is listed in top ten Alpha world cities. In the recent past, Frankfurt was American Occupation Zone in Germany, and it was also former headquarters city of the U.S. Army in Germany.

The international airport of Frankfurt is one of the busiest airports in the world. Frankfurt is an international centre for finance, commerce, culture, transport, education, and tourism. As per the report given by Mercer Human Resource Consulting - Frankfurt ranks among the top 10 most livable cities in the world.
Facts about Frankfurt City, Germany
Country
Germany
State
Hesse
Admin. region
Darmstadt
District
Urban district
Coordinates:
50°7′N 8°41′E
Founded
1st century
Subdivisions
16 area districts (Ortsbezirke)
46 city districts (Stadtteile)
Area
248.31 km2 (95.87 sq mi)
Elevation
112 m (367 ft)
Population (2019)
763,380
• Density
3,100/km2 (8,000/sq mi)
Time zone
UTC+01:00 (CET) | in Summer UTC+02:00 (CEST)
Postal codes
60306-60599, 65929-65936
Dialling codes
069, 06101, 06109
Vehicle registration
F
Airport
Frankfurt Airport (IATA: FRA, ICAO: EDDF)
Railway stations
Frankfurt Central Station (Frankfurt Hauptbahnhof
Rapid transit
U-Bahn - The U-Bahn has nine lines (U1 to U9)
and The S-Bahn - Nine S-Bahn lines (S1 to S9)
Climate
Temperate-oceanic climate
Website
www.frankfurt.de/
Places to Visit in Frankfurt
| | | | |
| --- | --- | --- | --- |
| Städel Museum | Römerberg | St. Paul's Church | Grüneburgpark |
| Maintower | Alte Oper | Museum Applied Art | Opel Zoo |
| Palmengarten - Botanical Garden | Frankfurt Cathedral | Historisches Museum Frankfurt | Hessenpark |
| Schirn Kunsthalle Frankfurt | Zoo Frankfurt | German Film Museum | Bethmann Park |
| Goethe House | Museum für Moderne Kunst | Iron Footbridge | State Park Hanau Wilhelmsbad |
| Naturmuseum Senckenberg | Römer | Museum for Communication | Oper Frankfurt |
| Parc thermal de Bad Homburg | Rebstockbad | Günthersburgpark | Taunus Nature Park |