The U.S. state of Massachusetts is divided into 14 Counties. Explore the Massachusetts County Map, all Counties list along with their County Seats in alphabetical order and their population, areas and the date of formation.
Massachusetts County Map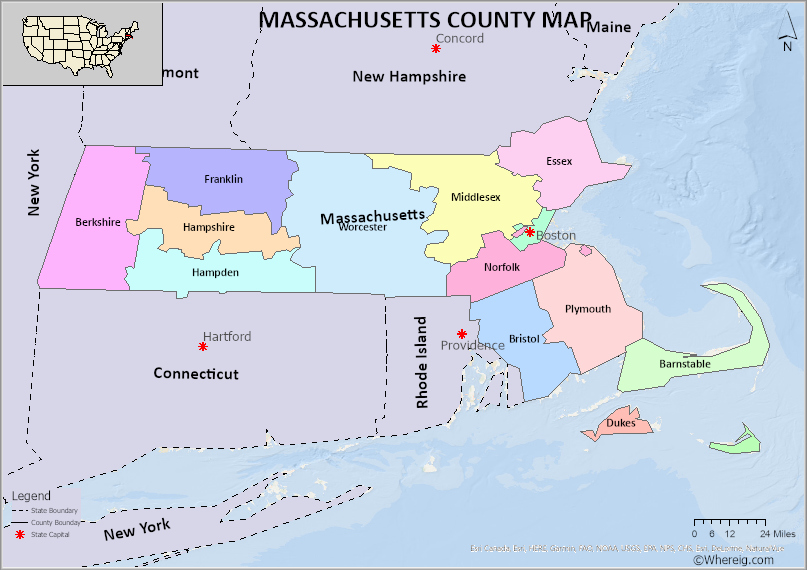 About Massachusetts County Map
: The map showing the county boundary, all counties boundary, state capital and neighbouring states.
Other Massachusetts Maps & Info
About Counties of Massachusetts
The US state of Massachusetts is located in the region of New England. Massachusetts is the seventh tiniest state in United States of America. The official name of the state is "Commonwealth of Massachusetts". The state has high reputation for its top ratings in the fields of education and health, safety and quality of life. Massachusetts is bordered with Atlantic Ocean to the east, Connecticut to the southwest and Rhode Island to the southeast, New Hampshire to the northeast, Vermont to the northwest, New York to the west. The state spans in 7800 square miles which is 20202 square kilometres. The capital of the state is Boston. The capital city of the state has high rate of density of population with 675,647 that makes Boston as the most populous city in New England. Counties of Massachusetts are 14 in number. The largest county in the state by area is Worcester County and the smallest County is Nantucket County which is spread over 48 Square miles. Nantucket which is an island covers 30 miles by ferry. The second smallest county is Suffolk County and it consists of the cities of Boston, Chelsea, Revere and Winthrop. Among the Counties of Massachusetts Middlesex County has the most population in the state according to census taken in the year 2019. There is a rapid growth in the population. The least populated County in the state of Massachusetts is Dukes County. There are 57 cities and 294 towns in Massachusetts. Counties of Massachusetts are governed by an elected body of members generally known as county commission, board of supervisors, commissioners, council of the county, county court and County Legislature.
The U.S. state of Massachusetts has 14 Counties. This is list of Massachusetts Counties and County Seats in alphabetical order along with check their population, areas and the date of formation.
List of Counties in Massachusetts with County Seats
| S.N | County | County Seat | Population | Area | Formed |
| --- | --- | --- | --- | --- | --- |
| 1 | Barnstable County | Barnstable | 215,888 | 396 sq mi | 1685 |
| 2 | Berkshire County | Pittsfield | 131,219 | 931 sq mi | 1761 |
| 3 | Bristol County | Taunton | 548,285 | 556 sq mi | 1685 |
| 4 | Dukes County | Edgartown | 16,535 | 104 sq mi | 1695 |
| 5 | Essex County | Salem and Lawrence | 743,159 | 498 sq mi | 1643 |
| 6 | Franklin County | Greenfield | 71,372 | 702 sq mi | 1811 |
| 7 | Hampden County | Springfield | 463,490 | 618 sq mi | 1812 |
| 8 | Hampshire County | Northampton | 158,080 | 529 sq mi | 1662 |
| 9 | Middlesex County | Cambridge and Lowell | 1,503,085 | 824 sq mi | 1643 |
| 10 | Nantucket County | Nantucket | 10,172 | 48 sq mi | 1695 |
| 11 | Norfolk County | Dedham | 670,850 | 400 sq mi | 1793 |
| 12 | Plymouth County | Plymouth and Brockton | 494,919 | 661 sq mi | 1685 |
| 13 | Suffolk County | Boston | 722,023 | 58 sq mi | 1643 |
| 14 | Worcester County | Worcester | 798,552 | 1,513 sq mi | 1731 |
Explore Map of Massachusetts Counties
County Map of U.S. 50 States
Edited by: Vijay Kanth | Updated On: June 13, 2022