Hong Kong, is a metropolitan area and special administrative region of of the People's Republic of China, located to the east of the Pearl River estuary on the south coast of China.
Location Map of Hong Kong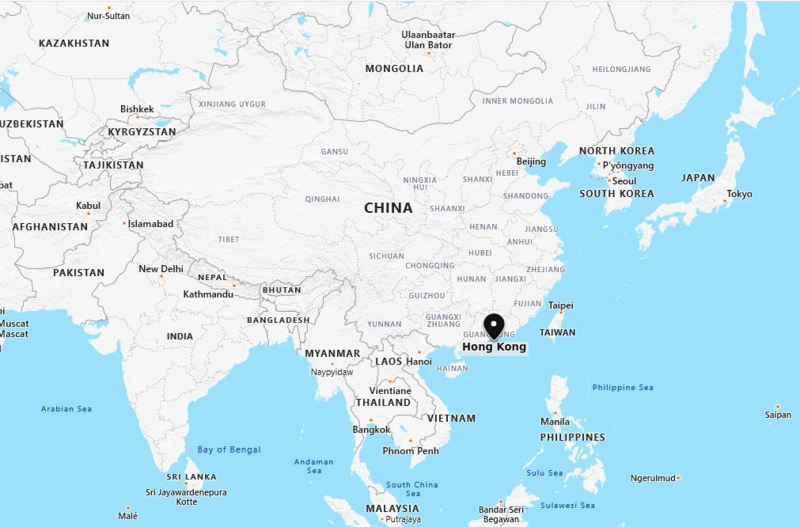 About Map:
Map showing Location of Hong Kong in the Map.
Where is Hong Kong Located?
Hong Kong is located on the south coast of People's Republic of China nearby Pearl River delta and the coast of South China Sea. Hong Kong is one of the special administrative regions (SARs) of the People's Republic of China (PRC), another one is Macau. Being small region and having huge population, Hong Kong is one of the most densely populated regions of the world. Ninety five percent population of Hong Kong is Chinese and remaining five percent belong to other groups.
Primarily, Hong Kong was a colony of the British Empire. It was happened immediately after the First Opium War that taken place between the years 1839 to 1842. Britain ruled the region until 1997, after this landmark year China got sovereignty over it. Likewise, the different time periods greatly influenced the native culture of Hong Kong; consequently, it has different cultures. This is the reason that it is more popularly known as "East meets West."
Hong Kong Facts:
| | |
| --- | --- |
| Official Name | Hong Kong Special Administrative Region |
| Continent | Asia |
| Location | Hong Kong is located on China's southern coast. |
| Hong Kong Coordinates | 22.281099, 114.175311 |
| Area of Hong Kong | 2,755 sq km (1,064 sq mi) (168th) |
| Population of Hong Kong | 7,496,981 (2020 est. UN Data) |
| Hong Kong Land Boundaries | 21 mi ( 33 km) |
| Coastline | 455 mi ( 733 km) |
| Currency of Hong Kong | Hong Kong Dollar (HK$) (HKD) |
| Hong Kong Official Languages | Chinese (majority Cantonese), English |
| Major Religion in Hong Kong | Buddhist or Taoist |
| Hong Kong National Day | 1 July (Hong Kong Special Administrative Region establishment Day) |
| Hong Kong National Anthem | "Yiyongjun Jinxingqu" |
| Form of Government | Special administrative region of the People's Republic of China |
| Space Agency | China National Space Administration (Space agency of China) |
| Military Expenditure Ranking | China's rank: 2 (SIPRI, 2017) |
| Driving Side | Left |
| Hong Kong Calling Code | 852 |
| Hong Kong Time Zone | UTC+8 (Hong Kong Time) |
| Hong Kong Climate | Humid subtropical climate |
| Hong Kong Airport | Hong Kong International Airport (HKG) |
| Internet TLD | .hk |
Top Places to Visit in Hong Kong:
| | | | | |
| --- | --- | --- | --- | --- |
| Hong Kong Disneyland | Repulse Bay | Madame Tussauds Hong Kong | Tsim Sha Tsui Star Ferry Pier | Tai Kwun - Centre for Heritage and |
| Victoria Harbour | Po Lin Monastery | Hong Kong Wetland Park | Lion Rock | Bank of China Tower |
| Victoria Peak | Peak Tower | Ten Thousand Buddhas Monastery | Hong Kong UNESCO Global Geopark | Hong Kong Cultural Centre |
| Ocean Park | Stanley Market | Hong Kong Museum of History | Soho, Hong Kong | Hong Kong Jockey Club Happy Valley |
| Tian Tan Buddha | Sik Sik Yuen Wong Tai Sin Temple | Former Kowloon-Canton Railway | Hong Kong Zoological and Botanical Gardens Green House | Hong Kong Heritage Museum |
| Ngong Ping 360 | Central-Mid-Levels Escalators | Dragon's Back | Peng Chau | The Peak Tower | Sky Terrace 428 |
| The Peak Tram | Cheung Chau | Hong Kong-Zhuhai-Macau Bridge | Wharf T & T | Hong Kong Observation Wheel |
| Sky 100 Hong Kong Observation Deck | Tung Choi Street | Golden Bauhinia Square | Tsing Ma Bridge | Lantau Trail |
| Avenue of stars | Adventureland | Kowloon Park | Big Wave Bay | Kowloon Walled City Park |
| Lan Kwai Fong | Frontierland | Nan Lian Garden | Hong Kong Space Museum | Grass Island & Sharp Island |
Distances Between Hong Kong to Other Cities:
| Distances between Cities | Distance in Miles | Distance in Kilometers |
| --- | --- | --- |
| From Hong Kong to Shanghai (China) | 762 mi | 1,227 km |
| From Hong Kong to Tokyo (Japan) | 1,792 mi | 2,883 km |
| From Hong Kong to New Delhi (India) | 2,341 mi | 3,767 km |
| From Hong Kong to Moscow (Russia) | 4,445 mi | 7,154 km |
| From Hong Kong to Sydney (Australia) | 4,567 mi | 7,349 km |
| From Hong Kong to Melbourne (Australia) | 4,593 mi | 7,391 km |
| From Hong Kong to Saint Petersburg (Russia) | 4,691 mi | 7,550 km |
| From Hong Kong to London (UK) | 5,992 mi | 9,644 km |
| From Hong Kong to Paris (France) | 5,995 mi | 9,648 km |
| From Hong Kong to Madrid (Spain) | 6,561 mi | 10,559 km |
| From Hong Kong to Los Angeles (CA, USA) | 7,252 mi | 11,672 km |
| From Hong Kong to Ottawa (Canada) | 7,731 mi | 12,443 km |
| From Hong Kong to Chicago (IL, USA) | 7,804 mi | 12,559 km |
| From Hong Kong to New York City (NY, USA) | 8,065 mi | 12,980 km |
| From Hong Kong to Houston (TX, USA) | 8,352 mi | 13,441 km |
| From Hong Kong to Mexico City (Mexico) | 8,793 mi | 14,150 km |
| From Hong Kong to Caracas (Venezuela) | 10,177 mi | 16,378 km |
| From Hong Kong to Bogotá (Colombia) | 10,501 mi | 16,899 km |
| From Hong Kong to Rio de Janeiro (Brazil) | 11,002 mi | 17,705 km |
| From Hong Kong to Lima (Peru) | 11,419 mi | 18,377 km |
| From Hong Kong to Buenos Aires (Argentina) | 11,471 mi | 18,461 km |
Location Map of Asian Countries
Last Updated Date: Feb 1, 2021