Sri Lanka officially the State of Democratic Socialist Republic of Sri Lanka, is an island country located in South-Central Asia. Sri Lanka shares a maritime border with India and the Maldives. It lies in the Indian Ocean, southwest of the Bay of Bengal, and southeast of the Arabian Sea; and separated from peninsular India by the Palk Strait.
Where is Sri Lanka on the World Map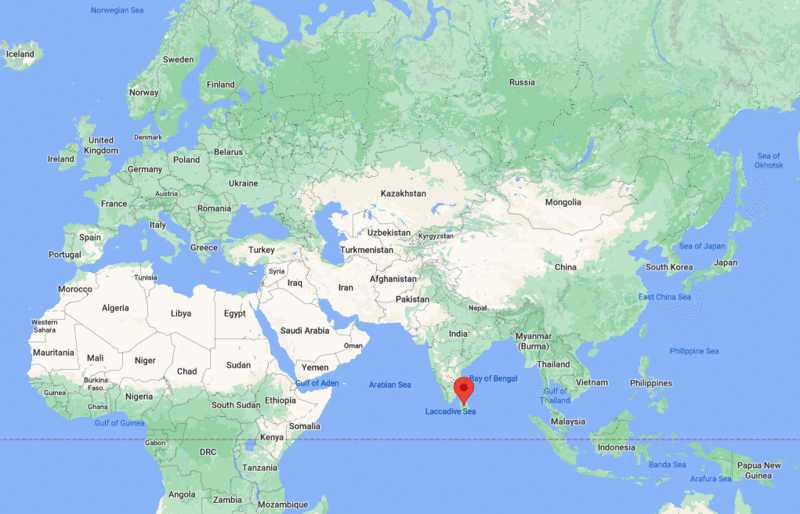 About Map: Map showing Where is Sri Lanka located in the World Map.
Where is Sri Lanka Located?
The given Sri Lanka location map shows that Sri Lanka is located in the South Asia. Sri Lanka map also illustrates that Sri Lanka is an island country separated by Indian sub-continent through maritime boundary Pak Strait. Likewise, the entire country lies in the Indian Ocean. Above all, due to its location, it is geo-strategically very significant because it lies in the naval route between the south-east Asia and west Asia.
The country has evidences of a long and colorful history of more than three thousand years old corroborated with one of the longest documented histories of the world. However, at present, the government type of Sri Lanka is a republic and a unitary state which is governed by a semi-presidential system. The official seat of government is situated in the capital city Sri Jayawardenapura-Kotte.
Besides, Sri Lanka is a founding member of SAARC and also a member United Nations, Commonwealth of Nations, Non-Aligned Movement, and G77. The economy of the country is largely depends upon the plantation agriculture. The significant crops are tea, coffee, coconuts, rubber and cinnamon. Moreover, the natural beauty of Sri Lanka is integrated with the title The Pearl of the Indian Ocean, Besides, the country has white beaches and diverse landscapes with rich biodiversity laden with lush tropical forests.
What is the capital of Sri Lanka?
Sri Jayawardenepura Kotte is the capital city of Sri Lanka. It is located in the southwestern part of the country. It's lies between latitue of 6.8868° N and longitude of 79.9187° E. It has a population of 115,826, covers an area of 17 km2 (7 sq mi).
Sri Lanka Provinces and Districts
Sri Lanka has been divided into nine provinces and twenty-five districts.
| Province | District | Land area in km2 (mi2) | Population |
| --- | --- | --- | --- |
| Central | Kandy | 1,917 (740) | 1,375,382 |
| Central | Matale | 1,952 (754) | 484,531 |
| Central | Nuwara Eliya | 1,706 (659) | 711,644 |
| Eastern | Ampara | 4,222 (1,630) | 649,402 |
| Eastern | Batticaloa | 2,610 (1,010) | 526,567 |
| Eastern | Trincomalee | 2,529 (976) | 379,541 |
| North Central | Anuradhapura | 6,664 (2,573) | 860,575 |
| North Central | Polonnaruwa | 3,077 (1,188) | 406,088 |
| Northern | Jaffna | 929 (359) | 583,882 |
| Northern | Kilinochchi | 1,205 (465) | 113,510 |
| Northern | Mannar | 1,880 (730) | 99,570 |
| Northern | Mullaitivu | 2,415 (932) | 92,238 |
| Northern | Vavuniya | 1,861 (719) | 172,115 |
| North Western | Kurunegala | 4,624 (1,785) | 1,618,465 |
| North Western | Puttalam | 2,882 (1,113) | 762,396 |
| Sabaragamuwa | Kegalle | 1,685 (651) | 840,648 |
| Sabaragamuwa | Ratnapura | 3,236 (1,249) | 1,088,007 |
| Southern | Galle | 1,617 (624) | 1,063,334 |
| Southern | Hambantota | 2,496 (964) | 599,903 |
| Southern | Matara | 1,270 (490) | 814,048 |
| Uva | Badulla | 2,827 (1,092) | 815,405 |
| Uva | Monaragala | 5,508 (2,127) | 451,058 |
| Western | Colombo | 676 (261) | 2,324,349 |
| Western | Gampaha | 1,341 (518) | 2,304,833 |
| Western | Kalutara | 1,576 (608) | 1,221,948 |
Sri Lanka Facts & Information
| | |
| --- | --- |
| Country | Sri Lanka |
| Continent | Asia |
| Coordinates | 7.8731° N, 80.7718° E |
| Capital of Sri Lanka | Sri Jayawardenepura Kotte |
| Largest City | Colombo |
| Administrative Divisions | 9 provinces and 25 districts |
| Sri Lanka National Day | 4 February |
| Area of Sri Lanka | 65,610 km2 (25,330 sq mi) (120th) [Water- 4.4] |
| Coastline | 563 km (350 mi) |
| Neighboring Country | maritime border with India and the Maldives. |
| Population of Sri Lanka (2021) | 22,156,000 (57th) |
| Official Language | Sinhala, Tamil |
| Currency of Sri Lanka | Sri Lankan rupee (Rs) (LKR) |
| Sri Lanka Airports | Hamad International Airport(DOH), Doha International Airport(DIA) |
| ISO Alpha-2 Code | LK |
| GDP 2021 estimate | $84.532 billion (64th) |
| Sri Lanka Calling code | +94 |
| Sri Lanka Time Zone | UTC+5:30 (SLST) |
| Airport | Bandaranaike International Airport (CMB) |
| Ports | Port of Colombo, Port of Hambantota, Trincomalee Harbour, Port of Galle, Kankesanthurai Harbour, Oluvil Harbour |
| Internet TLD | .qa |
Places to Visit to Sri Lanka
Top Attractions in Sri Lanka are Sigiriya, Yala National Park Safari, Dambulla Royal Cave Temple and Golden, Temple of the Sacred Tooth Relic, Sri Pada / Adam's Peak, Sinharaja Forest Reserve, Udawalawe National Park Safari, Galle Dutch Fort, Horton Plains National Park, Gangaramaya Temple, Royal Botanic Gardens, Elephant Orphanage, Galle Face Green, Mirissa Beach, Rawana Falls, Little Adam's Peak, Kaudulla National Park, Arulmigu Ramanathaswamy, Galle Face Green, Kodaikanal Lake, Thiruvalluvar Statue, Ruwanweli Maha Seya, Viharamahadevi Park, Thillai Nataraja Temple, Independence Square, Bryant Park, Shri Airavatesvara Temple, Sri Maha Bodhi, Diyaluma Falls, Kelaniya Raja Maha Viharaya, Kanyakumari Beach, Sri Thirukoneswaram Kovil, Bambarakanda Falls and more
Largest Cities in Sri Lanka
| City | District | Province | Population | sq km | sq Mi |
| --- | --- | --- | --- | --- | --- |
| Colombo | Colombo | Western | 752,993 | 37 | 14 |
| Dehiwala- Mount Lavinia | Colombo | Western | 245,974 | 21 | 8 |
| Moratuwa | Colombo | Western | 207,755 | 23 | 9 |
| Sri Jayawardenepura Kotte | Colombo | Western | 135,806 | 17 | 7 |
| Negombo | Gampaha | Western | 127,754 | 31 | 12 |
| Kandy | Kandy | Central | 125,351 | 27 | 10 |
| Kalmunai | Ampara | Eastern | 106,783 | 23 | 9 |
| Vavuniya | Vavuniya | Northern | 99,653 | | |
| Galle | Galle | Southern | 99,478 | 17 | 7 |
| Trincomalee | Trincomalee | Eastern | 99,135 | | |
Location Map of Asian Countries