As shown in the given Shanghai location map that Shanghai is located at the coast of East China Sea in the central-east region of China. It is situated at the mouth of the Yangtze River. The city is center of finance, commerce, culture, and fashion in China. Shanghai is situated at 31°41' north latitude and 121°29' east longitude.
Location Map of Shanghai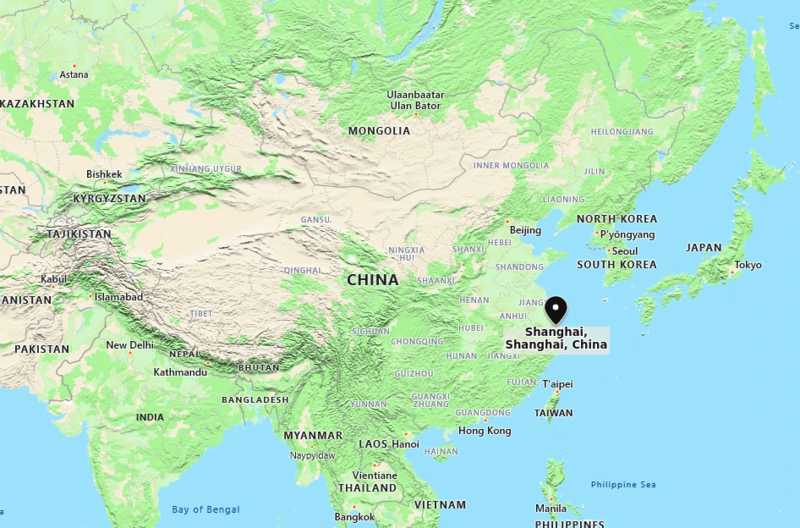 About Map: The Map showing where is Shanghai is located in the east-central region of China.
Where is Shanghai Located?
Shanghai, city and province-level shi in the east-central China. The city is located on the coast of the East China Sea, Yangtze River to the north and the bay of Hangzhou to the south. It is one of the world's largest seaports and a major industrial and commercial centre of China.
Initially, the city was the fishing and textile town but in the 19th century due to development of port and subsequent trade business facilitated city to develop swiftly. In short period of time, the city became a multinational hub of finance and business. In future, analysts say that the city would be parallel to New York and London in terms of finance, business and foreign investment. Interestingly, Shanghai is one of the popular tourist destinations in China specifically known for its historical landmarks including the Bund and Yuyuan Garden, and its extensive yet growing Pudong skyline.
Shanghai City Information & Facts
Continent
Asia
Country
People's Republic of China
Region
East China
Location
East-central China
Coordinates
31°13′43″N 121°28′29″E
Area (Municipality)
6,341 km2 (2,448 sq mi)
Population (2020)
24,870,895 (1st in China)
Postal code
200000–202100
Area code
21
Climate
Humid Continental
Major Ethnic Groups
Han 95%, Manchu 2%, Hui 2%, Mongol 0.3%, Other 0.7%
Time zone
UTC+8 (CST)
Elevation
118 m (387 ft)
Airport
Shanghai Pudong International Airport and Shanghai Hongqiao International Airport.
Railway Station
Shanghai railway station, Shanghai South railway station
Shanghai West railway station, and Shanghai Hongqiao railway station.
Road Network (Expressway)
Shenhai Expressway, Jinghu Expressway, Huyu Expressway,
Hushaan Expressway, Hukun Expressway, and Shanghai Ring Expressway.
Shanghai's rapid transit system
Shanghai Metro
Climate
Humid Subtropical
Official Website
www.shanghai.gov.cn