Where is Puerto Rico? - Puerto Rico is a Caribbean island and unincorporated territory of the United States. It is located in the northeastern Caribbean Sea, It lies approximately 40 miles (65 km) west of the Virgin Islands, 50 miles (80 km) east of the Dominican Republic and 1,000 miles (1,600 km) southeast of the U.S. state of Florida.
Location Map of Puerto Rico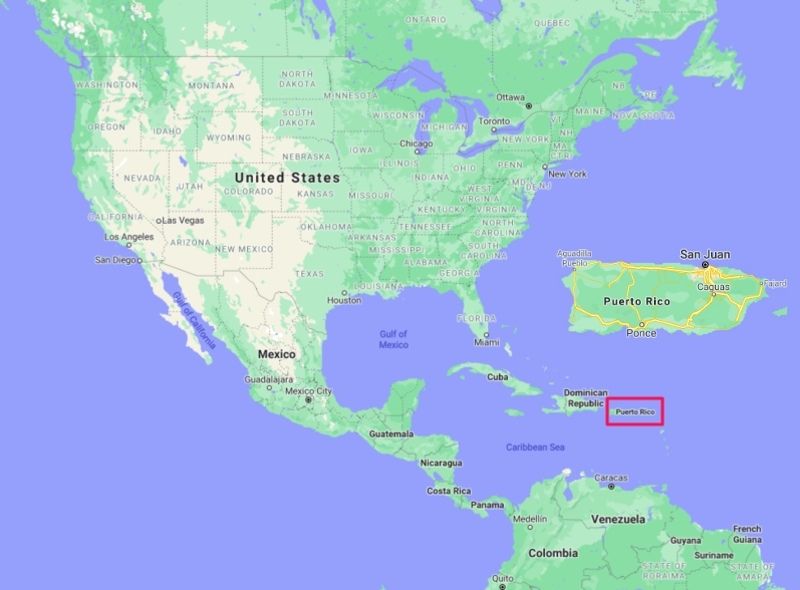 Map showing location of Puerto Rico in northeastern Caribbean Sea.
Where is Puerto Rico Located?
Puerto Rico, officially Commonwealth of Puerto Rico, It is located on the continent of North America, in between the Caribbean Sea and the North Atlantic Ocean, east of the Dominican Republic and west of the Virgin Islands. The capital and largest city is San Juan. Puerto Rico covers an area of 3,515 sq mi (9,104 km2), with popuation of 3,285,874 as of 2020 U.S. census.
Puerto Rico follows the Republican form of government. That is based on the American model, with a separation of powers. The government of Puerto Rico is under the authority and control of United States. The government of Puerto Rico consists of three branches viz the executive branch, legislative branch and the judicial branch. The governor serves as the leader of the executive branch. The legislative branch is composed of Senate and House of Representatives. The speaker of the house leads the House of Representatives, while the president leads the senate. The Chief Justice of the Supreme Court of Puerto Rico is the head of the judicial branch.
One of Latin America and the Caribbean's most competitive and dynamic economies has been Puerto Rico. The economy of Puerto Rico is based on manufacturing like pharmaceuticals, textiles, petrochemicals, and electronics, followed by services such as finance, insurance, real estate, and tourism.
Puerto Rico has everything you could possibly want in a sunny Caribbean vacation resort. All types of beach lovers, from couples and families to dedicated surfers, are attracted to the stunning palm-lined beaches, some of which have mild, quiet waters lapping the golden sand and others that have tremendous waves and renowned surf breaks. Puerto Rico is a complicated island with a clear American influence on top of the Spanish Caribbean culture. With its American brand restaurants and other luxuries connected to the mainland USA, San Juan makes this particularly clear. If you travel deeper, you will come across charming towns, tiny villages, stunning islands, caverns, and a rough rocky interior. Some of the tourist destinations are Castillo de San Cristobal, El Yunque National Forest, El Morro Fort, Old San Juan, Culebra Island, Vieques and Bioluminescent Bay, Catedral de San Juan Bautista, Cayo Icacos, Luquillo Beach and so on.
Puerto Rico Facts
Continent
North America
Sovereign State
United States
Before annexation
Captaincy General of Puerto Rico
Puerto Rico Coordinates
18.2208° N, 66.5901° W
Location
Northeastern Caribbean Sea
Cession from Spain
11 April 1899
Current constitution
25 July 1952
Capital and largest city
San Juan
Official languages
Spanish, English
Total Area
9,104 km2 (3,515 sq mi)
Water (%)
1.6
Population (2020 census)
3,285,874
Population Density
350.8/km2 (908.6/sq mi) (39th)
Currency
United States dollar (US$) (USD)
Time zone
UTC-04:00 (AST)
Ethnic groups (2010)
75.8% White, 12.4% Black, 3.3% Two or more races
.0.5% American Indian & Alaskan Native,0.2% Asian
0.1% Pacific Islander, 7.8% Other
Demonym(s)
Puerto Rican
Government
Devolved presidential constitutional dependency
Highest elevation
4,390 ft (1,340 m)
Driving side
right
Calling code
1 (787), +1 (939)
USPS abbreviation
PR
ISO 3166 code
PR, US-PR
GDP (PPP) (2021 estimate)
$112.273 billion[6] (88th)
Gini (2011)
53.1 high
HDI (2015)
0.845 very high - Rank 40th
Airport
Luis Muñoz Marín International Airport in Carolina,
Mercedita Airport in Ponce,
and the Rafael Hernández Airport in Aguadilla
Puerto Rico Ports
San Juan Port , Port of the Americas in Ponce
Road
Freeways, Expressways, and Highways
Internet TLD
.pr
Website
https://www.usa.gov/state-government/puerto-rico
Places to Visit Puerto Rico
The top places to visit in Puerto Rico are:
| | | | |
| --- | --- | --- | --- |
| Castillo San Felipe del Morro | Catedral Basilica Menor de San Juan | Arecibo Observatory | Black Sand Beach |
| El Yunque National Forest | Museo de Arte de Puerto Rico | Cueva del Indio Cave | Mar Chiquita Beach |
| Flamenco Beach | El Yunque | Isla Palominos | Faro Los Morrillos |
| Castillo de San Cristóbal | Crash Boat Beach | Casa BACARDÍ Puerto Rico | Cascada Gozalandia |
| Sitio Histórico de San Juan | Cayo Icacos | Playa Sucia | Balneario del Escambrón |
| Bahía Bioluminiscente | Cueva Ventana | Parque de Bombas | Playa Jobos |
Last Updated: April 14, 2023