Cleveland is located in the north-east of the Ohio. It is the second largest city in the state of Ohio.
Cleveland City Location Map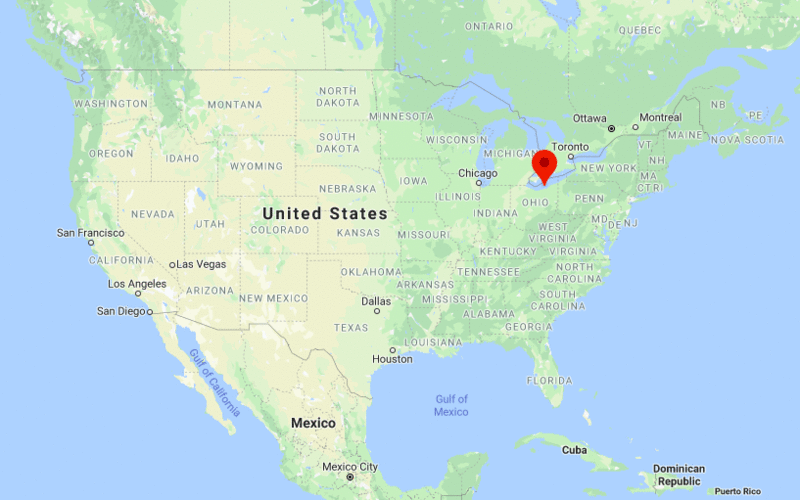 About Map: Map showing location of Cleveland in the north-east of the Ohio.
Where is Cleveland City Located?
Cleveland is located along the southern shore of Lake Erie, across the U.S. maritime border with Canada and approximately 60 miles (100 kilometers) west of the Ohio. It is a major city in the U.S. state of Ohio, and the county seat of Cuyahoga County. With an estimate population of 381,009 in 2019 data. It covers and area of 82.48 sq mi (213.62 sq km).
Ohio More Maps & Info
Cleveland City Facts
| Sr. No | Fact sheet | Cleveland |
| --- | --- | --- |
| 1 | Country | USA |
| 2 | State | Ohio |
| 3 | Location | North-East |
| 4 | Latitude | 41.28′56″N |
| 5 | Longitude | 81.40′11″W |
| 6 | Total area | 213.60km2 ( 82.45 sq mi ) |
| 7 | Total Population | 393,806 |
| 8 | Zip Codes | 44101 |
| 9 | Area code | 216 |
| 10 | Nearby Cities | Brooklyn, Cleveland Heights, Lakewood, Garfield Heights |
| 11 | Major Tourists' Attraction | Great Lakes Science Center, The Cleveland Orchestra, Tower City Center, Cleveland Zoo |
| 12 | Nearest airport | Cleveland Hopkins International Airport (about 14 miles) |