Amelia Island located just off the coast of northeast Florida. Here is information about places to visit near Amelia Island, tourist attractions, best time to visit, address, things to do, facilities, facts and locaion map of Amelia Island.
Amelia Island Location Map, Florida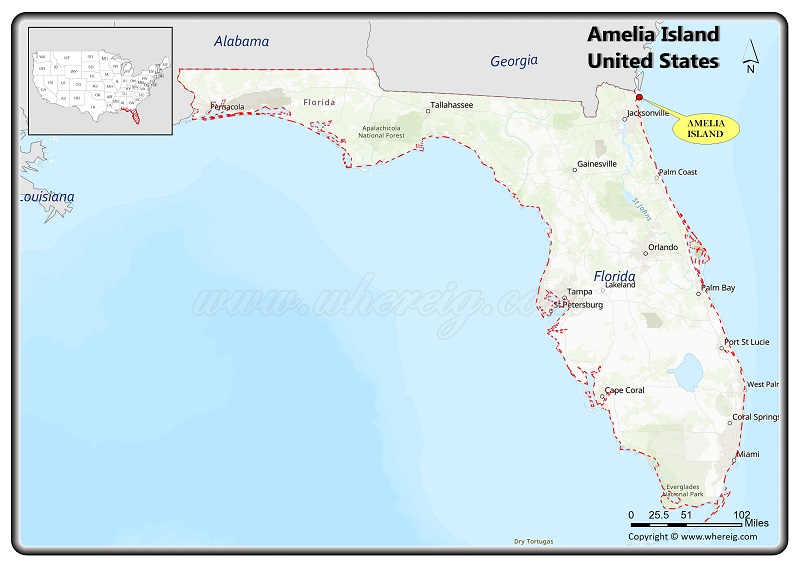 About Map:
The map showing the map showing location of Amelia Island in the United States.
Most Viewed Links:
Where is Amelia Island Located?
Amelia Island is a part of the Sea Islands chain that stretches along the East Coast of the United States from South Carolina to Florida.
Amelia Island Facts & Information:
| | |
| --- | --- |
| Location | North Atlantic |
| Nearest city | Bar Harbor |
| Coordinates | 30°36′56″N 81°27′14″W |
| Time Zone | EST (UTC-5:00) |
| Length | 21 km (13 mi) |
| Width | 6.5 km (4.04 mi) |
| Airport | Fernandina Beach Municipal Airport (KFHB) |
| Zip code | 32034 |
| Best time to visit: | March through May and September through November |
Thing to Do in Amelia Island
Fort Clinch State Park, Timucuan Ecological and Historical, Amelia Island State Park, Amelia Island Museum of History, Fort Clinch, Amelia Island Lighthouse, Main Beach Park, George Crady Bridge Fishing Pier, Egan's Creek Greenway Trail, Florida Adventure Sports, Egan's Creek Park, American Beach Museum, Farmer's Market and Peters Point Beachfront Park.
Top Places to Visit in the U.S.
City Maps of United States