Amelia Island located just off the coast of northeast Florida. Here is information about places to visit near Amelia Island, tourist attractions, best time to visit, address, things to do, facilities, facts and locaion map of Amelia Island.
Amelia Island Location Map, Florida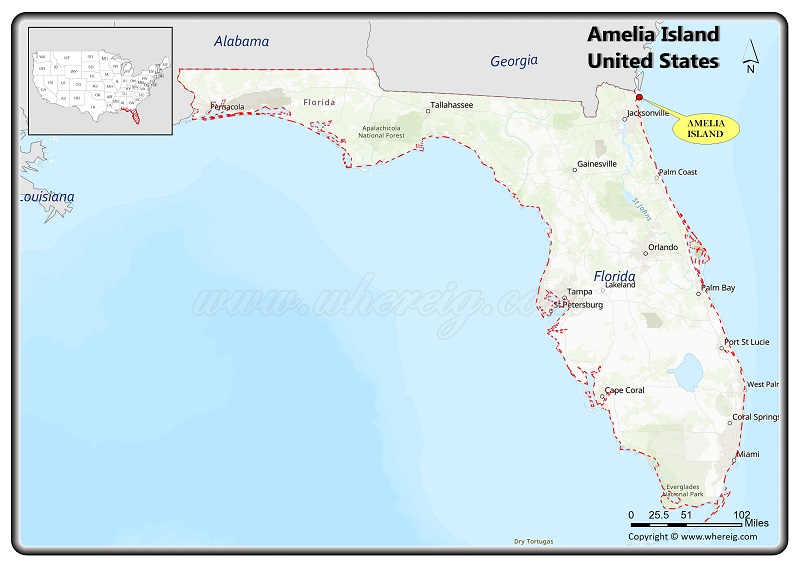 About Map:
The map showing the map showing location of Amelia Island in the United States.
Most Viewed Links:
Where is Amelia Island Located?
Amelia Island is a barrier island located on the northeast coast of Florida, near the Georgia border. Amelia Island is a part of the Sea Islands chain that stretches along the East Coast of the United States from South Carolina to Florida. It is known for its beautiful beaches, rich history, and charming small-town atmosphere.
One of the main attractions of Amelia Island is its beaches. The island has 13 miles of pristine beaches, with soft, white sand and clear, blue waters. Visitors can swim, sunbathe, surf, and fish, or take a scenic walk along the shore.
Amelia Island also has a rich history, dating back to the colonial era. Visitors can explore the historic district of Fernandina Beach, which has more than 50 blocks of Victorian-era architecture and a variety of unique shops, restaurants, and galleries.
Amelia Island offers a variety of outdoor activities, such as golfing, kayaking, and fishing. Visitors can also take a horse-drawn carriage ride, attend a music or arts festival, or visit one of the island's many parks and nature preserves.
Amelia Island is a great destination for those seeking a relaxing beach vacation with plenty of opportunities for exploration and adventure. It offers a unique blend of natural beauty, history, and culture that makes it a popular choice for visitors of all ages.
Amelia Island Facts & Information:
| | |
| --- | --- |
| Location | North Atlantic |
| Nearest city | Bar Harbor |
| Coordinates | 30°36′56″N 81°27′14″W |
| Time Zone | EST (UTC-5:00) |
| Length | 21 km (13 mi) |
| Width | 6.5 km (4.04 mi) |
| Airport | Fernandina Beach Municipal Airport (KFHB) |
| Zip code | 32034 |
| Best time to visit: | March through May and September through November |
Thing to Do in Amelia Island
Fort Clinch State Park, Timucuan Ecological and Historical, Amelia Island State Park, Amelia Island Museum of History, Fort Clinch, Amelia Island Lighthouse, Main Beach Park, George Crady Bridge Fishing Pier, Egan's Creek Greenway Trail, Florida Adventure Sports, Egan's Creek Park, American Beach Museum, Farmer's Market and Peters Point Beachfront Park.
Top Places to Visit in the U.S.
City Maps of United States