This is list of largest, popular Cities & towns in Tennessee by population and County. The largest cities of Tennessee are Memphis, Nashville, Knoxville, Chattanooga and Clarksville.
Map of Tennessee Cities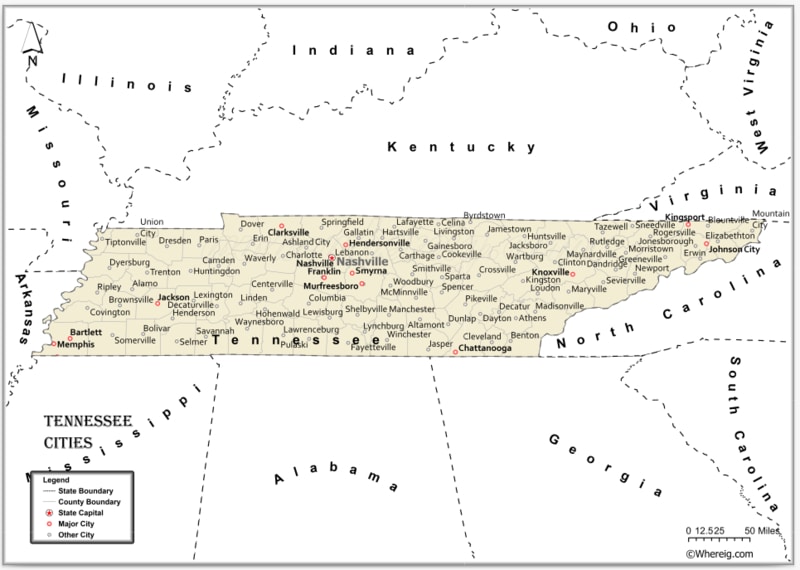 About Tennessee City Map:
The map showing the largest and major cities in Tennessee, state capital, other cities and towns, state boundary, Tennessee counties boundary and neighbouring states.
Tennessee More Maps & Info
Cities & Towns in Tennessee
Tennessee is a state located in the East South Central United States. Tennessee is the 17th most populous state with population of 6910840 residents as of 2020 United States Census data, and the 34th largest by land area, It cover an area of 41,235 square miles (106,798 km2). The state is divided into 95 counties and contains 346 municipalities. Nashville is the capital city of Tennessee.
This is list of Cities and towns in Tennessee by population, land area in sq mile, county and density.
List of Largest Cities in Tennessee
| Rank | City | Population | Density (sq mi) | Area (sq mi) |
| --- | --- | --- | --- | --- |
| 1 | Nashville | 678,448 | 1,427 | 475.54 |
| 2 | Memphis | 651,011 | 2,051 | 317.36 |
| 3 | Knoxville | 188,085 | 1,905 | 98.71 |
| 4 | Chattanooga | 184,561 | 1,291 | 142.96 |
| 5 | Clarksville | 161,686 | 1,637 | 98.8 |
| 6 | Murfreesboro | 157,816 | 2,557 | 61.71 |
| 7 | Franklin | 87,237 | 2,098 | 41.58 |
| 8 | Jackson | 67,669 | 1,161 | 58.3 |
| 9 | Johnson City | 67,200 | 1,560 | 43.09 |
| 10 | Bartlett | 59,514 | 1,844 | 32.28 |
| 11 | Hendersonville | 59,071 | 1,882 | 31.39 |
| 12 | Kingsport | 54,369 | 1,035 | 52.54 |
| 13 | Smyrna | 53,262 | 1,757 | 30.31 |
| 14 | Collierville | 51,778 | 1,430 | 36.2 |
| 15 | Spring Hill | 48,397 | 1,807 | 26.79 |
| 16 | Gallatin | 47,534 | 1,494 | 31.83 |
| 17 | Cleveland | 46,042 | 1,699 | 27.09 |
| 18 | Brentwood | 43,215 | 1,052 | 41.1 |
| 19 | Columbia | 42,281 | 1,282 | 32.98 |
| 20 | Mount Juliet | 39,765 | 1,599 | 24.88 |
| 21 | Germantown | 39,373 | 1,970 | 19.99 |
| 22 | Lebanon | 38,695 | 976 | 39.65 |
| 23 | Cookeville | 36,030 | 1,018 | 35.38 |
| 24 | La Vergne | 35,742 | 1,454 | 24.58 |
| 25 | Maryville | 30,542 | 1,770 | 17.25 |
| 26 | Morristown | 30,525 | 1,116 | 27.34 |
| 27 | Oak Ridge | 29,384 | 345 | 85.25 |
| 28 | Bristol | 27,225 | 833 | 32.66 |
| 29 | Farragut | 25,534 | 1,599 | 15.97 |
| 30 | Shelbyville | 22,507 | 1,221 | 18.44 |
| 31 | East Ridge | 21,346 | 2,577 | 8.28 |
| 32 | Tullahoma | 19,961 | 852 | 23.44 |
| 33 | Sevierville | 17,853 | 745 | 23.97 |
| 34 | Springfield | 17,471 | 1,352 | 12.92 |
| 35 | Goodlettsville | 16,676 | 1,165 | 14.32 |
| 36 | Dyersburg | 16,108 | 930 | 17.32 |
| 37 | Dickson | 15,573 | 776 | 20.07 |
| 38 | Greeneville | 14,693 | 864 | 17 |
| 39 | Athens | 14,196 | 915 | 15.51 |
| 40 | McMinnville | 13,925 | 1,259 | 11.06 |
| 41 | Soddy-Daisy | 13,867 | 599 | 23.15 |
| 42 | Portland | 13,424 | 1,007 | 13.34 |
| 43 | Elizabethton | 13,377 | 1,400 | 9.55 |
| 44 | White House | 12,918 | 1,153 | 11.21 |
| 45 | Lakeland | 12,714 | 541 | 23.48 |
| 46 | Lewisburg | 12,704 | 941 | 13.51 |
| 47 | Nolensville | 12,142 | 1,164 | 10.43 |
| 48 | Red Bank | 12,102 | 1,845 | 6.56 |
| 49 | Crossville | 12,069 | 592 | 20.4 |
| 50 | Middle Valley | 12,061 | 1,235 | 9.76 |
| 51 | Arlington | 11,811 | 513 | 23.02 |
| 52 | Hartsville | 11,786 | 103 | 114.34 |
| 53 | Collegedale | 11,502 | 954 | 12.05 |
| 54 | Manchester | 11,228 | 787 | 14.26 |
| 55 | Lawrenceburg | 11,201 | 884 | 12.66 |
| 56 | Seymour | 11,193 | 886 | 12.63 |
| 57 | Millington | 10,669 | 476 | 22.41 |
| 58 | Martin | 10,254 | 827 | 12.4 |
| 59 | Clinton | 10,211 | 879 | 11.62 |
| 60 | Alcoa | 10,178 | 682 | 14.92 |
| 61 | Union City | 10,163 | 842 | 12.07 |
| 62 | Paris | 10,054 | 779 | 12.91 |
| 63 | Atoka | 9,775 | 808 | 12.09 |
| 64 | Fairview | 9,460 | 546 | 17.33 |
| 65 | Lenoir City | 9,426 | 1,123 | 8.4 |
| 66 | Brownsville | 9,357 | 949 | 9.86 |
| 67 | Winchester | 9,352 | 872 | 10.72 |
| 68 | Bloomingdale | 9,175 | 929 | 9.88 |
| 69 | Fairfield Glade | 8,985 | 391 | 23 |
| 70 | Oakland | 8,847 | 875 | 10.11 |
| 71 | Covington | 8,766 | 773 | 11.34 |
| 72 | Signal Mountain | 8,746 | 1,047 | 8.36 |
| 73 | Jefferson City | 8,216 | 1,244 | 6.6 |
| 74 | Harrison | 8,121 | 1,257 | 6.46 |
| 75 | Humboldt | 8,095 | 837 | 9.67 |
| 76 | South Cleveland | 8,056 | 564 | 14.27 |
| 77 | Lexington | 7,979 | 683 | 11.68 |
| 78 | Milan | 7,562 | 847 | 8.93 |
| 79 | Pulaski | 7,519 | 1,002 | 7.51 |
| 80 | Thompson's Station | 7,475 | 379 | 19.7 |
| 81 | Ripley | 7,469 | 580 | 12.87 |
| 82 | Dayton | 7,356 | 944 | 7.8 |
| 83 | Savannah | 6,935 | 1,043 | 6.65 |
| 84 | Fayetteville | 6,933 | 721 | 9.62 |
| 85 | Greenbrier | 6,848 | 967 | 7.08 |
| 86 | Newport | 6,812 | 1,232 | 5.53 |
| 87 | Millersville | 6,791 | 492 | 13.8 |
| 88 | Church Hill | 6,666 | 707 | 9.44 |
| 89 | Green Hill | 6,563 | 1,889 | 3.47 |
| 90 | Lynchburg, Moore County | 6,550 | 51 | 129.22 |
| 91 | La Follette | 6,526 | 1,328 | 4.91 |
| 92 | Henderson | 6,447 | 826 | 7.8 |
| 93 | Munford | 6,207 | 682 | 9.1 |
| 94 | Pigeon Forge | 6,172 | 462 | 13.35 |
| 95 | Harriman | 6,136 | 584 | 10.5 |
| 96 | Loudon | 6,064 | 483 | 12.56 |
| 97 | Kingston | 6,052 | 854 | 7.09 |
| 98 | Sweetwater | 5,959 | 674 | 8.84 |
| 99 | Erwin | 5,944 | 1,441 | 4.13 |
| 100 | Eagleton Village | 5,903 | 2,006 | 2.94 |
| 101 | Jonesborough | 5,791 | 1,125 | 5.15 |
| 102 | Tellico Village | 5,671 | 761 | 7.45 |
| 103 | Lafayette | 5,470 | 1,046 | 5.23 |
| 104 | Rockwood | 5,391 | 673 | 8.01 |
| 105 | Dunlap | 5,292 | 490 | 10.8 |
| 106 | Mount Carmel | 5,276 | 794 | 6.64 |
| 107 | Madisonville | 5,140 | 861 | 5.97 |
| 108 | Smithville | 5,134 | 877 | 5.85 |
| 109 | Pleasant View | 5,113 | 408 | 12.52 |
| 110 | McKenzie | 4,987 | 789 | 6.32 |
| 111 | Sparta | 4,947 | 736 | 6.72 |
| 112 | Mount Pleasant | 4,927 | 392 | 12.58 |
| 113 | Bolivar | 4,822 | 594 | 8.11 |
| 114 | Ashland City | 4,767 | 447 | 10.67 |
| 115 | Forest Hills | 4,734 | 513 | 9.24 |
| 116 | Coopertown | 4,676 | 148 | 31.58 |
| 117 | Spurgeon | 4,666 | 1,142 | 4.09 |
| 118 | Algood | 4,603 | 1,128 | 4.08 |
| 119 | Oak Hill | 4,462 | 569 | 7.84 |
| 120 | Oak Grove | 4,458 | 995 | 4.48 |
| 121 | Lake Tansi | 4,441 | 520 | 8.54 |
| 122 | Medina | 4,398 | 1,097 | 4.01 |
| 123 | Whiteville | 4,374 | 1,659 | 2.64 |
| 124 | Harrogate | 4,356 | 600 | 7.26 |
| 125 | Rogersville | 4,307 | 1,146 | 3.76 |
| 126 | Selmer | 4,199 | 440 | 9.55 |
| 127 | Louisville | 4,169 | 279 | 14.92 |
| 128 | Waverly | 4,162 | 478 | 8.71 |
| 129 | Hohenwald | 4,131 | 784 | 5.27 |
| 130 | Trenton | 4,114 | 512 | 8.03 |
| 131 | Livingston | 4,095 | 629 | 6.51 |
| 132 | Huntingdon | 3,839 | 324 | 11.84 |
| 133 | Gatlinburg | 3,754 | 360 | 10.41 |
| 134 | White Bluff | 3,751 | 618 | 6.07 |
| 135 | Oneida | 3,713 | 398 | 9.33 |
| 136 | Camden | 3,676 | 646 | 5.69 |
| 137 | Wildwood Lake | 3,639 | 303 | 12.03 |
| 138 | Unicoi | 3,636 | 225 | 16.19 |
| 139 | Christiana | 3,580 | 452 | 7.91 |
| 140 | Jasper | 3,547 | 361 | 9.82 |
| 141 | Etowah | 3,534 | 1,251 | 2.83 |
| 142 | Centerville | 3,506 | 326 | 10.76 |
| 143 | Oliver Springs | 3,446 | 597 | 5.78 |
| 144 | Tiptonville | 3,303 | 1,622 | 2.04 |
| 145 | Dandridge | 3,276 | 557 | 5.89 |
| 146 | Newbern | 3,262 | 719 | 4.53 |
| 147 | Somerville | 3,234 | 238 | 13.57 |
| 148 | Colonial Heights | 3,177 | 835 | 3.8 |
| 149 | Bean Station | 3,155 | 527 | 5.99 |
| 150 | Shackle Island | 3,112 | 561 | 5.54 |
| 151 | Blountville | 3,102 | 629 | 4.93 |
| 152 | South Pittsburg | 3,027 | 368 | 8.22 |
| 153 | Woodbury | 2,979 | 1,518 | 1.96 |
| 154 | Dresden | 2,967 | 499 | 5.94 |
| 155 | Monterey | 2,962 | 978 | 3.03 |
| 156 | Brighton | 2,876 | 947 | 3.04 |
| 157 | Belle Meade | 2,814 | 917 | 3.07 |
| 158 | Park City | 2,790 | 511 | 5.46 |
| 159 | Sale Creek | 2,781 | 92 | 30.2 |
| 160 | Apison | 2,723 | 190 | 14.33 |
| 161 | Kingston Springs | 2,711 | 270 | 10.05 |
| 162 | New Tazewell | 2,707 | 534 | 5.07 |
| 163 | Clifton | 2,649 | 477 | 5.55 |
| 164 | Coalfield | 2,580 | 104 | 24.73 |
| 165 | Pine Crest | 2,541 | 1,317 | 1.93 |
| 166 | Sewanee | 2,505 | 645 | 3.89 |
| 167 | Tusculum | 2,503 | 515 | 4.86 |
| 168 | Maynardville | 2,486 | 461 | 5.39 |
| 169 | Mountain City | 2,485 | 737 | 3.37 |
| 170 | Walnut Hill | 2,481 | 603 | 4.11 |
| 171 | Waynesboro | 2,449 | 572 | 4.28 |
| 172 | Rural Hill | 2,441 | 601 | 4.06 |
| 173 | Bells | 2,426 | 1,023 | 2.37 |
| 174 | Westmoreland | 2,399 | 574 | 4.18 |
| 175 | Hunter | 2,390 | 374 | 6.4 |
| 176 | White Pine | 2,356 | 857 | 2.75 |
| 177 | Decherd | 2,351 | 490 | 4.79 |
| 178 | Carthage | 2,338 | 806 | 2.9 |
| 179 | Mosheim | 2,323 | 371 | 6.26 |
| 180 | Mascot | 2,310 | 332 | 6.96 |
| 181 | Piperton | 2,306 | 85 | 27.2 |
| 182 | Tazewell | 2,280 | 525 | 4.34 |
| 183 | Parsons | 2,264 | 560 | 4.04 |
| 184 | Alamo | 2,247 | 1,023 | 2.2 |
| 185 | Fairmount | 2,245 | 501 | 4.49 |
| 186 | Walden | 2,232 | 632 | 3.53 |
| 187 | Plainview | 2,224 | 351 | 6.34 |
| 188 | Central | 2,217 | 629 | 3.52 |
| 189 | Ridgetop | 2,211 | 730 | 3.03 |
| 190 | Dyer | 2,199 | 959 | 2.29 |
| 191 | Jamestown | 2,188 | 747 | 2.93 |
| 192 | South Fulton | 2,172 | 642 | 3.38 |
| 193 | Adamsville | 2,140 | 304 | 7.04 |
| 194 | Jellico | 2,125 | 342 | 6.22 |
| 195 | Unionville | 2,109 | 234 | 9.03 |
| 196 | Caryville | 2,106 | 413 | 5.1 |
| 197 | Greenfield | 2,076 | 597 | 3.48 |
| 198 | Pegram | 2,046 | 282 | 7.25 |
| 199 | Jacksboro | 2,032 | 787 | 2.58 |
| 200 | Estill Springs | 2,030 | 458 | 4.44 |
| 201 | East Cleveland | 2,019 | 1,615 | 1.25 |
| 202 | Halls | 1,993 | 541 | 3.68 |
| 203 | Mowbray Mountain | 1,961 | 97 | 20.25 |
| 204 | Lakesite | 1,912 | 1,099 | 1.74 |
| 205 | Hopewell | 1,900 | 267 | 7.12 |
| 206 | Lookout Mountain | 1,893 | 1,410 | 1.34 |
| 207 | Blaine | 1,866 | 196 | 9.52 |
| 208 | New Johnsonville | 1,864 | 362 | 5.14 |
| 209 | Cross Plains | 1,861 | 214 | 8.69 |
| 210 | Spring City | 1,847 | 692 | 2.67 |
| 211 | Olivet | 1,815 | 304 | 5.97 |
| 212 | Loretto | 1,789 | 479 | 3.74 |
| 213 | Lake City | 1,780 | 1,157 | 1.54 |
| 214 | Pikeville | 1,775 | 727 | 2.44 |
| 215 | Spencer | 1,763 | 269 | 6.55 |
| 216 | Charlotte | 1,758 | 433 | 4.06 |
| 217 | McEwen | 1,751 | 950 | 1.84 |
| 218 | Gruetli-Laager | 1,748 | 305 | 5.73 |
| 219 | Surgoinsville | 1,748 | 138 | 12.68 |
| 220 | Whitwell | 1,738 | 495 | 3.51 |
| 221 | Three Way | 1,706 | 380 | 4.49 |
| 222 | Decatur | 1,703 | 449 | 3.8 |
| 223 | Bluff City | 1,670 | 956 | 1.75 |
| 224 | Cowan | 1,644 | 791 | 2.08 |
| 225 | Baxter | 1,619 | 515 | 3.14 |
| 226 | Norris | 1,602 | 192 | 8.33 |
| 227 | Graysville | 1,596 | 1,355 | 1.18 |
| 228 | Vonore | 1,588 | 180 | 8.81 |
| 229 | Banner Hill | 1,576 | 412 | 3.83 |
| 230 | Dover | 1,576 | 1,131 | 1.39 |
| 231 | Chapel Hill | 1,566 | 495 | 3.17 |
| 232 | Ridgely | 1,561 | 947 | 1.65 |
| 233 | Englewood | 1,550 | 812 | 1.91 |
| 234 | Watertown | 1,545 | 1,163 | 1.33 |
| 235 | Mason | 1,517 | 766 | 1.98 |
| 236 | Kimball | 1,499 | 282 | 5.31 |
| 237 | Burns | 1,492 | 440 | 3.39 |
| 238 | Bon Aqua Junction | 1,471 | 312 | 4.71 |
| 239 | Rockvale | 1,467 | 337 | 4.36 |
| 240 | South Carthage | 1,450 | 566 | 2.56 |
| 241 | Crump | 1,448 | 114 | 12.68 |
| 242 | Fall Branch | 1,403 | 311 | 4.52 |
| 243 | Tracy City | 1,401 | 301 | 4.66 |
| 244 | New Market | 1,395 | 330 | 4.23 |
| 245 | Bruceton | 1,383 | 822 | 1.68 |
| 246 | Celina | 1,382 | 750 | 1.84 |
| 247 | Powells Crossroads | 1,373 | 280 | 4.9 |
| 248 | Gleason | 1,372 | 612 | 2.24 |
| 249 | Rutledge | 1,363 | 593 | 2.3 |
| 250 | Sneedville | 1,363 | 246 | 5.53 |
City Maps of United States
County Map of U.S. 50 States