The U.S. state of Florida is divided into 67 Counties. Explore the Florida County Map, list of 67 Counties in Florida along with their County Seats in alphabetical order and their population, areas and the date of formation.
Florida County Map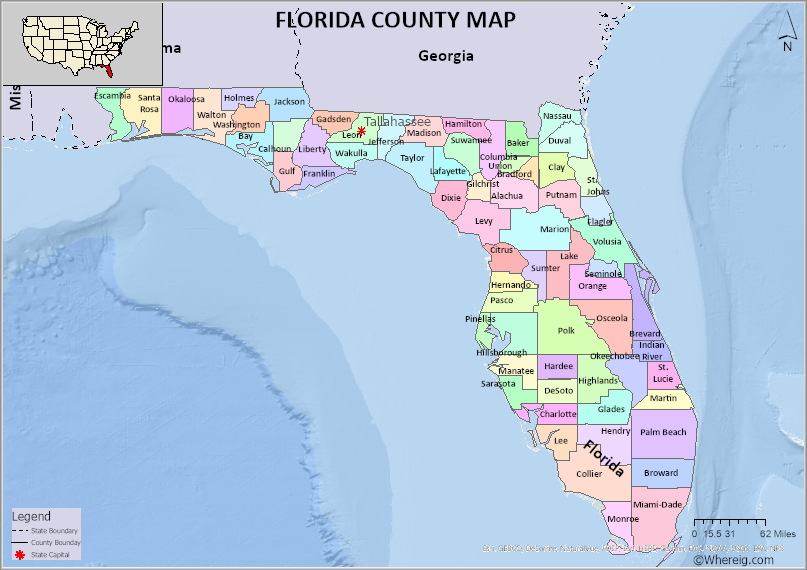 About Florida County Map
: The map showing the county boundary, all counties boundary, state capital and neighbouring states.
More Florida Maps
About Counties in Florida
Florida is one of the most popular states of United States of America which is situated in the South-eastern part of the country. The state is bordered by Gulf of Mexico to the west, Alabama to the northwest, Georgia to the north, Bahamas and Atlantic Ocean to the east, Straits of Florida and Cuba to the south. Spanning 53625 square miles, the state stands as 22nd state in the country in arena. 'Sunshine State' is the nickname of Florida. The capital city of the state is Tallahassee. Jacksonville ranks as the biggest and largest city of Florida. The smallest city in the state of Florida is Lake Buena Vista which has just 10 people. 
Florida has 67 Counties. Among 67 counties of the state Collier County is the largest and biggest which has approximately 360,000 inhabitants with a total arena of 2,305 square miles. Union county takes pride in itself for being the smallest county. According to a national survey the richest county of Florida is St. County. The most populated county of Florida is Miami- Dade while Liberty County remains as the least populated county in the state of Florida.
Florida stands as the fourth largest economy in United States of America. Florida ranks 16th largest economy in the world. The essential sectors, which contribute a lot to state income are tourism, hospitality, agriculture, transportation and real estate. Florida has a lot of world's famous beaches, amusement parks and attractions like Walt Disney World, Kennedy Space Center and Miami Beach. Florida is a fabulous and popular destination that attracts a lot of tourists from all over the world. Counties of Florida also contribute for the state budget a lot.
The Constitution of Florida guarantees various rights to its subjects at the same time it establishes the laws of the state as well in it. The state government has a wonderful structure of administration which consists of three individual branches: Executive, Legislative and Judicial.
List of Counties in Florida and County Seats
The U.S. state of Florida has 67 Counties. This is list of Florida Counties and County Seats in alphabetical order along with check their population, areas and the date of formation. Click on any County for its detailed map.
| S.N. | County | County Seat | Population | Area | Formed |
| --- | --- | --- | --- | --- | --- |
| 1 | Alachua County | Gainesville | 249,365 | 874 sq mi | 1824 |
| 2 | Baker County | Macclenny | 27,154 | 585 sq mi | 1861 |
| 3 | Bay County | Panama City | 169,856 | 764 sq mi | 1913 |
| 4 | Bradford County | Starke | 28,255 | 293 sq mi | 1858 |
| 5 | Brevard County | Titusville | 543,566 | 1,018 sq mi | 1844 |
| 6 | Broward County | Fort Lauderdale | 1,780,172 | 1,209 sq mi | 1915 |
| 7 | Calhoun County | Blountstown | 14,750 | 567 sq mi | 1838 |
| 8 | Charlotte County | Punta Gorda | 160,511 | 694 sq mi | 1921 |
| 9 | Citrus County | Inverness | 140,031 | 584 sq mi | 1887 |
| 10 | Clay County | Green Cove Springs | 192,370 | 601 sq mi | 1858 |
| 11 | Collier County | East Naples | 328,134 | 2,026 sq mi | 1923 |
| 12 | Columbia County | Lake City | 67,485 | 797 sq mi | 1832 |
| 13 | DeSoto County | Arcadia | 34,894 | 637 sq mi | 1887 |
| 14 | Dixie County | Cross City | 16,486 | 704 sq mi | 1921 |
| 15 | Duval County | Jacksonville | 870,709 | 774 sq mi | 1822 |
| 16 | Escambia County | Pensacola | 299,114 | 664 sq mi | 1821 |
| 17 | Flagler County | Bunnell | 97,376 | 485 sq mi | 1917 |
| 18 | Franklin County | Apalachicola | 11,596 | 534 sq mi | 1832 |
| 19 | Gadsden County | Quincy | 46,151 | 516 sq mi | 1823 |
| 20 | Gilchrist County | Trenton | 17,004 | 349 sq mi | 1925 |
| 21 | Glades County | Moore Haven | 12,635 | 774 sq mi | 1921 |
| 22 | Gulf County | Port St. Joe | 15,844 | 565 sq mi | 1925 |
| 23 | Hamilton County | Jasper | 14,671 | 515 sq mi | 1827 |
| 24 | Hardee County | Wauchula | 27,887 | 637 sq mi | 1921 |
| 25 | Hendry County | LaBelle | 39,089 | 1,153 sq mi | 1923 |
| 26 | Hernando County | Brooksville | 173,094 | 478 sq mi | 1843 |
| 27 | Highlands County | Sebring | 98,630 | 1,028 sq mi | 1921 |
| 28 | Hillsborough County | Tampa | 1,267,775 | 1,051 sq mi | 1834 |
| 29 | Holmes County | Bonifay | 19,873 | 482 sq mi | 1848 |
| 30 | Indian River County | Vero Beach | 138,894 | 503 sq mi | 1925 |
| 31 | Jackson County | Marianna | 49,292 | 916 sq mi | 1822 |
| 32 | Jefferson County | Monticello | 14,658 | 598 sq mi | 1827 |
| 33 | Lafayette County | Mayo | 8,942 | 543 sq mi | 1856 |
| 34 | Lake County | Tavares | 301,019 | 953 sq mi | 1887 |
| 35 | Lee County | Fort Myers | 631,330 | 804 sq mi | 1887 |
| 36 | Leon County | Tallahassee | 277,971 | 667 sq mi | 1824 |
| 37 | Levy County | Bronson | 40,156 | 1,118 sq mi | 1845 |
| 38 | Liberty County | Bristol | 8,314 | 836 sq mi | 1855 |
| 39 | Madison County | Madison | 19,115 | 692 sq mi | 1827 |
| 40 | Manatee County | Bradenton | 327,142 | 741 sq mi | 1855 |
| 41 | Marion County | Ocala | 332,529 | 1,579 sq mi | 1844 |
| 42 | Martin County | Stuart | 147,495 | 556 sq mi | 1925 |
| 43 | Miami-Dade County | Miami | 2,662,874 | 1,946 sq mi | 1836 |
| 44 | Monroe County | Key West | 73,873 | 997 sq mi | 1823 |
| 45 | Nassau County | Fernandina Beach | 74,195 | 652 sq mi | 1824 |
| 46 | Okaloosa County | Crestview | 183,482 | 936 sq mi | 1915 |
| 47 | Okeechobee County | Okeechobee | 40,140 | 774 sq mi | 1917 |
| 48 | Orange County | Orlando | 1,169,107 | 908 sq mi | 1824 |
| 49 | Osceola County | Kissimmee | 276,163 | 1,322 sq mi | 1887 |
| 50 | Palm Beach County | West Palm Beach | 1,335,187 | 2,034 sq mi | 1909 |
| 51 | Pasco County | Dade City | 466,457 | 745 sq mi | 1887 |
| 52 | Pinellas County | Clearwater | 917,398 | 280 sq mi | 1912 |
| 53 | Polk County | Bartow | 609,492 | 1,875 sq mi | 1861 |
| 54 | Putnam County | Palatka | 74,041 | 722 sq mi | 1849 |
| 55 | Santa Rosa County | Milton | 154,104 | 1,016 sq mi | 1842 |
| 56 | Sarasota County | Sarasota | 382,213 | 572 sq mi | 1921 |
| 57 | Seminole County | Sanford | 425,071 | 308 sq mi | 1913 |
| 58 | St Johns County | St. Augustine | 195,823 | 609 sq mi | 1821 |
| 59 | St Lucie County | Fort Pierce | 280,379 | 572 sq mi | 1905 |
| 60 | Sumter County | Bushnell | 97,756 | 546 sq mi | 1853 |
| 61 | Suwannee County | Live Oak | 41,972 | 688 sq mi | 1858 |
| 62 | Taylor County | Perry | 22,691 | 1,042 sq mi | 1856 |
| 63 | Union County | Lake Butler | 15,388 | 240 sq mi | 1921 |
| 64 | Volusia County | DeLand | 494,804 | 1,106 sq mi | 1854 |
| 65 | Wakulla County | Crawfordville | 30,978 | 607 sq mi | 1843 |
| 66 | Walton County | DeFuniak Springs | 55,793 | 1,058 sq mi | 1824 |
| 67 | Washington County | Chipley | 24,935 | 580 sq mi | 1825 |
County Map of U.S. 50 States
Edited by: Vijay Kanth | Updated: September 26, 2022