Map of Hernando County - Hernando County is a county located in the U.S. state of Florida. Hernando County Map showing cities, highways, important places and water bodies. Get Where is Hernando County located in the map, major cities in Hernando county, population, areas, and places of interest.
Hernando County Map, Florida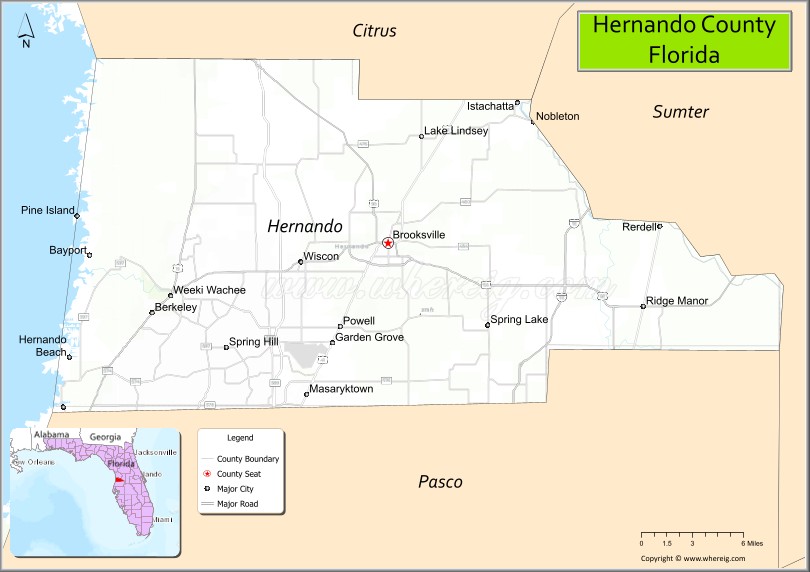 About Hernando County Map, Florida: The map showing the county boundary, county seat, major cities, highways, water bodies and neighbouring counties.
Most Viewed Links
About Hernando County, Florida
Hernando County is a county located in the U.S. state of Florida. It's county seat is Brooksville. As per 2020 census, the population of Hernando County is 200638 people and population density is 419.74 square miles. According to the United States Census Bureau, the county has a total area of 478 sq mi (1,238 km2). Hernando County was established on 1843.
Hernando County Facts
Ctities in Hernando county
| City Name | Type | Population (2020) | Pop. Density | Area | Incorporated |
| --- | --- | --- | --- | --- | --- |
| Brooksville | City | 8,890 | | 5.0 sq mi (12.9 km2) | 1856 |
Places to Visit in Hernando County
Top places to visit in Whispering Pines City Park, Tarpon Springs Aquarium and, Withlacoochee State Forest, Halpata Tastanaki Nature Preserve, Sweetfields Farm, Cabot Citrus Farms.
Highways in Hernando
US 19, US41, US98, US301, SR50.
Nearest Airports
Nearest airport of Hernando is Brooksville–Tampa Bay Regional Airport (ICAO: KBKV, FAA LID: BKV).
Explore Map of Florida Counties
County Map of U.S. 50 States