This is a list of Capital Cities of the 50 US States ordered alphabetically by state.
United States Map with Capitals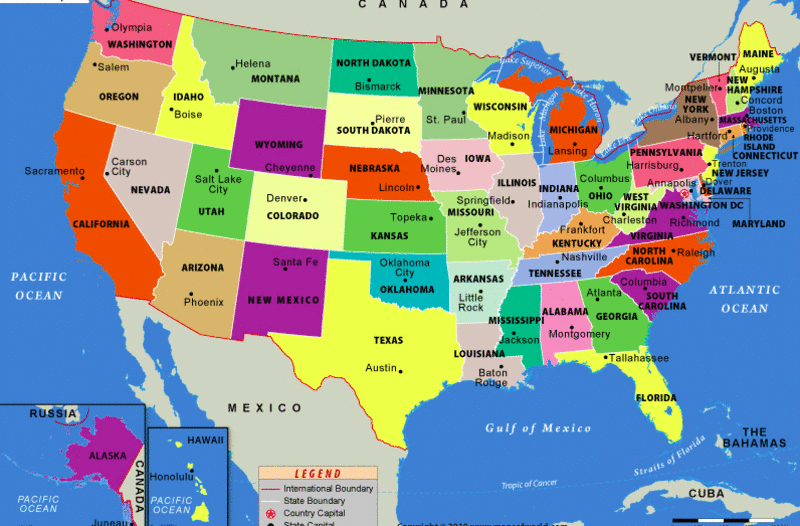 Image Credit to
Mapsofworld.com
Map showing Capitals of 50 states of United States, and the capital city of the United States of America is Washington, D.C., formally the District of Columbia and also known as D.C.
About State Capitals in the United States
The US States and Capitals Map showing 48 contiguous states and their capitals, it also carries inset maps of two other states – Alaska and Hawaii. One of the most populated and powerful countries in the world, the United States of America is the third largest country, with a total land area of about 3,794,066 square miles (9,833,520 km2). The United States is situated between the Pacific and Atlantic Oceans, bordered by Canada to the north and Mexico to the south. The nation's capital is Washington DC.
With a population of about 331,449,281 as of 2020 census, the United States is also the third most populous country in the world. Almost 79% of the entire American population lives in urban areas. The New York City, Los Angeles, Chicago, Houston and Phoenix are the five most populated capital cities of the United States. While the United States is a diverse nation, the majority of Americans are descended from European immigrants, and African Americans are the largest minority group, followed by Asian Americans.
The United States is a federation of fifty states and one federal district, Washington, District of Colombia. Forty-eight of the fifty states make up the contiguous United States, and Alaska, while still part of the North American continent, is separated from the lower forty-eight by Canada. The fiftieth state, which entered the union most recently, is Hawaii, a chain of islands located in the Pacific Ocean.
The United States also possesses five major unincorporated overseas territories: Puerto Rico and the United States Virgin Islands in the Caribbean, American Samoa, Northern Mariana, and the Islands in the Pacific.
List Capitals in the United States
This is a list of capital cities of the United States with their state abbreviation code, nickname and U.S. states by date of admission to the Union are listed in alphabetical order. Washington D.C., has been the federal capital city of the United States since 1800.
List of Capital Cities of the 50 US States
| State (Abbr.) | State Nickname | Capital | Became a State |
| --- | --- | --- | --- |
| Alabama (AL) | Heart of Dixie | Montgomery | December 14, 1819 |
| Alaska (AK) | The Last Frontier | Juneau | January 3, 1959 |
| Arizona (AZ) | Grand Canyon State | Phoenix | February 14, 1912 |
| Arkansas (AR) | The Natural State | Little Rock | June 15, 1836 |
| California (CA) | The Golden State | Sacramento | September 9, 1850 |
| Colorado (CO) | Centennial State | Denver | August 1, 1876 |
| Connecticut (CT) | Constitution State | Hartford | January 9, 1788 |
| Delaware (DE) | The First State | Dover | December 7, 1787 |
| Florida (FL) | Sunshine State | Tallahassee | March 3, 1845 |
| Georgia (GA) | Peach State | Atlanta | February 12, 1733 |
| Hawaii (HI) | Aloha State | Honolulu | August 21, 1959 |
| Idaho (ID) | Gem State | Boise | July 3, 1890 |
| Illinois (IL) | Prairie State | Springfield | December 3, 1818 |
| Indiana (IN) | Hoosier State | Indianapolis | December 11, 1816 |
| Iowa (IA) | Hawkeye State | Des Moines | December 28, 1846 |
| Kansas (KS) | Sunflower State | Topeka | January 29, 1861 |
| Kentucky (KY) | Bluegrass State | Frankfort | June 1, 1792 |
| Louisiana (LA) | Pelican State | Baton Rouge | April 30, 1812 |
| Maine (ME) | Pine Tree State | Augusta | March 15, 1820 |
| Maryland (MD) | Old Line State | Annapolis | April 28, 1788 |
| Massachusetts (MA) | The Bay State | Boston | February 6, 1788 |
| Michigan (MI) | The Great Lakes State | Lansing | January 26, 1837 |
| Minnesota (MN) | North Star State | St. Paul | May 11, 1858 |
| Mississippi (MS) | Magnolia State | Jackson | December 10, 1817 |
| Missouri (MO) | Show-Me State | Jefferson City | August 10, 1821 |
| Montana (MT) | Treasure State | Helena | November 8, 1889 |
| Nebraska (NE) | Cornhusker State | Lincoln | March 1, 1867 |
| Nevada (NV) | Silver State | Carson City | October 31, 1864 |
| New Hampshire (NH) | Granite State | Concord | June 21, 1788 |
| New Jersey (NJ) | Garden State | Trenton | December 18, 1787 |
| New Mexico (NM) | Land of Enchantment | Santa Fe | January 6, 1912 |
| New York (NY) | The Empire State | Albany | July 26, 1788 |
| North Carolina (NC) | First in Flight State | Raleigh | November 21, 1789 |
| North Dakota (ND) | Peace Garden State | Bismarck | November 2, 1889 |
| Ohio (OH) | Buckeye State | Columbus | March 1, 1803 |
| Oklahoma (OK) | Sooner State | Oklahoma City | November 16, 1907 |
| Oregon (OR) | Beaver State | Salem | February 14, 1859 |
| Pennsylvania (PA) | Keystone State | Harrisburg | December 12, 1787 |
| Rhode Island (RI) | Ocean State | Providence | May 29, 1790 |
| South Carolina (SC) | Palmetto State | Columbia | July 20, 1904 |
| South Dakota (SD) | Mount Rushmore State | Pierre | November 2, 1889 |
| Tennessee (TN) | Volunteer State | Nashville | June 1, 1796 |
| Texas (TX) | Lone Star State | Austin | December 29, 1845 |
| Utah (UT) | Beehive State | Salt Lake City | January 4, 1896 |
| Vermont (VT) | Green Mountain State | Montpelier | March 4, 1791 |
| Virginia (VA) | The Old Dominion | Richmond | June 25, 1788 |
| Washington (WA) | Evergreen State | Olympia | November 11, 1889 |
| West Virginia (WV) | Mountain State | Charleston | June 20, 1863 |
| Wisconsin (WI) | Badger State | Madison | May 29, 1848 |
| Wyoming (WY) | Equality State | Cheyenne | July 10, 1890 |
World Countries and Capitals
Last Updated: October 05, 2021