Columbus is located in the central part of the Ohio, United States. It is the largest city in the Ohio.
Columbus City Location Map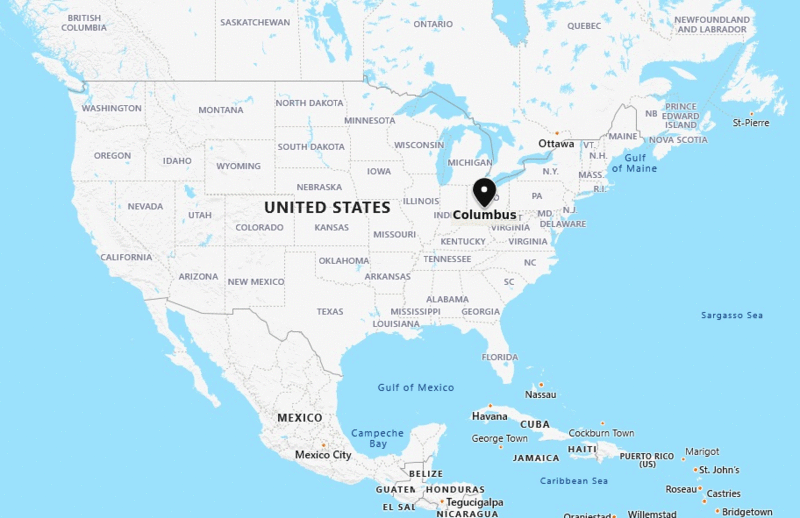 About Map: Map showing location of Columbus in the south-west of the Ohio.
About Columbus City
Columbus is the state capital and the most populous city in the U.S. state of Ohio, With an estimate population of 898,553 in 2019 data, it is the 14th-most populous city in the UNited States. It is the county seat of Franklin County. Columbus is the third largest city in the American Midwest, and the fifteenth largest city in the United States of America. It covers and area of 225.08 sq mi (582.94 km2).
Ohio More Maps & Info
Columbus City Facts
| Sr. No | Fact sheet | Columbus |
| --- | --- | --- |
| 1 | Country | USA |
| 2 | State | Ohio |
| 3 | Location | Central part of the State |
| 4 | Latitude | 39º59N |
| 5 | Longitude | 82º59W |
| 6 | Total area | 963.4km2 ( 372 sq mi ) |
| 7 | Total Population | 797,434 |
| 8 | Zip Codes Code | 43085 |
| 9 | Area Code | 614 |
| 10 | Nearby Cities | Grandview Heights, Marble Cliff, Bexley, Whitehall |
| 11 | Major Tourists' Attraction | COSI (Center of Science and Industry), Columbus Zoo & Aquarium, Short North Arts Monthly Gallery Hop, |
| 12 | Nearest airport | Port Columbus International Airport (about 8 miles) |