St. Louis is located in the eastern part of the Missouri. It is is the 15th-largest city based on population in the country, and the largest metro area in the state of Missouri.
Location Map of St. Louis, Missouri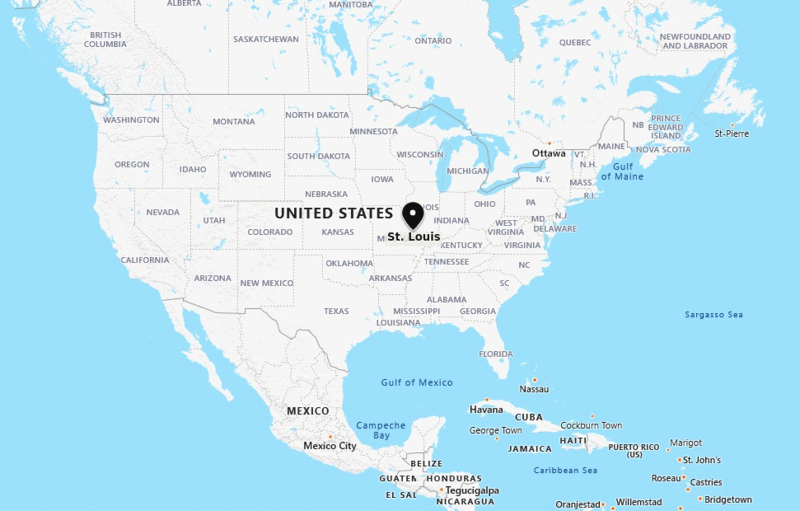 About Map: Map showing Location Map of St. Louis in the U.S. State of Missouri.
Where is St. Louis Located, Missouri?
St. Louis is the 2nd largest city in eastern-central portion of Missouri, United States. It lies on the west bank of the Mississippi River opposite East St. Louis, Illinois. It comprising a total area of 65.99 sq mi (170.92 km2), with an estimated population of 319,294 in 2019, 11th largest city in the Midwest, 2nd largest city in Missouri and 65th largest city in the United States.
Other Missouri Maps & Info
St. Louis City Facts
Country
United States
State
Missouri
Coordinates:
38°37′38″N 90°11′52″W
Combined statistical area (CSA)
St. Louis-St. Charles-Farmington, MO-IL
Metro
St. Louis, MO-IL
Founded
February 14, 1764
Incorporated
1822
Named for
Louis IX of France
Government Type
Mayor-council
Area
65.99 sq mi (170.92 km2)
Elevation
466 ft (142 m)
Highest elevation
614 ft (187 m)
Population (2019)
300,576
Pop. Density
4,868.02/sq mi (1,879.56/km2)
Demonym(s)
St. Louisan
Time zone
UTC−6 (CST), In summer UTC−5 (CDT)
ZIP Codes
63101 - 63199
Area code
314
FIPS code
29-65000
Interstates
I-44, I-45, I-64, I-70, I-270
Light rail
MetroLink
Primary airport
St. Louis Lambert International Airport
Waterways
Mississippi River and Missouri River
Port (River transportation)
Port of St. Louis
Climate
Subtropical climate
School (75 schools)
St. Louis Public Schools (SLPS)
University
University of Missouri-St. Louis, Washington University in St. Louis
and Saint Louis University, Washington University School of Medicine
Website
stlouis-mo.gov