New Mexico Map: New Mexico is a state in the Southwestern United States. It became the 47th state of the union in 1912. New Mexico is the fifth largest U.S. state in area and the 36th most populous state, with population of 2.1 million residents.
Map of New Mexico with Cities, Road, River, Highways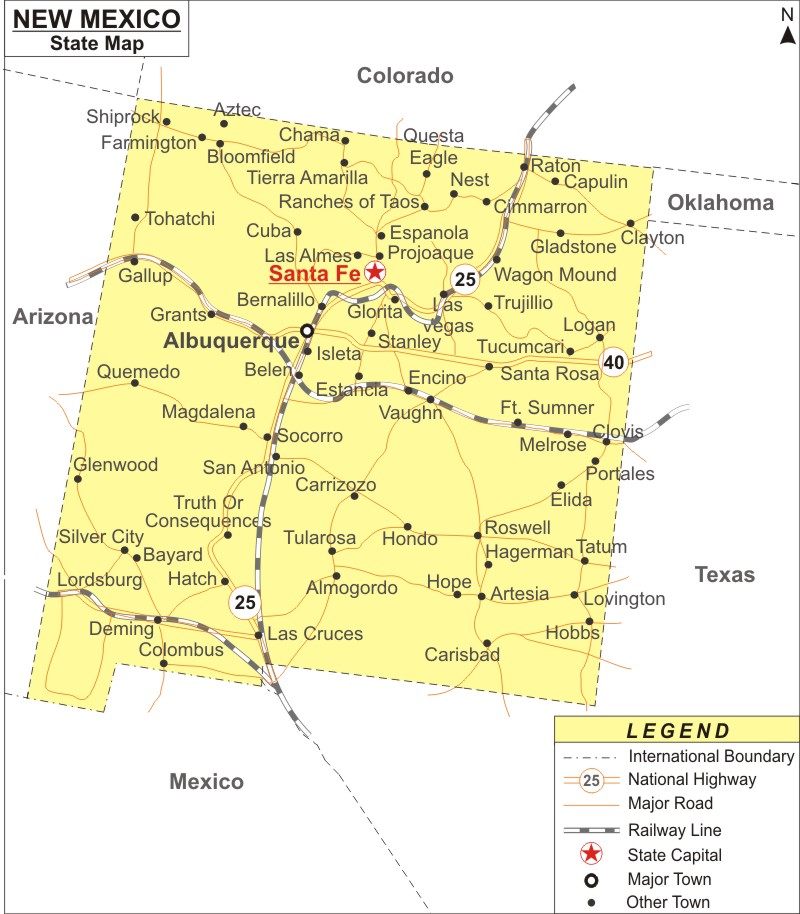 About Map: New Mexico Map showing the capital, state boundary, roads, rail network,rivers, interstate highways, major cities and towns.
New Mexico More Maps & Info
About New Mexico State Map
New Mexico Map: In the southwest region of the United States of America lies the state of New Mexico. It is one of the mountain states of the southern Rocky Mountains. New Mexico is bounded to the north by Colorado, to the east by Oklahoma and Texas, to the south by Mexico, and to the west by Arizona. Its northwest corner borders Arizona, Utah, and Colorado, making it the only place in the country where four states meet. Despite being the fifth-largest state of USA, New Mexico ranks 36th in terms of population and 46th in terms of population density, with slightly over 2.1 million persons. Santa Fe is the state capital and the oldest capital in the United States.
New Mexico Map
The detailed New Mexico Map displays the state's boundaries, the location of Santa Fe City, the state capital, important cities and other populous areas, rivers and lakes, important highways, interstates, railroads, and airports, as well as other geographical features. The New Mexico map provided on this page can be used for both educational and non-educational purposes. You can download it, as it is free.
New Mexico Map Illustrates Major Cities
The major cities of New Mexico are shown in the New Mexico map. The major cities of the state are Santa Fe, Alamogordo, Silver City, Albuquerque, Portales, Artesia, Carlsbad, Roswell, Clovis, Los Alamos, Deming, Rio Rancho, Farmington, Gallup, Hobbs, Las Cruces, and Las Vegas.
New Mexico Map Indicates National Highways & Routes of the State
Since the National Highways and Routes make up the State's transportation network, they are all shown on the map of New Mexico. Below, you can find information about national highways and routes
Facts About New Mexico
| | |
| --- | --- |
| State Name | New Mexico |
| Country | United States |
| Continent | North America |
| Capital City | Santa Fe |
| Largest city | Albuquerque |
| Abbreviation | NM, US-NM |
| Joined the Union | January 6, 1912 (47th) |
| Nickname | Land of Enchantment |
| Area | 21,591[1] sq mi (314,915 km2) - Rank 5th |
| Timezone | Eastern Time Zone (UTC-5) |
| Population | 2,109,366 (2020 Census) - Rank 36th |
| Highest Point | Wheeler Peak |
| Lowest Point | Red Bluff Reservoir on Texas border |
| Official Website | www.newmexico.gov |