The U.S. state of Maine is divided into 16 Counties. Explore the Maine County Map, all Counties list along with their County Seats in alphabetical order and their population, areas and the date of formation.
Maine County Map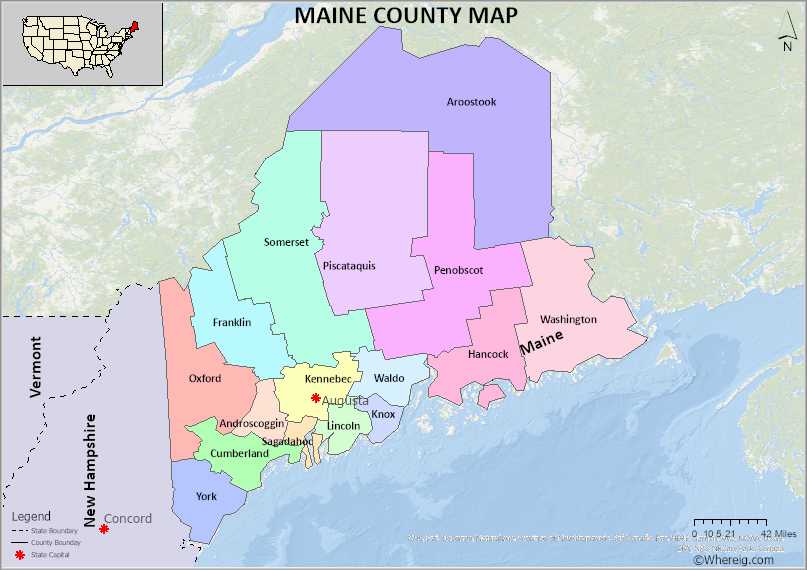 About Maine County Map
: The map showing the county boundary, all counties boundary, state capital and neighbouring states.
More Maine Maps & Info
About Counties of Maine
Maine is one of the states of the United States of America. It lies in the north-eastern part of the country. The state is a part of New England. The state shares the borders with New Hampshire to the west, the Atlantic Ocean lies in the southeast region of the state, the Canadian territories of New- Brunswick and Quebec to the north east and northwest. The state occupies 30843 square miles in an arena which accounts for 79883 square kilometres.Maine is known as 'Pine Tree State'. It is the twelfth smallest state by area.  According to the census of 2019 the population of Maine is 13.4 lakhs. The most populated city in the state is Portland. The capital of Maine is Augusta.
Like all other states of the United States, Maine too has three branches of government. They are Executive branch, Legislative branch and Judiciary. For further convenience of administration the state was divided into 'Counties'. The counties of Maine are 16 in number. The local government of the state depends on these counties. Counties are governed by commissioners and administrative assistants. Among all the counties, Aroostook is the largest county by area, Sagadahoc is the smallest one. There are about 500 municipalities in Maine State. The largest and most populated city is Portland in the state of Maine which is in Cumberland County. The smallest city in Maine is Beddington which is in Washington County. The richest town in the state is Saco whereas Presque Isle is the poorest city.
The U.S. state of Maine has 16 Counties. This is list of Maine Counties and County Seats in alphabetical order along with check their population, areas and the date of formation.
List of Counties in Maine with County Seats
| S.N | County | County Seat | Population(2011) | Area | Formed |
| --- | --- | --- | --- | --- | --- |
| 1 | Androscoggin County | Auburn | 107,233 | 497 mi² | 1854 |
| 2 | Aroostook County | Houlton | 68,628 | 6,829 sq mi | 1839 |
| 3 | Cumberland County | Portland | 289,977 | 1,217 sq mi | 1761 |
| 4 | Franklin County | Farmington | 29,991 | 1,744 sq mi | 1838 |
| 5 | Hancock County | Ellsworth | 54,659 | 2,351 sq mi | 1790 |
| 6 | Kennebec County | Augusta | 119,980 | 951 sq mi | 1799 |
| 7 | Knox County | Rockland | 39,855 | 1,142 sq mi | 1860 |
| 8 | Lincoln County | Wiscasset | 33,969 | 700 sq mi | 1760 |
| 9 | Oxford County | Paris | 57,202 | 2,175 sq mi | 1805 |
| 10 | Penobscot County | Bangor | 152,692 | 3,556 sq mi | 1816 |
| 11 | Piscataquis County | Dover-Foxcroft | 16,931 | 4,377 sq mi | 1838 |
| 12 | Sagadahoc County | Bath | 35,149 | 370 sq mi | 1854 |
| 13 | Somerset County | Skowhegan | 51,113 | 4,095 sq mi | 1809 |
| 14 | Waldo County | Belfast | 39,155 | 853 sq mi | 1827 |
| 15 | Washington County | Machias | 31,625 | 3,255 sq mi | 1790 |
| 16 | York County | Alfred | 201,169 | 1,271 sq mi | 1652 |
Explore Map of Maine Counties
County Map of U.S. 50 States
Edited by: Vijay Kanth | Updated On: June 13, 2022