The U.S. state of Colorado is divided into 64 Counties. Explore the Colorado County Map, list of Counties in Colorado along with their County Seats in alphabetical order along with their population, areas and the date of formation.
Colorado County Map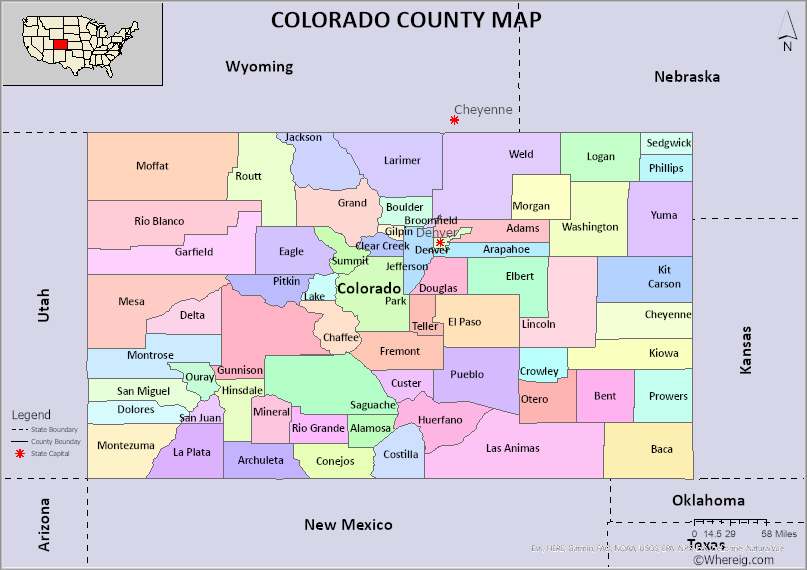 About Colorado County Map
: The map showing the county boundary, all counties boundary, state capital and neighbouring states.
More CO Maps
About Colorado County
Colorado is one of the mountains states of U.S. It is called as a mountain state because most of the area in this state is occupied by Rocky Mountains. Colorado is unique in its diverse geographical aspect as it has alpine mountains, high plains, deserts with massive sand dunes and deep canyons. Colorado shares its borders with Wyoming to the north, Kansas to the east, New Mexico to the south, Utah to the west. Colorado has 103642 square meters that would account for 268431 square kilometres in area.
The state of Colorado has 64 counties all together. Counties have been playing a major role as local governing bodies in the state as the state does not have sub-divisions. There are 271 active incorporated municipalities out of which 196 are towns while 73 are cities and 2 are consolidated city and county government.
Colorado is famous for its magnificent and beautiful landscapes, its wildlife. It is an eye feast to one who visits the place and can have a variety of sporting activities like mountain biking, horse-riding and skiing. The state is glorious in its nature as it consists of forests, mountains, hot springs and desert dunes. Among the counties of Colorado, the most populated county is Denver with 705,576 while San Juan County stands as less populated with 589. The capital city of Colorado is Denver.
Counties in Colorado are governed by three branches of the state government. They are Executive, Legislative and Judiciary. The executive branch of government headed by Governor, while legislative branch consists of General Assembly and Judicial branch comprised of Supreme court and other courts.
List of Counties in Colorado and County Seats
The U.S. state of Colorado has 64 Counties. This is list of Colorado Counties and County Seats in alphabetical order and check their population, areas and the date of formation.
Click on any County for Its detailed Map and Info.
| S.N | County | County Seat | Population | Area | Formed |
| --- | --- | --- | --- | --- | --- |
| 1 | Adams County | Brighton | 441,603 | 1,182.29 sq mi | 1902-11-15 |
| 2 | Alamosa County | Alamosa | 15,445 | 723.21 sq mi | 1913-03-08 |
| 3 | Arapahoe County | Littleton | 572,003 | 804.41 sq mi | 1861-11-01 |
| 4 | Archuleta County | Pagosa Springs | 12,084 | 1,354.53 sq mi | 1885-04-14 |
| 5 | Baca County | Springfield | 3,788 | 2,558.48 sq mi | 1889-04-16 |
| 6 | Bent County | Las Animas | 6,499 | 1,541.07 sq mi | 1870-02-11 |
| 7 | Boulder County | Boulder | 294,567 | 740.48 sq mi | 1861-11-01 |
| 8 | Chaffee County | Salida | 17,809 | 1,014.12 sq mi | 1879-02-10 |
| 9 | Cheyenne County | Cheyenne Wells | 1,836 | 1,781.90 sq mi | 1889-03-25 |
| 10 | City and County of Broomfield | Broomfield | 55,889 | 33.57 sq mi | 2001-11-15 |
| 11 | City and County of Denver | Denver | 600,158 | 155.66 sq mi | 1902-11-15 |
| 12 | Clear Creek County | Georgetown | 9,088 | 396.53 sq mi | 1861-11-01 |
| 13 | Conejos County | Conejos | 8,256 | 1,290.22 sq mi | 1861-11-01 |
| 14 | Costilla County | San Luis | 3,524 | 1,229.38 sq mi | 1861-11-01 |
| 15 | Crowley County | Ordway | 5,823 | 800.27 sq mi | 1911-05-29 |
| 16 | Custer County | Westcliffe | 4,255 | 739.24 sq mi | 1877-03-09 |
| 17 | Delta County | Delta | 30,952 | 1,149.44 sq mi | 1883-02-11 |
| 18 | Dolores County | Dove Creek | 2,064 | 1,076.93 sq mi | 1881-03-04 |
| 19 | Douglas County | Castle Rock | 285,465 | 842.30 sq mi | 1861-11-01 |
| 20 | Eagle County | Eagle | 52,197 | 1,700.76 sq mi | 1883-02-11 |
| 21 | El Paso County | Colorado Springs | 622,263 | 2,128.60 sq mi | 1861-11-01 |
| 22 | Elbert County | Kiowa | 23,086 | 1,849.08 sq mi | 1874-02-02 |
| 23 | Fremont County | Cañon City | 46,824 | 1,533.09 sq mi | 1861-11-01 |
| 24 | Garfield County | Glenwood Springs | 56,389 | 2,958.23 sq mi | 1883-02-10 |
| 25 | Gilpin County | Central City | 5,441 | 150.15 sq mi | 1861-11-01 |
| 26 | Grand County | Hot Sulphur Springs | 14,843 | 1,868.53 sq mi | 1874-02-02 |
| 27 | Gunnison County | Gunnison | 15,324 | 3,259.22 sq mi | 1877-03-09 |
| 28 | Hinsdale County | Lake City | 843 | 1,123.35 sq mi | 1874-02-10 |
| 29 | Huerfano County | Walsenburg | 6,711 | 1,592.37 sq mi | 1861-11-01 |
| 30 | Jackson County | Walden | 1,394 | 1,619.75 sq mi | 1909-05-05 |
| 31 | Jefferson County | Golden | 534,543 | 772.85 sq mi | 1861-11-01 |
| 32 | Kiowa County | Eads | 1,398 | 1,785.90 sq mi | 1889-04-11 |
| 33 | Kit Carson County | Burlington | 8,270 | 2,162.43 sq mi | 1889-04-11 |
| 34 | La Plata County | Durango | 51,334 | 1,700.44 sq mi | 1874-02-10 |
| 35 | Lake County | Leadville | 7,310 | 383.55 sq mi | 1861-11-01 |
| 36 | Larimer County | Fort Collins | 299,630 | 2,631.75 sq mi | 1861-11-01 |
| 37 | Las Animas County | Trinidad | 15,507 | 4,773.27 sq mi | 1866-02-09 |
| 38 | Lincoln County | Hugo | 5,467 | 2,585.21 sq mi | 1889-04-11 |
| 39 | Logan County | Sterling | 22,709 | 1,845.31 sq mi | 1887-02-25 |
| 40 | Mesa County | Grand Junction | 146,723 | 3,345.69 sq mi | 1883-02-14 |
| 41 | Mineral County | Creede | 712 | 878.16 sq mi | 1893-03-27 |
| 42 | Moffat County | Craig | 13,795 | 4,755.86 sq mi | 1911-02-27 |
| 43 | Montezuma County | Cortez | 25,535 | 2,035.80 sq mi | 1889-04-16 |
| 44 | Montrose County | Montrose | 41,276 | 2,246.43 sq mi | 1883-02-11 |
| 45 | Morgan County | Fort Morgan | 28,159 | 1,293.83 sq mi | 1889-02-19 |
| 46 | Otero County | La Junta | 18,831 | 1,267.66 sq mi | 1889-03-25 |
| 47 | Ouray County | Ouray | 4,436 | 542.30 sq mi | 1877-01-18 |
| 48 | Park County | Fairplay | 16,206 | 2,209.36 sq mi | 1861-11-01 |
| 49 | Phillips County | Holyoke | 4,442 | 688.30 sq mi | 1889-03-27 |
| 50 | Pitkin County | Aspen | 17,148 | 970.37 sq mi | 1881-02-23 |
| 51 | Prowers County | Lamar | 12,551 | 1,645.37 sq mi | 1889-04-11 |
| 52 | Pueblo County | Pueblo | 159,063 | 2,396.77 sq mi | 1861-11-01 |
| 53 | Rio Blanco County | Meeker | 6,666 | 3,226.24 sq mi | 1889-03-25 |
| 54 | Rio Grande County | Del Norte | 11,982 | 913.10 sq mi | 1874-02-10 |
| 55 | Routt County | Steamboat Springs | 23,509 | 2,362.11 sq mi | 1877-01-29 |
| 56 | Saguache County | Saguache | 6,108 | 3,168.32 sq mi | 1866-12-29 |
| 57 | San Juan County | Silverton | 699 | 388.99 sq mi | 1876-01-31 |
| 58 | San Miguel County | Telluride | 7,359 | 1,290.76 sq mi | 1883-03-02 |
| 59 | Sedgwick County | Julesburg | 2,379 | 548.83 sq mi | 1889-04-09 |
| 60 | Summit County | Breckenridge | 27,994 | 618.92 sq mi | 1861-11-01 |
| 61 | Teller County | Cripple Creek | 23,350 | 558.58 sq mi | 1899-03-23 |
| 62 | Washington County | Akron | 4,814 | 2,522.90 sq mi | 1887-02-09 |
| 63 | Weld County | Greeley | 252,825 | 4,013.84 sq mi | 1861-11-01 |
| 64 | Yuma County | Wray | 10,043 | 2,369.61 sq mi | 1889-03-15 |
County Map of U.S. 50 States