Michigan, a state, is in the Midwestern region of the United States. The capital of Michigan state is Lansing and the Largest City is Detroit. Michigan is the tenth most populous state, with a population of approximately 10 million, the 11th most extensive state by area. The Michigan state map shows the borders of the state of Michigan in the United States, and the major roads in the state, along with some of the Great Lakes.
Map of Michigan with Cities, Road, River, Highways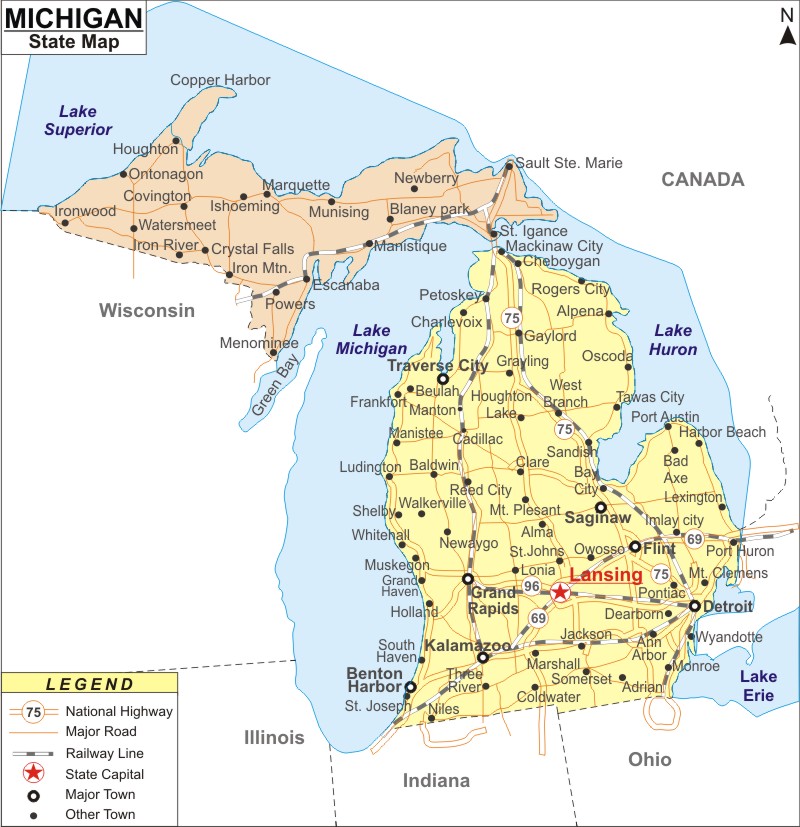 About Map: Michigan Map showing the capital, state boundary, roads, rail network,rivers, interstate highways, major cities and towns.
Other Michigan Maps & Info
About Michigan State Map
Michigan is a state in the Midwestern USA, bordering Wisconsin, Indiana, and Ohio, shares water boundaries with Illinois and parts of Canada. Known as the Great Lake State, Michigan is surrounded by four of the five Great Lakes, and thus has the longest freshwater boundary of any state or country in the world.
The four Great Lakes bordering Michigan are Lake Superior, Lake Michigan, Lake Huron, and Lake Erie. Part of the state, known as the Upper Peninsula, is separated from the rest of the state by Lake Huron and Lake Michigan.
The capital of Michigan is Lansing, which is centrally located on the Lower Peninsula. Other major cities in Michigan include Detroit, Ann Arbor, and Grand Rapids.
Located in the Great Lakes Region of United States, Michigan is the 8th most populous state of the United States. Michigan is famous for having the longest fresh water coastline in the world. The Michigan Map provides comprehensive information on the geography, topography, and climate of the state. Michigan is situated in the northeastern United States. Michigan shares water borders with Michigan and Wisconsin across Lake Michigan, and land boundaries with Ohio and Indiana. Michigan is politically subdivided into 83 counties, each of which is administered by a county seat. The counties of Michigan are further divided into cities.
Michigan is easily reachable by car, train, or airplane. Interstate 75 and Interstate 69 join northern Michigan with the southern part of the state. Eastern Michigan is connected to the western part by Interstate 96, Interstate 94, and Interstate 196. The railway in Michigan help in the easy accessibility around the state, and the passenger train is often the cheapest and comfortable mode of transportation around Michigan. The main rivers in Michigan include St. Joseph, Grand, Muskegon, Pere Marquette, Manistee and Kalamazoo. Michigan has about 850 golf courses. The Huron Hills Club and Grand Traverse Resort and Spa are some of the notable golf clubs in Michigan.
Michigan Routes
US Highways and State Routes include: Route 60, Route 70, Route 89, Route 89A, Route 93, Route 95, Route 160, Route 180 and Route 191.

Michigan also features several well regarded museums, including Natural Science Museums, Historical Museum of Bay County, Michigan Guild Gallery and Burton Memorial Tower.
Michigan State Facts
| | |
| --- | --- |
| State Name | Michigan |
| Country | United States |
| Continent | North America |
| Capital City | Lansing |
| Largest city | Detroit |
| Abbreviation | MI, Mich. US-MI |
| Joined the Union | January 26, 1837 (26th) |
| Nickname | The Great Lakes State |
| Area | 96,716 sq mi (250,493 km2) |
| Timezone | Eastern: UTC -5/-4 / Central: UTC -6/-5 |
| Population | 9,883,635 (10th) |
| Highest Point | Mount Arvon |
| Lowest Point | Lake Erie |
| Official Website | https://www.michigan.gov/ |