The U.S. state of Mississippi is divided into 82 Counties. Explore the Mississippi County Map, all Counties list along with their County Seats in alphabetical order and their population, areas and the date of formation.
Mississippi County Map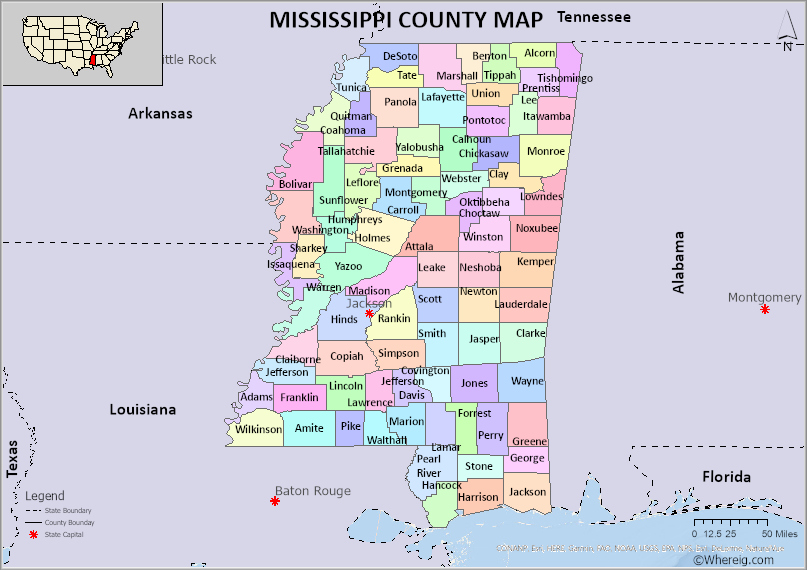 About Mississippi County Map
: The map showing the county boundary, all counties boundary, state capital and neighbouring states.
Other Mississippi Maps & Info
About Counties of Mississippi
Mississippi is one of the states of United States of America, which is located in the South-eastern region of the country. The capital of Mississippi is Jackson which in fact the largest city in the state. Mississippi is the thirty second largest state in terms of area, and ranks as thirty fourth state regarding population. The total area that Mississippi occupies in the country is 46923 square miles which accounts for 121,531 square kilometres. Mississippi shares the borders with Tennessee to the north, Alabama to the east, the Gulf of Mexico to the south and Mississippi river.
Mississippi counties are 82 in number. The most populous county in the state is Hinds County with the population of 227,742. The least populous county in Mississippi is Issaquena County. Among Mississippi counties Yazoo is the biggest county by area. The smallest county in the state of Mississippi is Alcorn. The richest county in the state of Mississippi is Madison and Holmes County is the poorest county. In the state of Mississippi there are 433 towns and cities. The biggest cities of Mississippi are Jackson, Gulfport, Southaven, Hattiesburg, Biloxi, Meridian and many more.
According to the constitution of Mississippi, the state government and for all Mississippi counties have three branches of government. They are executive, legislative and judicial. The local government Mississippi provides a lot of services to the people of Mississippi counties. Some of them are construction and maintenance of roads in counties, law enforcement, courts, and public utilities like water, sewer, and public health services like setting up clinics, industrial development and many more.
The U.S. state of Mississippi has 82 Counties. This is list of Mississippi Counties and County Seats in alphabetical order along with check their population, areas and the date of formation.
List of Counties in Mississippi with County Seats
| S.N | County | County Seat | Population | Area | Formed |
| --- | --- | --- | --- | --- | --- |
| 1 | Adams County | Natchez | 32,297 | 460 sq mi | 1799 |
| 2 | Alcorn County | Corinth | 37,057 | 400 sq mi | 1870 |
| 3 | Amite County | Liberty | 13,131 | 730 sq mi | 1809 |
| 4 | Attala County | Kosciusko | 19,564 | 735 sq mi | 1833 |
| 5 | Benton County | Ashland | 8,729 | 407 sq mi | 1870 |
| 6 | Bolivar County | Cleveland and Rosedale | 34,145 | 876 sq mi | 1836 |
| 7 | Calhoun County | Pittsboro | 14,962 | 587 sq mi | 1852 |
| 8 | Carroll County | Carrollton and Vaiden | 10,597 | 628 sq mi | 1833 |
| 9 | Chickasaw County | Houston and Okolona | 17,392 | 502 sq mi | 1836 |
| 10 | Choctaw County | Ackerman | 8,547 | 419 sq mi | 1833 |
| 11 | Claiborne County | Port Gibson | 9,604 | 487 sq mi | 1802 |
| 12 | Clarke County | Quitman | 16,732 | 691 sq mi | 1833 |
| 13 | Clay County | West Point | 20,634 | 409 sq mi | 1871 |
| 14 | Coahoma County | Clarksdale | 26,151 | 554 sq mi | 1836 |
| 15 | Copiah County | Hazlehurst | 29,449 | 777 sq mi | 1823 |
| 16 | Covington County | Collins | 19,568 | 414 sq mi | 1819 |
| 17 | DeSoto County | Hernando | 161,252 | 478 sq mi | 1836 |
| 18 | Forrest County | Hattiesburg | 74,934 | 467 sq mi | 1906 |
| 19 | Franklin County | Meadville | 8,118 | 565 sq mi | 1809 |
| 20 | George County | Lucedale | 22,578 | 478 sq mi | 1910 |
| 21 | Greene County | Leakesville | 14,400 | 713 sq mi | 1811 |
| 22 | Grenada County | Grenada | 21,906 | 422 sq mi | 1870 |
| 23 | Hancock County | Bay Saint Louis | 43,929 | 477 sq mi | 1812 |
| 24 | Harrison County | Gulfport and Biloxi | 187,105 | 581 sq mi | 1841 |
| 25 | Hinds County | Jackson and Raymond | 245,285 | 869 sq mi | 1821 |
| 26 | Holmes County | Lexington | 19,198 | 756 sq mi | 1833 |
| 27 | Humphreys County | Belzoni | 9,375 | 418 sq mi | 1918 |
| 28 | Issaquena County | Mayersville | 1,406 | 413 sq mi | 1844 |
| 29 | Itawamba County | Fulton | 23,401 | 532 sq mi | 1836 |
| 30 | Jackson County | Pascagoula | 139,668 | 727 sq mi | 1812 |
| 31 | Jasper County | Bay Springs and Paulding | 17,062 | 676 sq mi | 1833 |
| 32 | Jefferson County | Fayette | 7,726 | 519 sq mi | 1799 |
| 33 | Jefferson Davis County | Prentiss | 12,487 | 408 sq mi | 1906 |
| 34 | Jones County | Laurel and Ellisville | 67,761 | 694 sq mi | 1826 |
| 35 | Kemper County | De Kalb | 10,456 | 766 sq mi | 1833 |
| 36 | Lafayette County | Oxford | 47,351 | 631 sq mi | 1836 |
| 37 | Lamar County | Purvis | 55,658 | 497 sq mi | 1904 |
| 38 | Lauderdale County | Meridian | 80,261 | 704 sq mi | 1833 |
| 39 | Lawrence County | Monticello | 12,929 | 431 sq mi | 1814 |
| 40 | Leake County | Carthage | 23,805 | 583 sq mi | 1833 |
| 41 | Lee County | Tupelo | 82,910 | 450 sq mi | 1866 |
| 42 | Leflore County | Greenwood | 32,317 | 592 sq mi | 1871 |
| 43 | Lincoln County | Brookhaven | 34,869 | 586 sq mi | 1870 |
| 44 | Lowndes County | Columbus | 59,779 | 502 sq mi | 1830 |
| 45 | Madison County | Canton | 95,203 | 719 sq mi | 1828 |
| 46 | Marion County | Columbia | 27,088 | 542 sq mi | 1811 |
| 47 | Marshall County | Holly Springs | 37,144 | 706 sq mi | 1836 |
| 48 | Monroe County | Aberdeen | 36,989 | 764 sq mi | 1821 |
| 49 | Montgomery County | Winona | 10,925 | 407 sq mi | 1871 |
| 50 | Neshoba County | Philadelphia | 29,676 | 570 sq mi | 1833 |
| 51 | Newton County | Decatur | 21,720 | 578 sq mi | 1836 |
| 52 | Noxubee County | Macon | 11,545 | 695 sq mi | 1833 |
| 53 | Oktibbeha County | Starkville | 47,671 | 458 sq mi | 1833 |
| 54 | Panola County | Batesville and Sardis | 34,707 | 684 sq mi | 1836 |
| 55 | Pearl River County | Poplarville | 55,834 | 812 sq mi | 1890 |
| 56 | Perry County | New Augusta | 12,250 | 647 sq mi | 1820 |
| 57 | Pike County | Magnolia | 40,404 | 409 sq mi | 1815 |
| 58 | Pontotoc County | Pontotoc | 29,957 | 497 sq mi | 1836 |
| 59 | Prentiss County | Booneville | 25,276 | 415 sq mi | 1870 |
| 60 | Quitman County | Marks | 8,223 | 405 sq mi | 1877 |
| 61 | Rankin County | Brandon | 141,617 | 775 sq mi | 1828 |
| 62 | Scott County | Forest | 28,264 | 609 sq mi | 1833 |
| 63 | Sharkey County | Rolling Fork | 4,916 | 428 sq mi | 1876 |
| 64 | Simpson County | Mendenhall | 27,503 | 589 sq mi | 1824 |
| 65 | Smith County | Raleigh | 16,491 | 636 sq mi | 1833 |
| 66 | Stone County | Wiggins | 17,786 | 445 sq mi | 1916 |
| 67 | Sunflower County | Indianola | 29,450 | 694 sq mi | 1844 |
| 68 | Tallahatchie County | Charleston and Sumner | 15,378 | 644 sq mi | 1833 |
| 69 | Tate County | Senatobia | 28,886 | 404 sq mi | 1873 |
| 70 | Tippah County | Ripley | 22,232 | 458 sq mi | 1836 |
| 71 | Tishomingo County | Iuka | 19,593 | 424 sq mi | 1836 |
| 72 | Tunica County | Tunica | 10,778 | 455 sq mi | 1836 |
| 73 | Union County | New Albany | 27,134 | 416 sq mi | 1870 |
| 74 | Walthall County | Tylertown | 15,443 | 404 sq mi | 1912 |
| 75 | Warren County | Vicksburg | 48,773 | 587 sq mi | 1809 |
| 76 | Washington County | Greenville | 51,137 | 724 sq mi | 1827 |
| 77 | Wayne County | Waynesboro | 20,747 | 810 sq mi | 1809 |
| 78 | Webster County | Walthall | 10,253 | 423 sq mi | 1874 |
| 79 | Wilkinson County | Woodville | 9,878 | 677 sq mi | 1802 |
| 80 | Winston County | Louisville | 19,198 | 607 sq mi | 1833 |
| 81 | Yalobusha County | Water Valley and Coffeeville | 12,678 | 467 sq mi | 1833 |
| 82 | Yazoo County | Yazoo City | 28,065 | 920 sq mi | 1823 |
Explore Map of Mississippi Counties
County Map of U.S. 50 States
Edited by: Vijay Kanth | Updated: June 13, 2022