Explore detailed Map of china, It is the world's most populous and 3rd or 4th largest country by area, located in the East Asia. Check It's states, cities, administrative divisions, history, geography & facts.
Map of China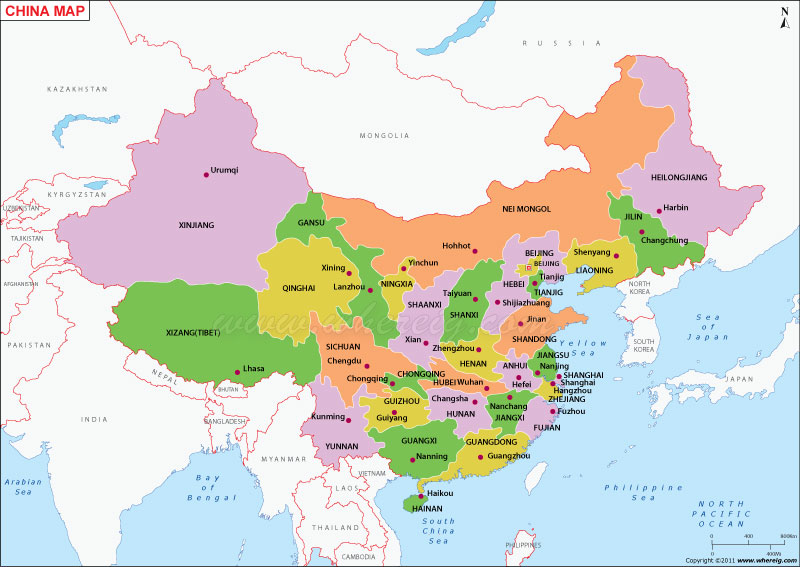 About Map: Map showing The Map showing international and state boundaries of China and It's national capital.
Map of China
China is situated in East Asia. China shares the borders with 14 different independent or sovereign nations. The map of China can illustrate this beautifully. The map of China shows the mighty country of the world China, and surrounding countries with international borders, the capital of the country, provinces, dependent and independent territories, their capitals, and many more.
About China
China is one of the countries of East Asia. It is located in the Eastern part of Asia. China is in first place in terms of population, more than 1.4 billion. It is the most populous country in the world. It is the third largest country by area after Russia with 9.6 million square kilometers, which accounts for 3,700,000 square miles. The country falls in five different geographical zones. China shares the borders with 14 different countries. They are Afghanistan, Bhutan, India, Kazakhstan, North Korea, Kyrgyzstan, Laos, Mongolia, Myanmar (Burma), Nepal, Pakistan, Russia, Tajikistan, and Vietnam.
China is officially the People's Republic of China. The country emerged as one of the powerful economic powers of the world. China is well known for its architectural works, for instance the Great Wall of China and Forbidden City. People find various delicacies in the country. China has a long and wonderful history, which conveys that people learn in a concentrated and deeply rooted manner and invent rather than conquer. The electronic industry in China grew drastically in recent years. Most of the people in the world use electronic gadgets, which are produced in china.
Geography of China
The geography of China is unique because of its most diverse and magnificent geography in the world. It is magnificent as it has the highest altitude and temperature, plenty of rivers, enormous deserts, and greenery fields and so on. China has diverse forms of land. The crucial landforms of China are mountains, high plateaus, plain, hills, sandy deserts and dense forests. China is the land of mountains as it has one third of land area consisting of mountains. China is endowed with plenty of rivers.
Facts about China
| | |
| --- | --- |
| Continent | Asia |
| Region | East Asia |
| Borders | Afghanistan, Bhutan, Myanmar, India, North Korea, Kazakhstan, Kyrgyzstan, Laos, Mongolia, Nepal, Pakistan, Russia, Tajikistan, Vietnam |
| Capital | Beijing |
| Largest City | Shanghai |
| National Language | Chinese |
| Location | Eastern part of Asia. |
| Coordinates | 35.8617° N, 104.1954° E |
| Area | 9,596,961 km2 (3,705,407 sq mi) (3rd/4th) |
| Population (2021 census) | 1,412,600,000 (1st) |
| Population Density | 45/km2 (375.5/sq mi) (83rd) |
| Currency | Renminbi (yuan; ¥) (CNY-Renminbi) HKD-Hong Kong) MOP-Macau) |
| China ISO Country code | CN |
| Calling code | +86 (mainland); +852 (Hong Kong); +853 (Macau) |
| Climate | diverse; ranges from tropical in south to subarctic in north |
| Time zone | UTC+8 (China Standard Time) |
| Administrative Regions | 22 provinces, 5 autonomous regions, 4 direct-controlled municipalities |
| Special Administrative Regions | Hong Kong and Macau |
| Major Airport | Beijing Capital International Airport |
| Highest point | Mount Everest, 8,848 m (29,029 ft) |
| Lowest point | Turpan Pendi, −154 m (−505 ft) |
| Longest river | Yangtze River |
| Largest lake | Qinghai Lake |
| GDP (PPP) 2022 estimate | $19.19 trillion (2nd) |
| Internet TLD | .cn .hk(Hong Kong).mo(Macau) |
Administrative divisions of China
China is divided into 23 provinces, 5 autonomous regions, 4 municipalities and 2 special administrative regions. China is grouped into 6 geographic regions: North China, Northeast China, East China, South Central China, Southwest China, and Northwest China.
| | provinces of China | |
| --- | --- | --- |
| Anhui | Heilongjiang | Liaoning |
| Fujian | Henan | Qinghai |
| Gansu | Hubei | Shaanxi |
| Guangdong | Hunan | Shandong |
| Guizhou | Jiangsu | Shanxi |
| Hainan | Jiangxi | Sichuan |
| Hebei | Jilin | Yunnan |
| Zhejiang | Taiwan - Claimed Province (Governed by R.O.China) | |
| Autonomous regions | Municipalities | Special administrative regions |
| --- | --- | --- |
| Guangxi | Beijing | Hong Kong / Xianggang |
| Inner Mongolia / Nei Menggu | Chongqing | Macau / Aomen |
| Ningxia | Shanghai | |
| Xinjiang | Tianjin | |
| Tibet / Xizang | | |
List of 20 Largest cities in China by population
| Rank | City | Province | Population (2021 Estimate) |
| --- | --- | --- | --- |
| 1 | Shanghai | Municipalities | 26,917,322 |
| 2 | Beijing | Municipalities | 20,381,745 |
| 3 | Chongqing | Municipalities | 15,773,658 |
| 4 | Tianjin | Municipalities | 13,552,359 |
| 5 | Guangzhou | Guangdong | 13,238,590 |
| 6 | Shenzhen† | Guangdong | 12,313,714 |
| 7 | Chengdu | Sichuan | 9,104,865 |
| 8 | Nanjing | Jiangsu | 9,314,685 |
| 9 | Wuhan | Hubei | 8,346,205 |
| 10 | Xi'an | Shaanxi | 7,948,032 |
| 11 | Hangzhou | Zhejiang | 7,603,271 |
| 12 | Dongguan | Guangdong | 7,402,305 |
| 13 | Foshan | Guangdong | 7,313,711 |
| 14 | Shenyang | Liaoning | 7,191,333 |
| 15 | Harbin | Heilongjiang | 6,360,991 |
| 16 | Qingdao | Shandong | 5,597,028 |
| 17 | Dalian | Liaoning | 5,587,814 |
| 18 | Jinan | Shandong | 5,330,573 |
| 19 | Zhengzhou | Henan | 5,286,549 |
| 20 | Changsha | Hunan | 4,555,788 |