Macau, also spelled Macao, officially known as the Macao Special Administrative Region of the People's Republic of China, located on the south coast of China, across the Pearl River Delta from Hong Kong and lies between latitudes 22.1987 North and longitudes 113.5439° East.
Location Map of Macau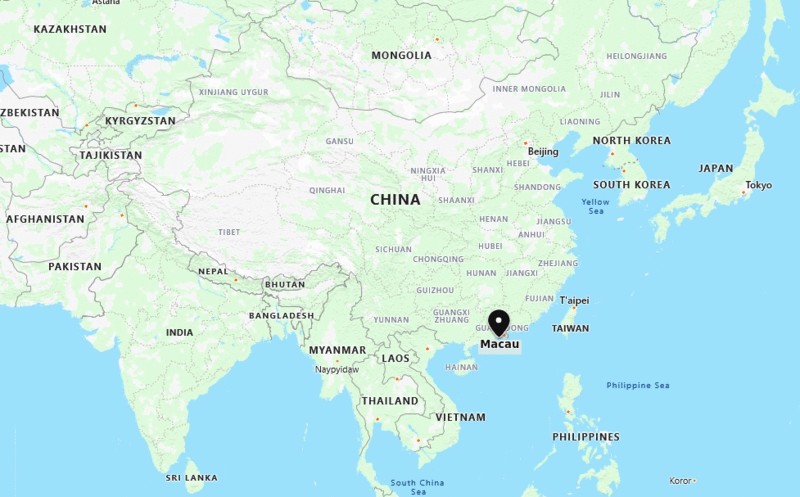 About Map: Map showing location of Macau in the Map.
Where is Macau/ Macao Located?
Macau is situated on China's southern coast, 37 mi (60 km) west of Hong Kong, on the western side of the Pearl River. It is surrounded by the South China Sea in the east and south, and China's Guangdong city of Zhuhai to the west and north. Macau is located at latitude 22.20056 and longitude 113.54611. It is part of Asia and the northern hemisphere. Its area is 115.3 sq km (44.5 sq mi) and the population about 696,100.
Facts about Macau:
| | |
| --- | --- |
| Continent | Asia |
| Region | East Asia |
| Sovereign state | People's Republic of China |
| Capital | Macau does not have a capital |
| National Language | Chinese, Portuguese |
| Location | Southern coast of China |
| Coordinates | 22.1987° N, 113.5439° E |
| Administrative divisions | Seven parishes |
| Area | 115.3 km2 (44.5 sq mi) |
| Population | 696100 (2020) |
| Currency | Macanese pataca (MOP) |
| ISO Country code | MO, CN-MO |
| Calling code | 853 (Macau) |
| Climate | humid subtropical climate |
| Time zone | UTC+08:00 (Macau Standard Time) |
| Major Airport | Macau International Airport |
| Internet TLD | .mo(Macau) |