This is list of largest, popular Cities & towns in Florida by population and County. The largest cities of Florida are Jacksonville, Miami, Tampa, St. Petersburg, Orlando and Tallahassee.
Map of Cities in Florida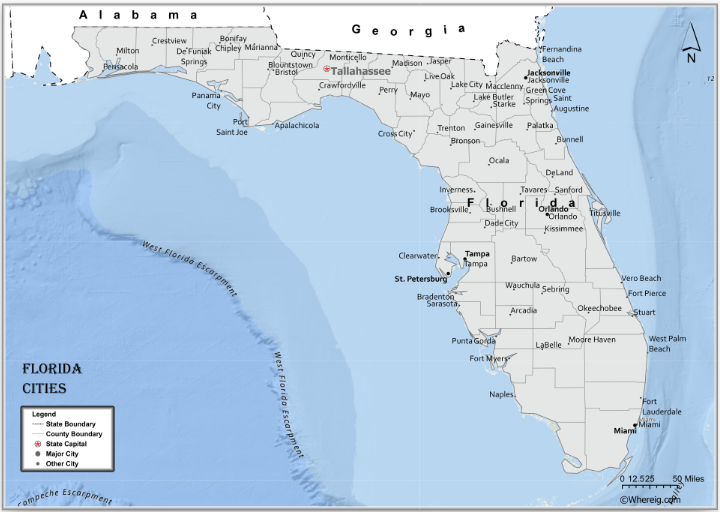 About Florida City Map:
The map showing the largest and major cities in Florida, state capital, other cities and towns, state boundary, Florida counties boundary and neighbouring states.
More Maps
Cities & Towns in Florida
Florida is a state located in the South Atlantic United States. Florida is the 3rd most populous state with population of 21538187 residents as of 2020 United States Census data, and the 26th largest by land area, It cover an area of 53,625 square miles (138,887 km2). Florida is divided into 67 counties and contains 411 municipalities, It includes 282 cities, 109 towns, and 20 villages. Tallahassee is the capital city of Florida.
This is list of Cities and towns in Florida by population, area in square miles and density in square miles.
List of Cities in Florida
| Rank | Name | Population | Area (Sq Mi) | Density (Sq Mi) |
| --- | --- | --- | --- | --- |
| 1 | Jacksonville | 929,647 | 747.47 | 1,244 |
| 2 | Miami | 478,251 | 36 | 13,286 |
| 3 | Tampa | 404,636 | 114.02 | 3,549 |
| 4 | Orlando | 290,520 | 110.56 | 2,628 |
| 5 | St. Petersburg | 267,121 | 61.86 | 4,318 |
| 6 | Hialeah | 230,135 | 21.58 | 10,664 |
| 7 | Port St. Lucie | 215,922 | 119.2 | 1,811 |
| 8 | Cape Coral | 204,549 | 105.95 | 1,931 |
| 9 | Tallahassee | 197,974 | 100.47 | 1,970 |
| 10 | Fort Lauderdale | 183,109 | 34.59 | 5,294 |
| 11 | Pembroke Pines | 176,823 | 32.67 | 5,412 |
| 12 | Hollywood | 155,689 | 27.27 | 5,709 |
| 13 | Miramar | 142,445 | 28.85 | 4,937 |
| 14 | Gainesville | 134,661 | 63.07 | 2,135 |
| 15 | Coral Springs | 133,853 | 22.86 | 5,854 |
| 16 | Lehigh Acres | 123,378 | 92.65 | 1,332 |
| 17 | Palm Bay | 118,948 | 97.81 | 1,216 |
| 18 | Clearwater | 118,190 | 26.08 | 4,532 |
| 19 | Brandon | 115,911 | 33.14 | 3,498 |
| 20 | Lakeland | 115,566 | 66.14 | 1,747 |
| 21 | West Palm Beach | 113,749 | 53.81 | 2,114 |
| 22 | Pompano Beach | 113,082 | 24.02 | 4,708 |
| 23 | Spring Hill | 111,076 | 59.86 | 1,856 |
| 24 | Miami Gardens | 107,715 | 18.23 | 5,909 |
| 25 | Davie | 106,656 | 34.92 | 3,055 |
| 26 | Boca Raton | 100,713 | 29.18 | 3,452 |
| 27 | Fort Myers | 96,851 | 39.84 | 2,431 |
| 28 | Plantation | 95,702 | 21.66 | 4,417 |
| 29 | Riverview | 95,338 | 46.21 | 2,063 |
| 30 | Sunrise | 95,060 | 16.18 | 5,874 |
| 31 | Deltona | 94,835 | 37.27 | 2,544 |
| 32 | Palm Coast | 94,080 | 95.09 | 989 |
| 33 | Alafaya | 91,068 | 30.41 | 2,995 |
| 34 | Town 'n' Country | 87,338 | 22.09 | 3,953 |
| 35 | Miami Beach | 87,039 | 7.69 | 11,316 |
| 36 | Largo | 84,970 | 18.49 | 4,595 |
| 37 | Melbourne | 83,881 | 44.06 | 1,904 |
| 38 | Deerfield Beach | 81,866 | 14.95 | 5,477 |
| 39 | Boynton Beach | 80,139 | 16.15 | 4,962 |
| 40 | The Villages | 79,372 | 31.31 | 2,535 |
| 41 | Pine Hills | 78,995 | 12.2 | 6,477 |
| 42 | Doral | 75,699 | 13.82 | 5,478 |
| 43 | Kendall | 75,312 | 16.11 | 4,674 |
| 44 | North Port | 75,296 | 99.32 | 758 |
| 45 | Lauderhill | 71,756 | 8.52 | 8,422 |
| 46 | Weston | 71,438 | 24.59 | 2,905 |
| 47 | Kissimmee | 70,649 | 20.81 | 3,395 |
| 48 | Daytona Beach | 70,140 | 65.65 | 1,068 |
| 49 | Homestead | 70,061 | 15.08 | 4,645 |
| 50 | Delray Beach | 70,001 | 15.91 | 4,400 |
| 51 | Poinciana | 69,955 | 71.86 | 973 |
| 52 | Tamarac | 67,269 | 11.67 | 5,763 |
| 53 | Jupiter | 66,619 | 21.63 | 3,080 |
| 54 | Port Orange | 66,416 | 26.81 | 2,477 |
| 55 | Wellington | 66,078 | 44.97 | 1,469 |
| 56 | Sanford | 64,130 | 23.35 | 2,746 |
| 57 | Bonita Springs | 64,115 | 38.33 | 1,673 |
| 58 | Bradenton | 63,115 | 14.37 | 4,391 |
| 59 | Port Charlotte | 62,327 | 28.48 | 2,188 |
| 60 | Palm Harbor | 62,310 | 17.34 | 3,593 |
| 61 | Ocala | 61,810 | 47.3 | 1,307 |
| 62 | The Hammocks | 61,516 | 7.89 | 7,799 |
| 63 | North Miami | 61,504 | 8.43 | 7,296 |
| 64 | Coconut Creek | 61,334 | 11.17 | 5,493 |
| 65 | Fountainebleau | 60,547 | 3.99 | 15,163 |
| 66 | Margate | 59,398 | 8.76 | 6,781 |
| 67 | Sarasota | 59,363 | 14.72 | 4,033 |
| 68 | Palm Beach Gardens | 59,098 | 58.71 | 1,007 |
| 69 | Wesley Chapel | 58,208 | 43.92 | 1,325 |
| 70 | Tamiami | 56,225 | 7.05 | 7,977 |
| 71 | Kendale Lakes | 56,182 | 8.07 | 6,958 |
| 72 | St. Cloud | 55,337 | 20.28 | 2,728 |
| 73 | Pinellas Park | 54,597 | 16.06 | 3,399 |
| 74 | Pensacola | 53,651 | 22.64 | 2,370 |
| 75 | Apopka | 53,227 | 33.63 | 1,583 |
| 76 | Country Club | 50,431 | 4.17 | 12,082 |
| 77 | Ocoee | 49,231 | 15.31 | 3,216 |
| 78 | Winter Haven | 48,917 | 32.24 | 1,517 |
| 79 | Coral Gables | 48,850 | 12.93 | 3,779 |
| 80 | University | 48,436 | 6.33 | 7,652 |
| 81 | Winter Garden | 47,699 | 16.25 | 2,935 |
| 82 | Titusville | 46,972 | 29.22 | 1,607 |
| 83 | Fort Pierce | 46,437 | 23.68 | 1,961 |
| 84 | Oakland Park | 45,170 | 7.53 | 6,001 |
| 85 | Ormond Beach | 44,591 | 33.09 | 1,348 |
| 86 | North Lauderdale | 44,220 | 4.62 | 9,569 |
| 87 | Altamonte Springs | 43,989 | 9.08 | 4,843 |
| 88 | Cutler Bay | 42,924 | 9.89 | 4,341 |
| 89 | North Fort Myers | 42,770 | 50.62 | 845 |
| 90 | Clermont | 42,482 | 15.93 | 2,668 |
| 91 | Oviedo | 42,436 | 15.49 | 2,739 |
| 92 | Four Corners | 42,346 | 47.43 | 893 |
| 93 | North Miami Beach | 42,161 | 4.85 | 8,700 |
| 94 | Greenacres | 41,475 | 5.85 | 7,091 |
| 95 | Royal Palm Beach | 41,318 | 11.34 | 3,642 |
| 96 | Plant City | 40,210 | 27.55 | 1,460 |
| 97 | The Acreage | 40,177 | 34.3 | 1,171 |
| 98 | Hallandale Beach | 39,883 | 4.21 | 9,464 |
| 99 | Lake Worth | 39,192 | 5.89 | 6,651 |
| 100 | Horizon West | 39,065 | 32.87 | 1,188 |
| 101 | Kendall West | 38,433 | 2.75 | 13,976 |
| 102 | Land O' Lakes | 38,410 | 19.07 | 2,014 |
| 103 | Valrico | 37,980 | 13.81 | 2,750 |
| 104 | DeLand | 37,775 | 18.82 | 2,007 |
| 105 | EgyLake-Leto | 37,704 | 5.91 | 6,382 |
| 106 | Richmond West | 37,486 | 4.17 | 8,985 |
| 107 | Navarre | 37,362 | 23.07 | 1,620 |
| 108 | Winter Springs | 37,294 | 14.86 | 2,510 |
| 109 | South Miami Heights | 37,119 | 4.9 | 7,578 |
| 110 | Riviera Beach | 36,829 | 8.28 | 4,449 |
| 111 | Dunedin | 36,575 | 10.41 | 3,514 |
| 112 | Parkland | 36,544 | 12.5 | 2,923 |
| 113 | Merritt Island | 36,532 | 17.52 | 2,085 |
| 114 | Aventura | 36,313 | 2.65 | 13,729 |
| 115 | Lauderdale Lakes | 36,114 | 3.68 | 9,811 |
| 116 | Cooper City | 35,876 | 8.04 | 4,463 |
| 117 | University | 35,777 | 9.06 | 3,947 |
| 118 | Meadow Woods | 35,726 | 11.17 | 3,198 |
| 119 | Carrollwood | 35,686 | 9.22 | 3,871 |
| 120 | Estero | 34,897 | 24.34 | 1,433 |
| 121 | Buenaventura Lakes | 34,784 | 5.58 | 6,237 |
| 122 | Golden Glades | 34,109 | 4.83 | 7,059 |
| 123 | West Little River | 32,897 | 4.59 | 7,173 |
| 124 | Dania Beach | 32,417 | 7.81 | 4,151 |
| 125 | Ferry Pass | 32,376 | 13.94 | 2,323 |
| 126 | Princeton | 32,299 | 7.42 | 4,354 |
| 127 | East Lake | 32,169 | 28.71 | 1,120 |
| 128 | Miami Lakes | 31,935 | 5.66 | 5,645 |
| 129 | Fruit Cove | 31,314 | 16.07 | 1,949 |
| 130 | Lake Magdalene | 30,805 | 10.21 | 3,017 |
| 131 | Lakeside | 30,458 | 13.45 | 2,264 |
| 132 | Winter Park | 30,233 | 8.74 | 3,458 |
| 133 | Panama City | 29,787 | 35.02 | 851 |
| 134 | Westchester | 29,778 | 3.96 | 7,516 |
| 135 | Golden Gate | 29,552 | 3.9 | 7,568 |
| 136 | Rockledge | 29,413 | 12.13 | 2,425 |
| 137 | East Lake-Orient Park | 29,346 | 15.97 | 1,838 |
| 138 | New Smyrna Beach | 29,217 | 37.71 | 775 |
| 139 | Fleming Island | 28,676 | 15.84 | 1,811 |
| 140 | Casselberry | 28,637 | 6.93 | 4,131 |
| 141 | Oakleaf Plantation | 28,237 | 16.43 | 1,719 |
| 142 | Haines City | 28,061 | 18.85 | 1,489 |
| 143 | Bayonet Point | 27,418 | 5.76 | 4,759 |
| 144 | Citrus Park | 27,026 | 10.16 | 2,659 |
| 145 | Sebastian | 26,952 | 14 | 1,925 |
| 146 | Leisure City | 26,652 | 3.4 | 7,830 |
| 147 | University Park | 26,620 | 3.99 | 6,670 |
| 148 | Crestview | 26,614 | 16.08 | 1,655 |
| 149 | Immokalee | 26,597 | 22.71 | 1,171 |
| 150 | Temple Terrace | 26,497 | 7.29 | 3,634 |
| 151 | West Melbourne | 26,373 | 10.6 | 2,488 |
| 152 | Tarpon Springs | 25,783 | 9.13 | 2,825 |
| 153 | Palm Springs | 25,680 | 4.21 | 6,107 |
| 154 | Ruskin | 25,530 | 18.05 | 1,414 |
| 155 | Keystone | 25,493 | 35.12 | 726 |
| 156 | Coral Terrace | 25,387 | 3.36 | 7,556 |
| 157 | South Bradenton | 25,227 | 4.49 | 5,618 |
| 158 | Palmetto Bay | 25,225 | 8.29 | 3,045 |
| 159 | Venice | 25,167 | 15.07 | 1,669 |
| 160 | Palm City | 24,840 | 13.86 | 1,792 |
| 161 | Leesburg | 24,761 | 36.62 | 676 |
| 162 | Bloomingdale | 24,446 | 8.13 | 3,005 |
| 163 | Sun City Center | 24,286 | 15.75 | 1,542 |
| 164 | Edgewater | 24,282 | 24.58 | 988 |
| 165 | Oak Ridge | 24,004 | 3.55 | 6,764 |
| 166 | Wright | 23,965 | 5.5 | 4,361 |
| 167 | Westchase | 23,923 | 9.94 | 2,406 |
| 168 | Palm River-Clair Mel | 23,844 | 11.43 | 2,085 |
| 169 | Jacksonville Beach | 23,624 | 7.32 | 3,228 |
| 170 | Wekiwa Springs | 23,512 | 8.63 | 2,723 |
| 171 | Northdale | 23,510 | 8.09 | 2,906 |
| 172 | Key West | 23,342 | 5.59 | 4,176 |
| 173 | Vero Beach South | 23,333 | 10.24 | 2,278 |
| 174 | Hialeah Gardens | 23,098 | 3.22 | 7,169 |
| 175 | Fort Walton Beach | 23,093 | 7.65 | 3,019 |
| 176 | Pace | 22,860 | 24.23 | 944 |
| 177 | Ives Estates | 22,707 | 2.55 | 8,915 |
| 178 | The Crossings | 22,441 | 3.45 | 6,497 |
| 179 | Florida Ridge | 22,372 | 10.77 | 2,077 |
| 180 | Brent | 22,337 | 10.37 | 2,153 |
| 181 | Lutz | 22,235 | 24.4 | 911 |
| 182 | Naples | 22,206 | 12.29 | 1,806 |
| 183 | Ensley | 22,194 | 12.18 | 1,823 |
| 184 | Lealman | 22,034 | 4.03 | 5,472 |
| 185 | Fish Hawk | 21,929 | 16.21 | 1,352 |
| 186 | Jasmine Estates | 21,865 | 3.55 | 6,161 |
| 187 | DeBary | 21,829 | 18.95 | 1,152 |
| 188 | Eustis | 21,689 | 10.48 | 2,069 |
| 189 | Sunny Isles Beach | 21,580 | 1.01 | 21,345 |
| 190 | Bellview | 21,515 | 11.64 | 1,848 |
| 191 | Palm Valley | 21,292 | 12.18 | 1,749 |
| 192 | Punta Gorda | 21,079 | 15.52 | 1,358 |
| 193 | West Pensacola | 21,056 | 7.17 | 2,936 |
| 194 | Apollo Beach | 20,947 | 19.81 | 1,057 |
| 195 | Hunters Creek | 20,817 | 7.04 | 2,959 |
| 196 | Holiday | 20,816 | 5.32 | 3,910 |
| 197 | Bartow | 20,701 | 46.22 | 448 |
| 198 | Sweetwater | 20,612 | 2.19 | 9,408 |
| 199 | Bayshore Gardens | 20,287 | 3.52 | 5,763 |
| 200 | Belle Glade | 20,276 | 7.1 | 2,855 |
| 201 | Groveland | 19,949 | 16.11 | 1,239 |
| 202 | Lake Butler | 19,499 | 11.4 | 1,711 |
| 203 | Pinecrest | 18,959 | 7.45 | 2,544 |
| 204 | Seminole | 18,852 | 5.17 | 3,648 |
| 205 | Cocoa | 18,639 | 13.34 | 1,397 |
| 206 | Gibsonton | 18,515 | 12.81 | 1,445 |
| 207 | Lynn Haven | 18,377 | 10.44 | 1,760 |
| 208 | World Golf Village | 18,327 | 26.84 | 683 |
| 209 | Tavares | 18,207 | 12.16 | 1,497 |
| 210 | Vero Beach | 18,105 | 11.45 | 1,582 |
| 211 | Safety Harbor | 18,028 | 4.92 | 3,661 |
| 212 | Marco Island | 17,995 | 12.16 | 1,480 |
| 213 | San Carlos Park | 17,961 | 4.73 | 3,800 |
| 214 | Lake Mary | 17,865 | 9.08 | 1,968 |
| 215 | Midway | 17,760 | 12.01 | 1,479 |
| 216 | Upper Grand Lagoon | 17,550 | 8.09 | 2,168 |
| 217 | Pinewood | 17,542 | 1.75 | 10,007 |
| 218 | Zephyrhills | 17,522 | 9.48 | 1,848 |
| 219 | Country Walk | 17,496 | 2.58 | 6,784 |
| 220 | Auburndale | 17,456 | 13.56 | 1,287 |
| 221 | Lake Wales | 17,305 | 18.84 | 918 |
| 222 | New Port Richey | 17,239 | 4.55 | 3,791 |
| 223 | St. Augustine | 17,217 | 9.45 | 1,822 |
| 224 | Maitland | 17,074 | 5.37 | 3,178 |
| 225 | Glenvar Heights | 17,065 | 4.12 | 4,139 |
| 226 | Brownsville | 17,051 | 2.28 | 7,479 |
| 227 | Myrtle Grove | 16,875 | 6.64 | 2,540 |
| 228 | Niceville | 16,708 | 13.51 | 1,237 |
| 229 | Lady Lake | 16,674 | 8.28 | 2,014 |
| 230 | Longwood | 16,451 | 5.48 | 3,002 |
| 231 | Ojus | 16,417 | 2.65 | 6,197 |
| 232 | Stuart | 16,203 | 6.75 | 2,399 |
| 233 | Sunset | 15,871 | 3.5 | 4,536 |
| 234 | Sarasota Springs | 15,854 | 3.5 | 4,525 |
| 235 | Palmetto Estates | 15,640 | 2.16 | 7,247 |
| 236 | Three Lakes | 15,614 | 3.21 | 4,870 |
| 237 | Oldsmar | 15,527 | 8.94 | 1,736 |
| 238 | Opa-locka | 15,523 | 4.31 | 3,603 |
| 239 | Southchase | 15,314 | 6.92 | 2,213 |
| 240 | Mount Dora | 15,142 | 8.04 | 1,885 |
| 241 | West Park | 15,107 | 2.2 | 6,873 |
| 242 | Englewood | 15,095 | 9.86 | 1,531 |
| 243 | West Lealman | 14,891 | 3.15 | 4,733 |
| 244 | Bellair-Meadowbrook Terrace | 14,800 | 4.1 | 3,607 |
| 245 | Nocatee | 14,747 | 26.38 | 559 |
| 246 | Azalea Park | 14,700 | 3.05 | 4,818 |
| 247 | Destin | 14,655 | 7.69 | 1,906 |
| 248 | Gonzalez | 14,598 | 15.11 | 966 |
| 249 | Forest City | 14,592 | 4.29 | 3,405 |
| 250 | Thonotosassa | 14,460 | 26.48 | 546 |
| 251 | Lockhart | 14,430 | 4.44 | 3,249 |
| 252 | Fernandina Beach | 14,365 | 11.44 | 1,256 |
| 253 | Warrington | 14,351 | 6.93 | 2,070 |
| 254 | Lantana | 14,127 | 2.37 | 5,953 |
| 255 | Iona | 14,118 | 6.62 | 2,134 |
| 256 | Middleburg | 14,111 | 19.63 | 719 |
| 257 | Fruitville | 14,068 | 6.81 | 2,065 |
| 258 | Lakewood Park | 14,064 | 6.65 | 2,116 |
| 259 | Atlantic Beach | 14,006 | 3.49 | 4,017 |
| 260 | Hobe Sound | 14,003 | 7.11 | 1,971 |
| 261 | Olympia Heights | 13,958 | 2.66 | 5,245 |
| 262 | South Venice | 13,907 | 6.03 | 2,308 |
| 263 | Palmetto | 13,788 | 5.31 | 2,599 |
| 264 | East Milton | 13,697 | 28.71 | 477 |
| 265 | Miami Springs | 13,605 | 2.88 | 4,726 |
| 266 | Conway | 13,528 | 3.42 | 3,952 |
| 267 | Minneola | 13,503 | 11.12 | 1,215 |
| 268 | Jensen Beach | 13,479 | 6.97 | 1,933 |
| 269 | Homosassa Springs | 13,478 | 25.17 | 536 |
| 270 | South Daytona | 13,202 | 3.7 | 3,566 |
| 271 | North Palm Beach | 13,185 | 3.27 | 4,038 |
| 272 | Villas | 13,072 | 4.63 | 2,821 |
| 273 | Cypress Lake | 12,978 | 3.86 | 3,364 |
| 274 | Gladeview | 12,977 | 2.56 | 5,069 |
| 275 | Lake City | 12,910 | 11.85 | 1,090 |
| 276 | Yulee | 12,754 | 23.16 | 551 |
| 277 | Jupiter Farms | 12,750 | 14.92 | 854 |
| 278 | Wilton Manors | 12,748 | 1.97 | 6,471 |
| 279 | Orange City | 12,685 | 7.81 | 1,624 |
| 280 | Key Biscayne | 12,682 | 1.25 | 10,170 |
| 281 | Elfers | 12,600 | 3.55 | 3,548 |
| 282 | Holly Hill | 12,561 | 3.96 | 3,170 |
| 283 | Goldenrod | 12,384 | 2.52 | 4,905 |
| 284 | Lakeland Highlands | 12,332 | 4.86 | 2,536 |
| 285 | Gulfport | 12,290 | 2.77 | 4,437 |
| 286 | Shady Hills | 12,252 | 28.64 | 428 |
| 287 | Union Park | 12,052 | 3.06 | 3,933 |
| 288 | Fruitland Park | 12,002 | 5.9 | 2,035 |
| 289 | Goulds | 11,984 | 2.91 | 4,121 |
| 290 | Hudson | 11,936 | 6.36 | 1,878 |
| 291 | Viera East | 11,796 | 4.98 | 2,370 |
| 292 | Naranja | 11,778 | 1.5 | 7,862 |
| 293 | Callaway | 11,718 | 9.41 | 1,245 |
| 294 | Cocoa Beach | 11,705 | 4.66 | 2,513 |
| 295 | South Miami | 11,699 | 2.27 | 5,161 |
| 296 | Port St. John | 11,684 | 3.88 | 3,015 |
| 297 | Florida City | 11,545 | 5.99 | 1,927 |
| 298 | Panama City Beach | 11,527 | 19.3 | 597 |
| 299 | Westwood Lakes | 11,510 | 1.66 | 6,942 |
| 300 | Trinity | 11,493 | 4.47 | 2,569 |
| 301 | Port Salerno | 11,486 | 3.56 | 3,222 |
| 302 | Viera West | 11,369 | 8.93 | 1,273 |
| 303 | Lighthouse Point | 11,278 | 2.31 | 4,889 |
| 304 | Satellite Beach | 11,274 | 2.92 | 3,860 |
| 305 | Westview | 11,247 | 3.03 | 3,717 |
| 306 | Fuller Heights | 11,143 | 4.31 | 2,585 |
| 307 | Mango | 11,137 | 4.67 | 2,386 |
| 308 | Gulf Gate Estates | 11,118 | 2.7 | 4,112 |
| 309 | Milton | 11,061 | 5.57 | 1,988 |
| 310 | Avon Park | 10,915 | 9.74 | 1,121 |
| 311 | Cheval | 10,808 | 5.95 | 1,816 |
| 312 | Sebring | 10,766 | 10.12 | 1,063 |
| 313 | Gateway | 10,702 | 5.62 | 1,906 |
| 314 | Highland City | 10,602 | 7.8 | 1,359 |
| 315 | Pasadena Hills | 10,530 | 30.03 | 351 |
| 316 | Richmond Heights | 10,524 | 1.59 | 6,602 |
| 317 | Cape Canaveral | 10,492 | 2.22 | 4,722 |
| 318 | Doctor Phillips | 10,488 | 3.17 | 3,303 |
| 320 | Palatka | 10,479 | 9.75 | 1,075 |
| 319 | Gifford | 10,479 | 6.79 | 1,543 |
| 321 | West Miami | 10,477 | 0.71 | 14,777 |
| 322 | Pine Castle | 10,474 | 2.42 | 4,323 |
| 323 | Fairview Shores | 10,467 | 2.97 | 3,529 |
| 324 | New Port Richey East | 10,398 | 3.75 | 2,772 |
| 325 | Pine Ridge | 10,278 | 24.85 | 414 |
| 326 | Medulla | 10,275 | 5.58 | 1,840 |
| 327 | Cypress Gardens | 10,252 | 3.47 | 2,957 |
| 328 | Pebble Creek | 10,249 | 2.83 | 3,628 |
| 329 | Asbury Lake | 10,160 | 17.05 | 596 |
| 330 | Miami Shores | 10,139 | 2.49 | 4,077 |
| 331 | Progress Village | 10,020 | 3.03 | 3,311 |
| 332 | Bee Ridge | 9,958 | 3.75 | 2,655 |
| 333 | Key Largo | 9,952 | 12.05 | 826 |
| 334 | Celebration | 9,923 | 10.51 | 945 |
| 335 | Alachua | 9,877 | 36.29 | 272 |
| 336 | West Perrine | 9,826 | 1.75 | 5,618 |
| 337 | Westgate | 9,783 | 1.52 | 6,440 |
| 338 | Memphis | 9,647 | 3.27 | 2,954 |
| 339 | Bithlo | 9,627 | 10.89 | 884 |
| 340 | Laurel | 9,518 | 5.13 | 1,856 |
| 341 | St. Pete Beach | 9,513 | 2.13 | 4,475 |
| 342 | Bardmoor | 9,373 | 2.19 | 4,280 |
| 343 | Beverly Hills | 9,360 | 2.97 | 3,153 |
| 344 | St. Augustine Shores | 9,340 | 4.38 | 2,131 |
| 345 | Rotonda | 9,325 | 10.66 | 875 |
| 346 | Hernando | 9,261 | 31.71 | 292 |
| 347 | Green Cove Springs | 9,125 | 7.53 | 1,212 |
| 348 | Brooksville | 9,096 | 11.19 | 813 |
| 349 | Sugarmill Woods | 9,082 | 26.56 | 342 |
| 350 | Micco | 9,047 | 7.6 | 1,190 |
| 351 | Silver Springs Shores | 9,031 | 4.78 | 1,890 |
| 352 | Palm Beach | 8,886 | 3.82 | 2,326 |
| 353 | Orange Park | 8,870 | 3.64 | 2,438 |
| 354 | North Sarasota | 8,806 | 3.63 | 2,429 |
| 355 | Citrus Springs | 8,779 | 21.15 | 415 |
| 356 | Fern Park | 8,694 | 2.01 | 4,317 |
| 357 | Indian Harbour Beach | 8,581 | 2.09 | 4,100 |
| 358 | Lake Park | 8,578 | 2.08 | 4,114 |
| 359 | Arcadia | 8,570 | 4.32 | 1,984 |
| 360 | Marathon | 8,529 | 8.45 | 1,010 |
| 361 | Seffner | 8,362 | 3.61 | 2,318 |
| 362 | Wimauma | 8,358 | 25.03 | 334 |
| 363 | Miramar Beach | 8,356 | 7.02 | 1,190 |
| 364 | West Vero Corridor | 8,292 | 4.86 | 1,705 |
| 365 | Southeast Arcadia | 8,272 | 7.26 | 1,139 |
| 366 | North Weeki Wachee | 8,238 | 14.21 | 580 |
| 367 | Clewiston | 8,216 | 4.5 | 1,826 |
| 368 | Wedgefield | 8,180 | 23.37 | 350 |
| 369 | Venice Gardens | 8,171 | 2.51 | 3,259 |
| 370 | Broadview Park | 8,169 | 0.97 | 8,396 |
| 371 | Odessa | 8,036 | 5.36 | 1,498 |
| 372 | Southwest Ranches | 7,951 | 12.98 | 613 |
| 373 | North Bay Village | 7,899 | 0.37 | 21,349 |
| 374 | Williamsburg | 7,823 | 3.55 | 2,204 |
| 375 | Southgate | 7,817 | 1.98 | 3,954 |
| 376 | McGregor | 7,760 | 2.37 | 3,280 |
| 377 | Citrus Hills | 7,739 | 9.7 | 798 |
| 378 | Wildwood | 7,720 | 41.59 | 186 |
| 379 | DeFuniak Springs | 7,582 | 13.87 | 547 |
| 380 | Inwood | 7,575 | 1.9 | 3,983 |
| 381 | Dade City | 7,550 | 5.93 | 1,274 |
| 382 | Inverness | 7,498 | 7.61 | 985 |
| 383 | Macclenny | 7,454 | 4.86 | 1,535 |
| 384 | Sanibel | 7,387 | 16.18 | 457 |
| 385 | South Apopka | 7,381 | 2.15 | 3,431 |
| 386 | Belle Isle | 7,378 | 2.4 | 3,074 |
| 387 | Sky Lake | 7,331 | 1.26 | 5,814 |
| 388 | Davenport | 7,309 | 3.63 | 2,011 |
| 389 | Ormond-by-the-Sea | 7,268 | 2 | 3,627 |
| 390 | Indiantown | 7,262 | 14.02 | 518 |
| 391 | Gulf Breeze | 7,258 | 4.68 | 1,551 |
| 392 | Longboat Key | 7,256 | 4.08 | 1,779 |
| 393 | Mascotte | 7,241 | 12.38 | 585 |
| 394 | Willow Oak | 7,236 | 3.12 | 2,320 |
| 395 | Lake Lorraine | 7,217 | 2.06 | 3,497 |
| 396 | Nene Beach | 7,199 | 2.34 | 3,080 |
| 397 | River Park | 7,071 | 2.35 | 3,006 |
| 398 | Fort Myers Beach | 7,068 | 2.78 | 2,542 |
| 399 | Live Oak | 7,012 | 7.63 | 919 |
| 400 | St. Augustine Beach | 7,002 | 2.12 | 3,311 |
| 401 | Heathrow | 6,987 | 2.74 | 2,547 |
| 402 | Beacon Square | 6,976 | 2 | 3,490 |
| 403 | Osprey | 6,931 | 5.23 | 1,326 |
| 404 | Fort Pierce North | 6,926 | 4.24 | 1,635 |
| 405 | West Samoset | 6,921 | 1.34 | 5,180 |
| 406 | Treasure Island | 6,907 | 1.55 | 4,468 |
| 407 | Perry | 6,861 | 9.43 | 727 |
| 408 | Lake Alfred | 6,851 | 9.24 | 741 |
| 409 | Lecanto | 6,847 | 26.93 | 254 |
| 410 | South Patrick Shores | 6,842 | 1.45 | 4,712 |
| 411 | Fort Myers Shores | 6,813 | 2.07 | 3,285 |
| 412 | Pembroke Park | 6,791 | 1.38 | 4,921 |
| 413 | Springfield | 6,757 | 4.16 | 1,624 |
| 414 | Indian River Estates | 6,754 | 5.57 | 1,212 |
| 415 | Lauderdale-by-the-Sea | 6,662 | 0.88 | 7,596 |
| 416 | Cocoa West | 6,595 | 3.6 | 1,829 |
| 417 | Naples Manor | 6,507 | 0.68 | 9,513 |
| 418 | Newberry | 6,489 | 57.28 | 113 |
| 419 | Inverness Highlands South | 6,441 | 5.61 | 1,148 |
| 420 | Crystal Lake | 6,431 | 2.55 | 2,520 |
| 421 | Orlovista | 6,416 | 1.84 | 3,489 |
| 422 | Fort Meade | 6,377 | 8.18 | 779 |
| 423 | Mims | 6,375 | 17.09 | 373 |
| 424 | Kathleen | 6,358 | 7.2 | 884 |
| 425 | Combee Settlement | 6,357 | 1.98 | 3,215 |
| 426 | Jan Phyl Village | 6,346 | 4.57 | 1,388 |
| 427 | High Springs | 6,334 | 22.09 | 287 |
| 428 | Pahokee | 6,327 | 5.32 | 1,190 |
| 429 | Lely Resort | 6,295 | 4.99 | 1,262 |
| 431 | Ocean City | 6,249 | 1.55 | 4,021 |
| 430 | Islamorada, Village of Islands | 6,249 | 6.45 | 969 |
| 432 | South Gate Ridge | 6,232 | 1.75 | 3,567 |
| 433 | Tequesta | 6,164 | 1.83 | 3,365 |
| 434 | Pelican Bay | 6,140 | 2.95 | 2,083 |
| 435 | Quincy | 6,027 | 11.52 | 523 |
| 436 | Okeechobee | 5,918 | 4.06 | 1,459 |
| 437 | Naples Park | 5,733 | 1.23 | 4,661 |
| 438 | Rio Pinar | 5,713 | 2.17 | 2,629 |
| 439 | Fellsmere | 5,711 | 57.53 | 99 |
| 440 | Loughman | 5,674 | 3.42 | 1,661 |
| 441 | Bay Harbor Islands | 5,659 | 0.4 | 14,290 |
| 443 | Zephyrhills South | 5,637 | 1.96 | 2,882 |
| 442 | Samsula-Spruce Creek | 5,637 | 16.81 | 335 |
| 444 | Siesta Key | 5,573 | 2.34 | 2,379 |
| 445 | Dundee | 5,570 | 10.49 | 531 |
| 446 | Valparaiso | 5,563 | 11.84 | 470 |
| 447 | Surfside | 5,553 | 0.56 | 9,969 |
| 448 | Palm Springs North | 5,525 | 0.8 | 6,950 |
| 449 | Starke | 5,466 | 7.18 | 761 |
| 450 | South Highpoint | 5,435 | 0.87 | 6,276 |
| 451 | St. Augustine South | 5,431 | 1.58 | 3,426 |
| 452 | Floral City | 5,395 | 23.31 | 231 |
| 453 | Warm Mineral Springs | 5,390 | 2.29 | 2,359 |
| 454 | Port LaBelle | 5,348 | 8.08 | 662 |
| 455 | LaBelle | 5,339 | 14.48 | 369 |
| 456 | Zephyrhills West | 5,287 | 2.65 | 1,995 |
| 457 | South Sarasota | 5,283 | 1.92 | 2,753 |
| 458 | Belleview | 5,281 | 3.88 | 1,360 |
| 459 | South Bay | 5,244 | 2.86 | 1,832 |
| 460 | Hutchinson Island South | 5,204 | 4.31 | 1,209 |
| 461 | Flagler Beach | 5,203 | 3.59 | 1,450 |
| 462 | Timber Pines | 5,198 | 2.21 | 2,357 |
| 463 | Crawfordville | 5,164 | 4.57 | 1,130 |
| 464 | River Ridge | 5,157 | 4.19 | 1,230 |
| 465 | Tice | 5,092 | 1.1 | 4,629 |
| 466 | Kenneth City | 5,077 | 0.71 | 7,111 |
| 467 | South Pasadena | 5,065 | 0.61 | 8,303 |
| 468 | Plantation | 5,026 | 2.2 | 2,288 |
| 469 | Whiskey Creek | 5,022 | 1.54 | 3,250 |
| 470 | Pine Manor | 4,993 | 0.45 | 11,170 |
| 471 | Orangetree | 4,989 | 3.64 | 1,372 |
| 472 | Bay Hill | 4,909 | 2.38 | 2,066 |
| 473 | Big Pine Key | 4,896 | 10.2 | 480 |
| 474 | Wahneta | 4,862 | 2.25 | 2,158 |
| 475 | Sawgrass | 4,841 | 3.02 | 1,600 |
| 476 | Ridge Manor | 4,820 | 8.63 | 559 |
| 477 | Nassau Village-Ratliff | 4,801 | 14.68 | 327 |
| 478 | Daytona Beach Shores | 4,778 | 0.91 | 5,256 |
| 479 | Mount Plymouth | 4,757 | 2.89 | 1,646 |
| 480 | Lake Sarasota | 4,749 | 1.36 | 3,492 |
| 481 | Butler Beach | 4,716 | 2.54 | 1,855 |
| 482 | Wauchula | 4,694 | 3.27 | 1,437 |
| 483 | Connerton | 4,673 | 12.96 | 361 |
| 484 | June Park | 4,669 | 2.99 | 1,562 |
| 485 | Pea Ridge | 4,641 | 2.81 | 1,654 |
| 486 | Suncoast Estates | 4,592 | 2.72 | 1,688 |
| 487 | Mary Esther | 4,586 | 1.47 | 3,113 |
| 488 | Lower Grand Lagoon | 4,584 | 2.1 | 2,183 |
| 489 | Vamo | 4,564 | 1.47 | 3,115 |
| 490 | Laguna Beach | 4,504 | 2.51 | 1,792 |
| 491 | Fussels Corner | 4,477 | 5.37 | 833 |
| 492 | White City | 4,464 | 5.02 | 890 |
| 493 | Indian River Shores | 4,437 | 5.12 | 866 |
| 494 | The Meadows | 4,430 | 2.16 | 2,053 |
| 495 | Stock Island | 4,416 | 0.84 | 5,276 |
| 496 | Brookridge | 4,412 | 2.53 | 1,742 |
| 497 | Kensington Park | 4,407 | 1.27 | 3,481 |
| 498 | Samoset | 4,399 | 1.3 | 3,392 |
| 499 | Cortez | 4,377 | 2.23 | 1,962 |
| 500 | Grant-Valkaria | 4,376 | 27.22 | 161 |
City Maps of United States
County Map of U.S. 50 States