This is list of largest, popular Cities & towns in Georgia by population and County. The largest cities of Georgia are Atlanta, Augusta-Richmond, Columbus and Savannah.
Map of Cities in Georgia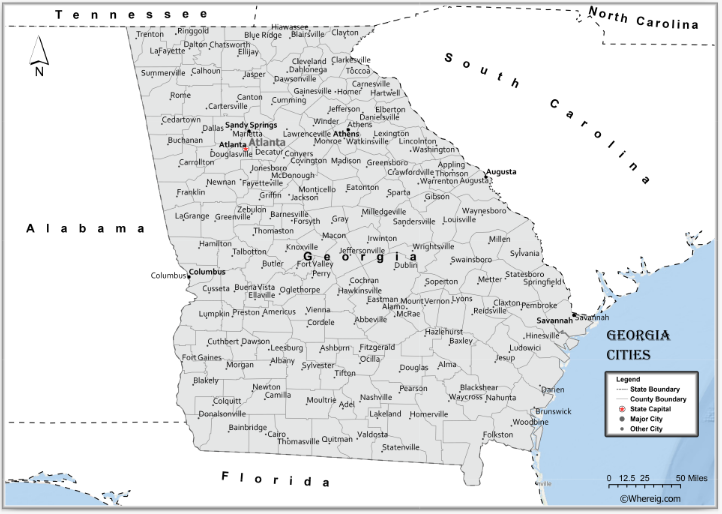 About Georgia City Map:
The map showing the largest and major cities in Georgia, state capital, other cities and towns, state boundary, Georgia counties boundary and neighbouring states.
Most Viewed GA Maps
Cities & Towns in Georgia
Georgia is a state located in the South Atlantic United States. Georgia is the 8th most populous state with population of 10,711,908 residents as of 2020 United States Census data, and the 21st largest by land area, It cover an area of 57,513 square miles (148,959 km2). Georgia is divided into 159 counties and contains 535 incorporated municipalities consisting of cities and towns. Atlanta is the capital city of Georgia.
This is list of Cities and towns in Georgia by population, area in square miles and density in square miles.
List of Cities in Georgia
| Rank | City | Population | Area (mi²) | Density (mi²) |
| --- | --- | --- | --- | --- |
| 1 | Atlanta | 524,067 | 135.74 | 3,861 |
| 2 | Augusta | 199,614 | 302.27 | 660 |
| 3 | Columbus | 198,969 | 216.48 | 919 |
| 4 | Macon County | 153,671 | 249.4 | 616 |
| 5 | Savannah | 141,758 | 103.91 | 1,364 |
| 6 | Athens | 129,025 | 116.33 | 1,109 |
| 7 | Sandy Springs | 110,664 | 37.65 | 2,939 |
| 8 | South Fulton | 102,909 | 84.79 | 1,214 |
| 9 | Roswell | 94,959 | 40.72 | 2,332 |
| 10 | Johns Creek | 85,097 | 30.81 | 2,762 |
| 11 | Warner Robins | 80,121 | 37.22 | 2,153 |
| 12 | Albany | 69,952 | 55.06 | 1,270 |
| 13 | Alpharetta | 69,125 | 26.9 | 2,570 |
| 14 | Marietta | 61,307 | 23.41 | 2,619 |
| 15 | Brookhaven | 58,604 | 11.61 | 5,046 |
| 16 | Smyrna | 56,974 | 15.55 | 3,664 |
| 17 | Valdosta | 56,515 | 35.97 | 1,571 |
| 18 | Stonecrest | 55,861 | 37.4 | 1,494 |
| 19 | Dunwoody | 48,992 | 13.03 | 3,759 |
| 20 | Gainesville | 46,996 | 32.95 | 1,426 |
| 21 | Newnan | 45,087 | 19.32 | 2,334 |
| 22 | Peachtree Corners | 44,701 | 16.11 | 2,774 |
| 23 | Mableton | 41,487 | 20.58 | 2,016 |
| 24 | Milton | 40,327 | 38.54 | 1,046 |
| 25 | Peachtree City | 37,275 | 24.56 | 1,518 |
| 26 | Evans | 37,114 | 25.26 | 1,469 |
| 27 | Rome | 36,940 | 31.54 | 1,171 |
| 28 | Tucker | 36,889 | 20.12 | 1,833 |
| 29 | Statesboro | 35,568 | 14.89 | 2,389 |
| 30 | Douglasville | 34,918 | 22.56 | 1,548 |
| 31 | East Point | 34,879 | 14.69 | 2,375 |
| 32 | Martinez | 34,844 | 14.5 | 2,403 |
| 33 | Woodstock | 34,647 | 12.42 | 2,789 |
| 34 | Hinesville | 34,345 | 18.17 | 1,891 |
| 35 | Kennesaw | 34,015 | 9.71 | 3,501 |
| 36 | Dalton | 33,921 | 20.55 | 1,650 |
| 37 | Lawrenceville | 33,132 | 13.61 | 2,434 |
| 38 | Canton | 33,056 | 18.15 | 1,821 |
| 39 | Redan | 31,873 | 8.09 | 3,942 |
| 40 | Chamblee | 31,603 | 7.7 | 4,102 |
| 41 | Stockbridge | 30,542 | 13.67 | 2,234 |
| 42 | LaGrange | 30,381 | 42.1 | 722 |
| 43 | Duluth | 29,809 | 10.22 | 2,917 |
| 44 | Pooler | 28,994 | 27.65 | 1,049 |
| 45 | Carrollton | 28,869 | 22.32 | 1,294 |
| 46 | McDonough | 28,808 | 12.62 | 2,283 |
| 47 | Decatur | 25,772 | 4.44 | 5,810 |
| 48 | Sugar Hill | 25,701 | 11.09 | 2,318 |
| 49 | Candler-McAfee | 24,011 | 6.96 | 3,447 |
| 50 | Union City | 23,461 | 19.66 | 1,193 |
| 51 | Acworth | 23,188 | 8.98 | 2,581 |
| 52 | Cartersville | 22,950 | 29 | 791 |
| 53 | Griffin | 22,675 | 13.94 | 1,627 |
| 54 | Suwanee | 21,605 | 10.88 | 1,986 |
| 55 | Holly Springs | 20,496 | 7.02 | 2,921 |
| 56 | Snellville | 20,441 | 10.47 | 1,952 |
| 57 | Forest Park | 19,962 | 9.31 | 2,144 |
| 58 | Winder | 19,725 | 13.65 | 1,445 |
| 59 | St. Marys | 19,361 | 22.82 | 848 |
| 60 | Perry | 19,016 | 26.76 | 711 |
| 61 | Kingsland | 18,975 | 44.71 | 424 |
| 62 | Milledgeville | 18,860 | 20.34 | 927 |
| 63 | Fairburn | 18,560 | 16.88 | 1,100 |
| 64 | Thomasville | 18,538 | 15.01 | 1,235 |
| 65 | Fayetteville | 18,427 | 12.88 | 1,430 |
| 66 | Lithia Springs | 18,054 | 13.57 | 1,331 |
| 67 | North Druid Hills | 18,002 | 4.54 | 3,963 |
| 68 | Calhoun | 17,743 | 15.62 | 1,136 |
| 69 | Tifton | 17,144 | 12.61 | 1,359 |
| 70 | Villa Rica | 17,100 | 14.08 | 1,214 |
| 71 | Conyers | 16,774 | 11.68 | 1,436 |
| 72 | Grovetown | 16,734 | 5.28 | 3,171 |
| 73 | North Decatur | 16,701 | 4.91 | 3,401 |
| 74 | Norcross | 16,650 | 6.1 | 2,730 |
| 75 | Powder Springs | 16,582 | 7.36 | 2,253 |
| 76 | Buford | 16,248 | 17.47 | 930 |
| 77 | Brunswick | 16,122 | 17.06 | 945 |
| 78 | Dublin | 16,107 | 15.93 | 1,011 |
| 79 | Wilmington Island | 15,834 | 8.3 | 1,907 |
| 80 | Riverdale | 15,698 | 4.42 | 3,552 |
| 81 | Braselton | 15,673 | 13.02 | 1,203 |
| 82 | Belvedere Park | 15,441 | 4.9 | 3,154 |
| 83 | Richmond Hill | 15,157 | 23.55 | 644 |
| 84 | College Park | 15,053 | 11.09 | 1,358 |
| 85 | St. Simons | 14,778 | 16.48 | 897 |
| 86 | Dallas | 14,715 | 7.38 | 1,994 |
| 87 | Americus | 14,612 | 11.3 | 1,293 |
| 88 | Covington | 14,598 | 15.73 | 928 |
| 89 | Moultrie | 14,507 | 16.66 | 871 |
| 90 | Monroe | 14,013 | 15.68 | 894 |
| 91 | Loganville | 13,706 | 7.34 | 1,867 |
| 92 | Mountain Park | 13,392 | 5.79 | 2,312 |
| 93 | Waycross | 13,354 | 11.88 | 1,125 |
| 94 | Lilburn | 13,144 | 6.4 | 2,055 |
| 95 | Georgetown | 12,951 | 8.22 | 1,575 |
| 96 | Vinings | 12,934 | 3.13 | 4,138 |
| 97 | Jefferson | 12,674 | 22.47 | 564 |
| 98 | Clarkston | 12,449 | 1.81 | 6,878 |
| 99 | Bainbridge | 11,945 | 18.53 | 644 |
| 100 | Douglas | 11,889 | 14.44 | 824 |
| 101 | Port Wentworth | 11,887 | 16.39 | 725 |
| 102 | Scottdale | 11,568 | 3.35 | 3,457 |
| 103 | Cusseta | 11,521 | 248.74 | 46 |
| 104 | Rincon | 10,859 | 9.74 | 1,115 |
| 105 | Panthersville | 10,800 | 3.67 | 2,945 |
| 106 | Vidalia | 10,412 | 17.88 | 582 |
| 107 | Locust Grove | 10,373 | 11.44 | 907 |
| 108 | Doraville | 10,297 | 4.91 | 2,098 |
| 109 | Cordele | 10,203 | 10.14 | 1,006 |
| 110 | Jesup | 9,915 | 16.55 | 599 |
| 111 | Fort Oglethorpe | 9,862 | 13.9 | 710 |
| 112 | Fort Stewart | 9,643 | 10.01 | 963 |
| 113 | Cedartown | 9,597 | 9.13 | 1,051 |
| 114 | Fair Oaks | 9,518 | 1.97 | 4,827 |
| 115 | Cairo | 9,329 | 9.78 | 954 |
| 116 | Flowery Branch | 9,201 | 7.1 | 1,295 |
| 117 | Fort Valley | 8,990 | 7.54 | 1,193 |
| 118 | Skidaway Island | 8,986 | 16.49 | 545 |
| 119 | Gresham Park | 8,877 | 2.81 | 3,162 |
| 120 | Thomaston | 8,824 | 9.53 | 926 |
| 121 | Fitzgerald | 8,534 | 8.94 | 954 |
| 122 | Garden City | 8,511 | 14.35 | 593 |
| 123 | Hampton | 8,429 | 5.5 | 1,534 |
| 124 | Toccoa | 8,376 | 9.51 | 881 |
| 125 | Druid Hills | 8,365 | 2.96 | 2,824 |
| 126 | Irondale | 8,224 | 3.15 | 2,607 |
| 127 | Country Club Estates | 8,194 | 4.62 | 1,772 |
| 128 | Lovejoy | 8,186 | 2.91 | 2,812 |
| 129 | McRae-Helena | 8,081 | 6.44 | 1,256 |
| 130 | Centerville | 8,040 | 3.96 | 2,029 |
| 131 | Dahlonega | 8,028 | 8.8 | 912 |
| 132 | Swainsboro | 7,788 | 12.58 | 619 |
| 133 | Tyrone | 7,780 | 12.47 | 624 |
| 134 | Auburn | 7,704 | 6.74 | 1,143 |
| 135 | Dock Junction | 7,454 | 9.36 | 797 |
| 136 | LaFayette | 7,443 | 8.09 | 920 |
| 137 | Morrow | 7,386 | 3.37 | 2,190 |
| 138 | Commerce | 7,379 | 12.4 | 595 |
| 139 | Austell | 7,354 | 5.93 | 1,239 |
| 140 | Eatonton | 6,899 | 20.51 | 336 |
| 141 | Whitemarsh Island | 6,893 | 5.78 | 1,192 |
| 142 | Bremen | 6,822 | 10.6 | 643 |
| 143 | Cumming | 6,685 | 6.69 | 999 |
| 144 | Dacula | 6,552 | 5.37 | 1,221 |
| 145 | Fairview | 6,540 | 7.53 | 869 |
| 146 | Hapeville | 6,530 | 2.41 | 2,714 |
| 147 | Barnesville | 6,509 | 6.07 | 1,072 |
| 148 | Thomson | 6,350 | 4.39 | 1,447 |
| 149 | Stone Mountain | 6,227 | 1.65 | 3,785 |
| 150 | Sylvester | 5,834 | 6.56 | 889 |
| 151 | Folkston | 5,787 | 4.19 | 1,381 |
| 152 | Conley | 5,783 | 1.92 | 3,009 |
| 153 | Jackson | 5,559 | 6.08 | 915 |
| 154 | Adel | 5,442 | 8.73 | 624 |
| 155 | Hawkinsville | 5,376 | 5.37 | 1,001 |
| 156 | Byron | 5,350 | 8.77 | 610 |
| 158 | Temple | 5,259 | 6.81 | 772 |
| 157 | Sandersville | 5,259 | 12.87 | 409 |
| 159 | Waynesboro | 5,249 | 5.47 | 959 |
| 160 | Cochran | 5,233 | 4.71 | 1,111 |
| 161 | Jonesboro | 5,154 | 2.53 | 2,039 |
| 162 | Palmetto | 5,125 | 11.86 | 432 |
| 163 | Lakeview | 5,089 | 2.27 | 2,240 |
| 164 | Cornelia | 5,055 | 4.16 | 1,216 |
| 165 | Adairsville | 5,041 | 9.35 | 539 |
| 166 | Nashville | 4,915 | 4.65 | 1,057 |
| 167 | Camilla | 4,914 | 6.6 | 744 |
| 168 | Eastman | 4,893 | 6.44 | 759 |
| 169 | Glennville | 4,862 | 7.07 | 688 |
| 170 | Lindale | 4,789 | 5.48 | 874 |
| 171 | Rockmart | 4,661 | 5.64 | 826 |
| 172 | Hartwell | 4,601 | 5.04 | 913 |
| 173 | Social Circle | 4,600 | 14.58 | 316 |
| 174 | Montgomery | 4,584 | 5.21 | 879 |
| 175 | Cleveland | 4,573 | 3.87 | 1,180 |
| 176 | Baxley | 4,563 | 8 | 571 |
| 177 | Grayson | 4,556 | 2.47 | 1,848 |
| 178 | Senoia | 4,548 | 6.13 | 742 |
| 179 | Hiram | 4,447 | 3.97 | 1,119 |
| 180 | Blakely | 4,445 | 17.55 | 253 |
| 181 | Euharlee | 4,383 | 5.4 | 811 |
| 182 | Madison | 4,330 | 8.72 | 497 |
| 183 | Elberton | 4,321 | 4.53 | 954 |
| 184 | Chatsworth | 4,264 | 5.32 | 802 |
| 185 | Walthourville | 4,211 | 3.84 | 1,096 |
| 186 | Lyons | 4,173 | 8.01 | 521 |
| 187 | Summerville | 4,159 | 4.01 | 1,036 |
| 188 | Springfield | 4,152 | 3.08 | 1,349 |
| 189 | Forsyth | 4,148 | 5.89 | 705 |
| 190 | Oakwood | 4,138 | 5.63 | 735 |
| 191 | Hazlehurst | 4,123 | 4.73 | 871 |
| 192 | Dawson | 4,074 | 3.75 | 1,086 |
| 193 | Jasper | 4,048 | 8.56 | 473 |
| 194 | Echols County consolidated government | 4,018 | 420.41 | 10 |
| 195 | Rossville | 3,987 | 1.81 | 2,208 |
| 196 | Ocilla | 3,942 | 2.54 | 1,549 |
| 197 | Manchester | 3,940 | 8.01 | 492 |
| 198 | Hephzibah | 3,922 | 19.49 | 201 |
| 199 | Metter | 3,914 | 7.5 | 522 |
| 200 | Washington | 3,897 | 7.7 | 506 |
| 201 | Ashburn | 3,770 | 4.75 | 794 |
| 202 | West Point | 3,731 | 11.7 | 319 |
| 203 | Ringgold | 3,664 | 4.92 | 745 |
| 204 | Blackshear | 3,649 | 5.07 | 720 |
| 205 | Bonanza | 3,603 | 1.05 | 3,438 |
| 206 | Harlem | 3,591 | 6.31 | 569 |
| 207 | Wrightsville | 3,588 | 3.52 | 1,018 |
| 208 | Quitman | 3,582 | 4.13 | 868 |
| 209 | Dawsonville | 3,568 | 8.61 | 415 |
| 210 | Chattahoochee Hills | 3,536 | 58.03 | 61 |
| 211 | Baldwin | 3,492 | 4.89 | 714 |
| 212 | Hannahs Mill | 3,448 | 4.33 | 797 |
| 213 | Cuthbert | 3,411 | 3.05 | 1,120 |
| 214 | Unadilla | 3,391 | 6.04 | 561 |
| 215 | Pelham | 3,390 | 4.08 | 831 |
| 216 | Vienna | 3,369 | 5.47 | 616 |
| 217 | Experiment | 3,352 | 2.97 | 1,127 |
| 218 | Grantville | 3,340 | 5.79 | 576 |
| 219 | Lakeland | 3,334 | 3.09 | 1,080 |
| 220 | Alma | 3,330 | 6.09 | 546 |
| 221 | Hardwick | 3,329 | 4.86 | 685 |
| 222 | Nicholls | 3,321 | 1.85 | 1,798 |
| 223 | Gray | 3,310 | 3.93 | 841 |
| 224 | Alamo | 3,299 | 1.96 | 1,684 |
| 225 | Chickamauga | 3,248 | 2.83 | 1,147 |
| 226 | Soperton | 3,242 | 4.4 | 736 |
| 227 | Tallapoosa | 3,209 | 10.03 | 320 |
| 228 | Chattanooga Valley | 3,186 | 7.42 | 429 |
| 229 | Kings Bay Base | 3,158 | 2.74 | 1,151 |
| 230 | Hogansville | 3,150 | 7.32 | 431 |
| 231 | Greensboro | 3,146 | 6.73 | 467 |
| 232 | Heron Bay | 3,130 | 4.51 | 694 |
| 233 | Leesburg | 3,111 | 4.94 | 630 |
| 234 | Hahira | 3,103 | 2.69 | 1,153 |
| 235 | Avondale Estates | 3,093 | 1.22 | 2,527 |
| 236 | Lula | 3,027 | 4.24 | 714 |
| 237 | Statham | 3,023 | 4.06 | 745 |
| 238 | Tybee Island | 2,973 | 2.92 | 1,018 |
| 239 | Watkinsville | 2,934 | 3.27 | 899 |
| 240 | Lake City | 2,837 | 1.85 | 1,536 |
| 241 | Montezuma | 2,824 | 4.56 | 619 |
| 242 | Pembroke | 2,806 | 7.63 | 368 |
| 243 | Monticello | 2,775 | 4.16 | 667 |
| 244 | Millen | 2,732 | 3.58 | 763 |
| 245 | Hoschton | 2,708 | 4.83 | 561 |
| 246 | Bloomingdale | 2,622 | 13.77 | 190 |
| 247 | Webster County unified government | 2,609 | 209.36 | 12 |
| 248 | Reidsville | 2,593 | 7.57 | 343 |
| 249 | Royston | 2,583 | 3.41 | 758 |
| 250 | Deenwood | 2,579 | 3.35 | 769 |
| 251 | Thunderbolt | 2,553 | 1.35 | 1,884 |
| 252 | Putney | 2,549 | 22.02 | 116 |
| 253 | Guyton | 2,532 | 3.21 | 790 |
| 254 | Indian Springs | 2,509 | 2.58 | 971 |
| 255 | Sylvania | 2,495 | 4.99 | 500 |
| 256 | Raoul | 2,492 | 2 | 1,244 |
| 257 | Isle of Hope | 2,487 | 1.96 | 1,268 |
| 258 | Abbeville | 2,452 | 3.06 | 803 |
| 259 | Lakeview Estates | 2,446 | 0.51 | 4,815 |
| 260 | East Dublin | 2,432 | 4.22 | 577 |
| 261 | Oxford | 2,414 | 2.15 | 1,121 |
| 262 | Ludowici | 2,389 | 2.33 | 1,027 |
| 263 | Georgetown-Quitman County unified government | 2,377 | 151.24 | 16 |
| 264 | Mount Vernon | 2,373 | 4.01 | 591 |
| 265 | Homerville | 2,358 | 3.49 | 675 |
| 266 | Tennille | 2,343 | 1.77 | 1,323 |
| 267 | Donalsonville | 2,300 | 3.97 | 579 |
| 268 | Lithonia | 2,299 | 0.93 | 2,477 |
| 269 | Gumlog | 2,287 | 13.44 | 170 |
| 270 | Louisville | 2,283 | 3.61 | 633 |
| 271 | Clayton | 2,253 | 3.39 | 665 |
| 272 | Lavonia | 2,242 | 4.53 | 494 |
| 273 | Maysville | 2,239 | 4.6 | 487 |
| 275 | Henderson | 2,219 | 1.75 | 1,272 |
| 274 | Ball Ground | 2,219 | 6.37 | 348 |
| 276 | Trion | 2,191 | 3.83 | 571 |
| 277 | Berkeley Lake | 2,171 | 1.75 | 1,243 |
| 278 | Midway | 2,167 | 6.44 | 336 |
| 279 | Claxton | 2,166 | 1.74 | 1,246 |
| 280 | Trenton | 2,159 | 3.22 | 671 |
| 281 | Reed Creek | 2,155 | 23.84 | 90 |
| 282 | Varnell | 2,151 | 3.81 | 564 |
| 283 | Bowdon | 2,100 | 3.4 | 618 |
| 284 | Demorest | 2,093 | 2.24 | 933 |
| 285 | Union Point | 2,067 | 1.92 | 1,078 |
| 286 | Arcade | 2,056 | 9.19 | 224 |
| 287 | Brooklet | 2,035 | 3.29 | 618 |
| 288 | Sparks | 2,027 | 3.96 | 511 |
| 289 | Buena Vista | 2,015 | 3.22 | 626 |
| 290 | Pearson | 1,990 | 3.35 | 594 |
| 291 | Davisboro | 1,986 | 3.05 | 651 |
| 292 | Darien | 1,975 | 21.16 | 93 |
| 293 | Nicholson | 1,913 | 3.98 | 481 |
| 294 | Unionville | 1,904 | 0.75 | 2,535 |
| 295 | Wrens | 1,887 | 3.13 | 602 |
| 296 | Shannon | 1,870 | 4.98 | 376 |
| 297 | Ellaville | 1,865 | 3.16 | 590 |
| 298 | Colquitt | 1,860 | 8.23 | 226 |
| 299 | Mount Zion | 1,827 | 9.61 | 190 |
| 300 | Morgan | 1,815 | 1.31 | 1,385 |
| 301 | Clarkesville | 1,807 | 2.46 | 735 |
| 302 | Gordon | 1,803 | 5.38 | 335 |
| 303 | Wadley | 1,792 | 4.56 | 393 |
| 304 | Butler | 1,741 | 3.25 | 536 |
| 305 | Ellijay | 1,736 | 3.54 | 490 |
| 306 | Richland | 1,723 | 3.2 | 538 |
| 307 | Warrenton | 1,722 | 1.91 | 903 |
| 308 | Young Harris | 1,675 | 0.95 | 1,759 |
| 309 | Emerson | 1,612 | 8.63 | 187 |
| 310 | Lookout Mountain | 1,578 | 2.66 | 593 |
| 311 | Twin City | 1,565 | 3.57 | 438 |
| 312 | Chester | 1,534 | 0.88 | 1,741 |
| 314 | Lincolnton | 1,511 | 3.51 | 430 |
| 313 | Lake Park | 1,511 | 1.41 | 1,074 |
| 315 | Russell | 1,497 | 1.19 | 1,255 |
| 316 | Porterdale | 1,482 | 2.38 | 623 |
| 317 | Blue Ridge | 1,473 | 2.68 | 550 |
| 318 | Talahi Island | 1,472 | 1.29 | 1,144 |
| 319 | Pine Mountain | 1,463 | 3.06 | 479 |
| 320 | Aragon | 1,434 | 1.09 | 1,318 |
| 321 | East Griffin | 1,386 | 1.43 | 967 |
| 322 | Nelson | 1,375 | 1.52 | 902 |
| 323 | Enigma | 1,368 | 3.25 | 421 |
| 324 | Woodbine | 1,360 | 2.51 | 542 |
| 325 | Walnut Grove | 1,353 | 2.84 | 476 |
| 326 | Robins AFB | 1,339 | 2.75 | 486 |
| 327 | Lumpkin | 1,332 | 1.58 | 842 |
| 328 | Boston | 1,327 | 2.25 | 589 |
| 329 | Willacoochee | 1,324 | 3.82 | 347 |
| 330 | Homer | 1,314 | 9.63 | 136 |
| 331 | Edison | 1,288 | 2.34 | 550 |
| 332 | Zebulon | 1,278 | 4.81 | 266 |
| 333 | Mount Airy | 1,277 | 2.42 | 528 |
| 334 | Winterville | 1,253 | 2.62 | 478 |
| 335 | Arlington | 1,250 | 4 | 313 |
| 336 | Lumber City | 1,245 | 1.93 | 646 |
| 337 | Moody AFB | 1,232 | 4.05 | 304 |
| 338 | McCaysville | 1,224 | 1.5 | 813 |
| 340 | Sparta | 1,220 | 1.82 | 671 |
| 339 | Omega | 1,220 | 1.78 | 684 |
| 341 | Nahunta | 1,215 | 2.82 | 431 |
| 342 | Broxton | 1,206 | 3.25 | 372 |
| 344 | Franklin Springs | 1,202 | 2.18 | 552 |
| 343 | Alto | 1,202 | 1.13 | 1,060 |
| 345 | Comer | 1,194 | 3.24 | 369 |
| 346 | Bogart | 1,188 | 2.5 | 474 |
| 347 | Buchanan | 1,182 | 1.49 | 794 |
| 348 | Marshallville | 1,181 | 3.12 | 378 |
| 349 | Dutch Island | 1,162 | 2.46 | 472 |
| 350 | Mountain City | 1,146 | 1.82 | 631 |
| 351 | Oglethorpe | 1,138 | 1.99 | 571 |
| 352 | Phillipsburg | 1,115 | 0.31 | 3,632 |
| 353 | Ray City | 1,114 | 1.15 | 972 |
| 354 | Clermont | 1,105 | 2.95 | 374 |
| 355 | Cave Spring | 1,090 | 3.67 | 297 |
| 356 | Hamilton | 1,087 | 3.41 | 318 |
| 357 | Rochelle | 1,081 | 1.91 | 567 |
| 358 | Remerton | 1,051 | 0.2 | 5,152 |
| 359 | Franklin | 1,047 | 3.21 | 326 |
| 360 | Dasher | 1,039 | 4.54 | 229 |
| 361 | Meigs | 1,037 | 1.56 | 666 |
| 362 | Roberta | 983 | 1.49 | 660 |
| 363 | Sunnyside | 968 | 1.42 | 682 |
| 364 | Waleska | 966 | 1.58 | 612 |
| 365 | Homeland | 963 | 2.5 | 385 |
| 366 | Norman Park | 962 | 3.08 | 312 |
| 367 | Hagan | 953 | 2.04 | 466 |
| 369 | Sardis | 952 | 1.55 | 615 |
| 368 | Reynolds | 952 | 1.99 | 478 |
| 370 | Jeffersonville | 951 | 3.65 | 260 |
| 371 | Hiawassee | 933 | 1.62 | 577 |
| 373 | Waverly Hall | 923 | 3.34 | 277 |
| 372 | Fort Gaines | 923 | 4.78 | 193 |
| 374 | Appling | 921 | 8.82 | 104 |
| 375 | Tunnel Hill | 916 | 1.95 | 470 |
| 376 | Shellman | 909 | 3.15 | 289 |
| 377 | Eton | 908 | 1.26 | 722 |
| 378 | Woodbury | 900 | 2.04 | 442 |
| 379 | Ivey | 896 | 2.59 | 346 |
| 380 | Rutledge | 882 | 3.27 | 270 |
| 382 | Poulan | 854 | 1.67 | 510 |
| 381 | Lenox | 854 | 1.59 | 536 |
| 383 | Crawford | 850 | 1.17 | 730 |
| 384 | Greenville | 845 | 2.34 | 360 |
| 385 | Luthersville | 829 | 3.16 | 262 |
| 386 | Talbotton | 822 | 3.1 | 265 |
| 387 | Newborn | 819 | 1.59 | 513 |
| 388 | Bowman | 812 | 3.12 | 261 |
| 389 | East Newnan | 810 | 2.83 | 287 |
| 391 | Resaca | 805 | 2.76 | 291 |
| 390 | Canon | 805 | 3.12 | 258 |
| 392 | Baconton | 803 | 1.95 | 411 |
| 393 | Riceboro | 794 | 11.12 | 71 |
| 394 | Screven | 775 | 2.16 | 359 |
| 397 | Patterson | 753 | 2.64 | 286 |
| 396 | North High Shoals | 753 | 2.42 | 311 |
| 395 | Bethlehem | 753 | 2.49 | 302 |
| 398 | Pine Lake | 744 | 0.24 | 3,126 |
| 399 | Ty Ty | 735 | 0.79 | 933 |
| 400 | Kingston | 731 | 1.26 | 581 |
| 402 | Fairmount | 730 | 1.83 | 400 |
| 401 | Allenhurst | 730 | 1.09 | 667 |
| 403 | Flemington | 729 | 4.77 | 153 |
| 404 | White | 725 | 0.96 | 752 |
| 405 | Doerun | 724 | 1.25 | 579 |
| 406 | Portal | 718 | 2 | 359 |
| 407 | Plains | 716 | 0.81 | 880 |
| 408 | Blythe | 709 | 2.85 | 249 |
| 409 | Blairsville | 693 | 1.11 | 627 |
| 411 | Ochlocknee | 688 | 0.93 | 743 |
| 410 | Flovilla | 688 | 1.96 | 351 |
| 412 | Alapaha | 685 | 1.03 | 667 |
| 413 | Sycamore | 676 | 0.99 | 684 |
| 414 | Sunset Village | 672 | 4.8 | 140 |
| 415 | Milner | 660 | 2.07 | 318 |
| 416 | Adrian | 658 | 1.38 | 479 |
| 417 | Milan | 649 | 3.11 | 209 |
| 418 | Smithville | 648 | 2.51 | 259 |
| 419 | Glenwood | 639 | 1.86 | 343 |
| 420 | Cohutta | 629 | 4.69 | 134 |
| 421 | Gibson | 625 | 1.02 | 610 |
| 422 | Pendergrass | 614 | 3.04 | 202 |
| 423 | Whitesburg | 609 | 2.77 | 220 |
| 424 | Pavo | 604 | 1.76 | 343 |
| 425 | Colbert | 602 | 1.02 | 591 |
| 426 | Carnesville | 599 | 3.14 | 191 |
| 427 | Danielsville | 598 | 1.45 | 414 |
| 428 | McIntyre | 593 | 5.18 | 114 |
| 429 | Cadwell | 586 | 1.25 | 468 |
| 430 | Helen | 582 | 2.17 | 269 |
| 431 | Uvalda | 578 | 1.89 | 305 |
| 432 | East Ellijay | 577 | 3.4 | 170 |
| 433 | Collins | 569 | 1.02 | 558 |
| 434 | Brooks | 567 | 4.29 | 132 |
| 436 | Mountain Park | 564 | 0.46 | 1,221 |
| 435 | Dexter | 564 | 0.77 | 734 |
| 437 | Dudley | 561 | 3.41 | 165 |
| 439 | Newton | 557 | 2.91 | 191 |
| 438 | Irwinton | 557 | 3.15 | 177 |
| 440 | Arabi | 556 | 6.29 | 88 |
| 441 | Berlin | 554 | 0.84 | 663 |
| 442 | Morven | 553 | 1.73 | 321 |
| 443 | Hoboken | 542 | 3.43 | 158 |
| 444 | Ailey | 534 | 2.16 | 247 |
| 445 | Coolidge | 531 | 0.82 | 650 |
| 446 | Waco | 530 | 1.83 | 289 |
| 447 | Williamson | 526 | 1.31 | 402 |
| 448 | Lincoln Park | 524 | 0.86 | 611 |
| 449 | Leary | 523 | 3.21 | 163 |
| 450 | Dearing | 518 | 0.81 | 636 |
| 451 | Stillmore | 516 | 3.09 | 167 |
| 452 | Lyerly | 508 | 0.75 | 676 |
| 453 | Odum | 505 | 2.03 | 249 |
| 454 | Shiloh | 504 | 2.19 | 230 |
| 455 | Yonah | 496 | 3.13 | 159 |
| 456 | Tignall | 486 | 2.75 | 176 |
| 457 | Bowersville | 481 | 3.25 | 148 |
| 458 | Toomsboro | 476 | 1.86 | 256 |
| 459 | Oak Park | 468 | 7.07 | 66 |
| 460 | Ephesus | 461 | 3.69 | 125 |
| 461 | Mansfield | 458 | 1.09 | 419 |
| 462 | Pineview | 453 | 1.95 | 232 |
| 464 | Funston | 452 | 1.14 | 396 |
| 463 | Crooked Creek | 452 | 3.23 | 140 |
| 465 | Menlo | 450 | 0.78 | 575 |
| 466 | Moreland | 442 | 0.9 | 489 |
| 467 | Offerman | 435 | 3.27 | 133 |
| 468 | Harrison | 432 | 1.71 | 253 |
| 469 | Tiger | 431 | 0.83 | 521 |
| 470 | Ideal | 429 | 1.14 | 375 |
| 471 | Crawfordville | 427 | 3.12 | 137 |
| 472 | Molena | 424 | 1.87 | 226 |
| 473 | Sumner | 420 | 1.77 | 237 |
| 474 | Woodville | 418 | 4.89 | 86 |
| 475 | Attapulgus | 417 | 0.8 | 524 |
| 476 | Bostwick | 415 | 3.13 | 133 |
| 477 | Warm Springs | 399 | 1.5 | 266 |
| 478 | Byromville | 398 | 0.36 | 1,099 |
| 480 | Jenkinsburg | 392 | 1.3 | 301 |
| 479 | Concord | 392 | 0.83 | 471 |
| 483 | Stapleton | 387 | 1.74 | 222 |
| 482 | Martin | 387 | 2.51 | 154 |
| 481 | Dillard | 387 | 1.76 | 220 |
| 484 | Braswell | 385 | 3.16 | 122 |
| 486 | Between | 383 | 1.18 | 324 |
| 485 | Ambrose | 383 | 3.05 | 126 |
| 487 | Salem | 382 | 8.82 | 43 |
| 488 | Mineral Bluff | 380 | 1.41 | 270 |
| 489 | Warwick | 378 | 0.81 | 466 |
| 490 | Empire | 376 | 2.3 | 163 |
| 491 | Centralhatchee | 375 | 3.28 | 114 |
| 492 | Arnoldsville | 374 | 1.7 | 220 |
| 494 | White Plains | 372 | 5 | 74 |
| 493 | Barwick | 372 | 0.72 | 518 |
| 497 | Rhine | 369 | 3.13 | 118 |
| 496 | Pinehurst | 369 | 1.02 | 363 |
| 495 | Ila | 369 | 0.77 | 479 |
| 498 | Leslie | 365 | 1.77 | 206 |
| 499 | Yatesville | 364 | 0.86 | 422 |
| 500 | Bronwood | 363 | 0.79 | 459 |
City Maps of United States
County Map of U.S. 50 States