This is list of largest, popular Cities & towns in North Dakota by population and County. The largest cities of North Dakota are Fargo, Bismarck, Grand Forks, Minot and West Fargo.
Map of North Dakota Cities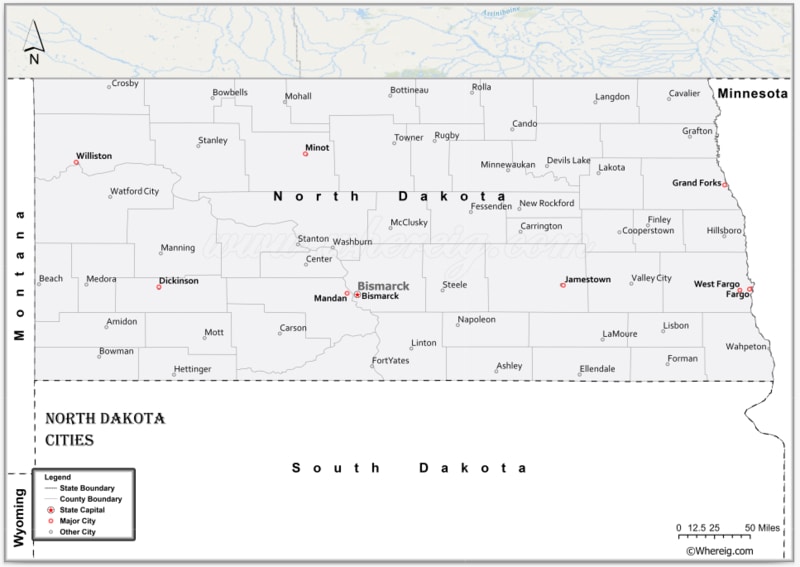 About North Dakota City Map:
The map showing the largest and major cities in North Dakota, state capital, other cities and towns, state boundary, North Dakota counties boundary and neighbouring states.
More North Dakota Maps & Info
Cities & Towns in North Dakota
North Dakota is a state located in the West North Central United States. North Dakota is the 47th most populous state with population of 779094 inhabitants as of 2020 United States Census data, and the 17th largest by land area, It cover an area of 69,001 square miles (178,711 km2). Bismarck is the capital city of North Dakota.
This is list of Cities and towns in North Dakota by population, land area in sq mile, county and density.
List of Largest Cities in North Dakota
| Rank | Name | Population | Density (mi²) | Area (mi²) |
| --- | --- | --- | --- | --- |
| 1 | Fargo | 125,804 | 2,529 | 49.74 |
| 2 | Bismarck | 74,129 | 2,161 | 34.3 |
| 3 | Grand Forks | 54,243 | 1,973 | 27.49 |
| 4 | Minot | 47,236 | 1,733 | 27.25 |
| 5 | West Fargo | 38,654 | 2,410 | 16.04 |
| 6 | Williston | 32,189 | 1,389 | 23.17 |
| 7 | Dickinson | 24,007 | 1,698 | 14.14 |
| 8 | Mandan | 23,190 | 1,717 | 13.5 |
| 9 | Jamestown | 14,840 | 1,117 | 13.28 |
| 10 | Watford City | 9,345 | 1,049 | 8.91 |
| 11 | Wahpeton | 7,606 | 1,458 | 5.21 |
| 12 | Devils Lake | 7,264 | 1,049 | 6.92 |
| 13 | Valley City | 6,203 | 1,503 | 4.13 |
| 14 | Minot AFB | 5,312 | 731 | 7.27 |
| 15 | Grafton | 4,149 | 1,256 | 3.3 |
| 16 | Lincoln | 3,885 | 2,670 | 1.46 |
| 17 | Horace | 3,172 | 275 | 11.54 |
| 18 | Beulah | 3,081 | 1,297 | 2.38 |
| 19 | Stanley | 2,799 | 1,529 | 1.83 |
| 20 | New Town | 2,740 | 2,301 | 1.19 |
| 21 | Grand Forks AFB | 2,683 | 358 | 7.5 |
| 22 | Rugby | 2,470 | 1,101 | 2.24 |
| 23 | Casselton | 2,451 | 1,255 | 1.95 |
| 24 | Belcourt | 2,270 | 391 | 5.81 |
| 25 | Hazen | 2,265 | 1,707 | 1.33 |
| 26 | Bottineau | 2,064 | 1,568 | 1.32 |
| 27 | Lisbon | 2,049 | 894 | 2.29 |
| 28 | Carrington | 1,982 | 855 | 2.32 |
| 29 | Mayville | 1,808 | 960 | 1.88 |
| 30 | Langdon | 1,706 | 1,103 | 1.55 |
| 31 | Oakes | 1,655 | 1,058 | 1.56 |
| 32 | Hillsboro | 1,644 | 1,478 | 1.11 |
| 33 | Harvey | 1,584 | 882 | 1.8 |
| 34 | Bowman | 1,557 | 976 | 1.59 |
| 35 | Mapleton | 1,510 | 386 | 3.91 |
| 36 | Tioga | 1,479 | 443 | 3.34 |
| 37 | Garrison | 1,450 | 1,056 | 1.37 |
| 38 | Surrey | 1,415 | 669 | 2.12 |
| 39 | Parshall | 1,390 | 2,487 | 0.56 |
| 40 | Park River | 1,342 | 518 | 2.59 |
| 41 | New Rockford | 1,307 | 761 | 1.72 |
| 42 | Crosby | 1,283 | 910 | 1.41 |
| 43 | Larimore | 1,256 | 2,090 | 0.6 |
| 44 | Fort Totten | 1,247 | 145 | 8.6 |
| 45 | Washburn | 1,236 | 734 | 1.69 |
| 46 | Ellendale | 1,230 | 868 | 1.42 |
| 47 | Burlington | 1,225 | 643 | 1.91 |
| 48 | Rolla | 1,218 | 863 | 1.41 |
| 49 | Cavalier | 1,204 | 1,407 | 0.86 |
| 50 | Killdeer | 1,186 | 1,300 | 0.91 |
| 51 | Shell Valley | 1,174 | 78 | 15 |
| 52 | Velva | 1,168 | 1,212 | 0.96 |
| 53 | Hettinger | 1,089 | 1,314 | 0.83 |
| 54 | Cando | 1,057 | 1,646 | 0.64 |
| 55 | New Salem | 1,049 | 757 | 1.39 |
| 56 | Belfield | 1,042 | 981 | 1.06 |
| 57 | Beach | 1,037 | 440 | 2.36 |
| 58 | Thompson | 1,035 | 2,352 | 0.44 |
| 59 | Ray | 1,021 | 776 | 1.32 |
| 60 | Kenmare | 1,013 | 755 | 1.34 |
| 61 | Gwinner | 1,001 | 485 | 2.06 |
| 62 | Linton | 956 | 1,230 | 0.78 |
| 63 | Cannon Ball | 935 | 11 | 88.27 |
| 64 | Cooperstown | 905 | 926 | 0.98 |
| 65 | Northwood | 893 | 739 | 1.21 |
| 66 | Walhalla | 883 | 853 | 1.03 |
| 67 | Hankinson | 881 | 474 | 1.86 |
| 68 | LaMoure | 857 | 638 | 1.34 |
| 69 | Harwood | 845 | 707 | 1.2 |
| 70 | Wishek | 837 | 583 | 1.44 |
| 71 | Enderlin | 834 | 511 | 1.63 |
| 72 | Reile's Acres | 814 | 1,622 | 0.5 |
| 73 | Kindred | 807 | 557 | 1.45 |
| 74 | Dunseith | 742 | 741 | 1 |
| 75 | Hatton | 741 | 1,328 | 0.56 |
| 76 | Napoleon | 730 | 528 | 1.38 |
| 77 | Steele | 727 | 1,310 | 0.56 |
| 78 | Drayton | 725 | 1,102 | 0.66 |
| 79 | Mott | 722 | 786 | 0.92 |
| 80 | Underwood | 717 | 818 | 0.88 |
| 81 | Glen Ullin | 715 | 702 | 1.02 |
| 82 | Mohall | 705 | 663 | 1.06 |
| 83 | Wilton | 704 | 1,266 | 0.56 |
| 84 | Hebron | 681 | 453 | 1.5 |
| 85 | Milnor | 638 | 648 | 0.98 |
| 86 | Ashley | 635 | 988 | 0.64 |
| 87 | Lakota | 625 | 626 | 1 |
| 88 | Lidgerwood | 612 | 939 | 0.65 |
| 89 | New England | 600 | 1,217 | 0.49 |
| 90 | Portland | 597 | 716 | 0.83 |
| 91 | Minto | 594 | 413 | 1.44 |
| 92 | Center | 584 | 1,222 | 0.48 |
| 93 | Rolette | 581 | 576 | 1.01 |
| 94 | Richardton | 573 | 419 | 1.37 |
| 95 | Edgeley | 552 | 740 | 0.75 |
| 96 | Elgin | 551 | 510 | 1.08 |
| 97 | Mandaree | 544 | 49 | 11.13 |
| 98 | East Dunseith | 538 | 1,051 | 0.51 |
| 99 | Turtle Lake | 538 | 105 | 5.13 |
| 100 | Pembina | 530 | 657 | 0.81 |
| 101 | Towner | 514 | 622 | 0.83 |
| 102 | Forman | 508 | 652 | 0.78 |
| 103 | Berthold | 473 | 399 | 1.19 |
| 104 | Argusville | 458 | 114 | 4 |
| 105 | Emerado | 451 | 1,455 | 0.31 |
| 106 | Alexander | 449 | 362 | 1.24 |
| 107 | South Heart | 443 | 463 | 0.96 |
| 108 | Leeds | 438 | 717 | 0.61 |
| 109 | Green Acres | 433 | 288 | 1.5 |
| 110 | Glenburn | 418 | 1,389 | 0.3 |
| 111 | Finley | 416 | 119 | 3.49 |
| 112 | Fessenden | 413 | 937 | 0.44 |
| 113 | Wyndmere | 402 | 467 | 0.86 |
| 114 | Logan | 392 | 269 | 1.46 |
| 115 | Westhope | 389 | 1,204 | 0.32 |
| 116 | Grenora | 376 | 619 | 0.61 |
| 117 | Manvel | 369 | 1,290 | 0.29 |
| 118 | Maddock | 362 | 410 | 0.88 |
| 119 | Fairmount | 359 | 1,085 | 0.33 |
| 120 | Gladstone | 358 | 986 | 0.36 |
| 121 | Strasburg | 346 | 1,181 | 0.29 |
| 122 | McClusky | 344 | 927 | 0.37 |
| 123 | Bowbells | 342 | 411 | 0.83 |
| 124 | St. John | 340 | 769 | 0.44 |
| 125 | Max | 339 | 435 | 0.78 |
| 126 | Neche | 333 | 960 | 0.35 |
| 127 | Stanton | 331 | 932 | 0.35 |
| 128 | Kulm | 329 | 861 | 0.38 |
| 129 | Sawyer | 324 | 660 | 0.49 |
| 130 | McVille | 322 | 224 | 1.44 |
| 131 | Buxton | 320 | 958 | 0.33 |
| 132 | Four Bears Village | 309 | 303 | 1.02 |
| 133 | Arthur | 308 | 201 | 1.53 |
| 134 | St. Thomas | 303 | 299 | 1.01 |
| 135 | Oxbow | 298 | 195 | 1.53 |
| 136 | Reynolds | 295 | 379 | 0.78 |
| 137 | Powers Lake | 293 | 219 | 1.34 |
| 138 | Medina | 285 | 235 | 1.21 |
| 139 | Tower City | 273 | 133 | 2.05 |
| 140 | Michigan City | 268 | 533 | 0.5 |
| 141 | Davenport | 266 | 996 | 0.27 |
| 142 | Drake | 260 | 408 | 0.64 |
| 143 | Wing | 260 | 132 | 1.97 |
| 144 | Gackle | 255 | 474 | 0.54 |
| 145 | Hope | 254 | 250 | 1.02 |
| 146 | Walcott | 254 | 414 | 0.61 |
| 147 | Carson | 251 | 63 | 3.99 |
| 148 | Abercrombie | 249 | 769 | 0.32 |
| 149 | Granville | 247 | 360 | 0.69 |
| 150 | Porcupine | 247 | 1,223 | 0.2 |
| 151 | Scranton | 247 | 779 | 0.32 |
| 152 | Hunter | 246 | 165 | 1.49 |
| 153 | Anamoose | 242 | 388 | 0.62 |
| 154 | Leonard | 240 | 320 | 0.75 |
| 155 | Harmon | 239 | 153 | 1.57 |
| 156 | Lansford | 232 | 661 | 0.35 |
| 157 | Gilby | 230 | 1,299 | 0.18 |
| 158 | Lignite | 229 | 1,468 | 0.16 |
| 159 | Hoople | 227 | 427 | 0.53 |
| 160 | Page | 224 | 223 | 1 |
| 161 | Sherwood | 220 | 696 | 0.32 |
| 162 | Plaza | 219 | 158 | 1.39 |
| 163 | Riverdale | 219 | 202 | 1.08 |
| 164 | Minnewaukan | 215 | 445 | 0.48 |
| 165 | Zap | 213 | 209 | 1.02 |
| 166 | White Shield | 212 | 56 | 3.8 |
| 167 | Halliday | 210 | 463 | 0.45 |
| 168 | Frontier | 209 | 1,112 | 0.19 |
| 169 | Arnegard | 207 | 540 | 0.38 |
| 170 | Flasher | 207 | 324 | 0.64 |
| 171 | Hazelton | 207 | 805 | 0.26 |
| 172 | Aneta | 206 | 196 | 1.05 |
| 173 | Tappen | 206 | 207 | 0.99 |
| 174 | Des Lacs | 199 | 509 | 0.39 |
| 175 | Dunn Center | 199 | 370 | 0.54 |
| 176 | Fordville | 198 | 196 | 1.01 |
| 177 | Ruthville | 194 | 1,268 | 0.15 |
| 178 | New Leipzig | 192 | 216 | 0.89 |
| 179 | Mooreton | 189 | 132 | 1.43 |
| 180 | Munich | 189 | 708 | 0.27 |
| 181 | Sheyenne | 187 | 301 | 0.62 |
| 182 | Wimbledon | 187 | 1,247 | 0.15 |
| 183 | Buffalo | 180 | 374 | 0.48 |
| 184 | Edinburg | 179 | 565 | 0.32 |
| 185 | Fort Yates | 178 | 2,967 | 0.06 |
| 186 | Christine | 174 | 347 | 0.5 |
| 187 | Taylor | 174 | 853 | 0.2 |
| 188 | Edmore | 170 | 576 | 0.29 |
| 189 | Binford | 169 | 579 | 0.29 |
| 190 | Petersburg | 169 | 164 | 1.03 |
| 191 | Wildrose | 169 | 479 | 0.35 |
| 192 | Sanborn | 168 | 280 | 0.6 |
| 193 | Grandin | 165 | 912 | 0.18 |
| 194 | Rutland | 164 | 424 | 0.39 |
| 195 | Rhame | 161 | 108 | 1.5 |
| 196 | Streeter | 160 | 448 | 0.36 |
| 197 | Golden Valley | 159 | 213 | 0.75 |
| 198 | Regent | 157 | 280 | 0.56 |
| 199 | Brooktree Park | 156 | 154 | 1.01 |
| 200 | Colfax | 156 | 886 | 0.18 |
| 201 | Kensal | 154 | 522 | 0.29 |
| 202 | Selfridge | 154 | 255 | 0.6 |
| 203 | Tolna | 152 | 202 | 0.75 |
| 204 | Epping | 148 | 396 | 0.37 |
| 205 | Litchville | 146 | 218 | 0.67 |
| 206 | Portal | 146 | 65 | 2.26 |
| 207 | Crary | 144 | 308 | 0.47 |
| 208 | Willow City | 144 | 152 | 0.95 |
| 209 | Carpio | 142 | 207 | 0.69 |
| 210 | Reeder | 142 | 224 | 0.63 |
| 211 | Columbus | 140 | 259 | 0.54 |
| 212 | Makoti | 140 | 513 | 0.27 |
| 213 | Pick City | 136 | 800 | 0.17 |
| 214 | Upham | 134 | 432 | 0.31 |
| 215 | Marmarth | 133 | 52 | 2.58 |
| 216 | Medora | 129 | 352 | 0.37 |
| 217 | Marion | 128 | 438 | 0.29 |
| 218 | Noonan | 128 | 153 | 0.84 |
| 219 | Bisbee | 126 | 183 | 0.69 |
| 220 | Crystal | 126 | 419 | 0.3 |
| 221 | Sheldon | 125 | 306 | 0.41 |
| 222 | Forest River | 121 | 242 | 0.5 |
| 223 | Almont | 119 | 413 | 0.29 |
| 224 | Ross | 119 | 48 | 2.49 |
| 225 | Bowdon | 118 | 539 | 0.22 |
| 226 | Hannaford | 118 | 470 | 0.25 |
| 227 | Adams | 117 | 120 | 0.97 |
| 228 | Mercer | 114 | 380 | 0.3 |
| 229 | Osnabrock | 114 | 514 | 0.22 |
| 230 | Starkweather | 113 | 869 | 0.13 |
| 231 | Deering | 112 | 1,514 | 0.07 |
| 232 | Buchanan | 108 | 404 | 0.27 |
| 233 | Oriska | 108 | 1,421 | 0.08 |
| 234 | Palermo | 106 | 47 | 2.25 |
| 235 | Dodge | 105 | 921 | 0.11 |
| 236 | Pisek | 105 | 225 | 0.47 |
| 237 | Newburg | 104 | 743 | 0.14 |
| 238 | Spiritwood Lake | 102 | 89 | 1.14 |
| 239 | Sykeston | 101 | 256 | 0.4 |
| 240 | Oberon | 99 | 283 | 0.35 |
| 241 | Galesburg | 98 | 469 | 0.21 |
| 242 | Rocklake | 98 | 594 | 0.17 |
| 243 | White Earth | 95 | 63 | 1.5 |
| 244 | Amenia | 94 | 686 | 0.14 |
| 245 | Glenfield | 94 | 63 | 1.49 |
| 246 | Cogswell | 93 | 282 | 0.33 |
| 247 | Dazey | 91 | 200 | 0.46 |
| 248 | Esmond | 91 | 240 | 0.38 |
| 249 | Alamo | 90 | 314 | 0.29 |
| 250 | Lankin | 90 | 164 | 0.55 |
| 251 | Sharon | 88 | 59 | 1.49 |
| 252 | Goodrich | 87 | 298 | 0.29 |
| 253 | Verona | 86 | 150 | 0.57 |
| 254 | Fingal | 84 | 112 | 0.75 |
| 255 | Karlsruhe | 84 | 202 | 0.42 |
| 256 | Tuttle | 83 | 335 | 0.25 |
| 257 | Montpelier | 82 | 536 | 0.15 |
| 258 | Menoken | 81 | 37 | 2.18 |
| 259 | Coleharbor | 80 | 240 | 0.33 |
| 260 | Ryder | 80 | 153 | 0.52 |
| 261 | Solen | 80 | 440 | 0.18 |
| 262 | Ardoch | 78 | 639 | 0.12 |
| 263 | Benedict | 78 | 382 | 0.2 |
| 264 | Dwight | 78 | 312 | 0.25 |
| 265 | Mountain | 78 | 207 | 0.38 |
| 266 | Maxbass | 77 | 472 | 0.16 |
| 267 | Fort Ransom | 75 | 244 | 0.31 |
| 268 | Butte | 74 | 149 | 0.5 |
| 269 | Cleveland | 74 | 349 | 0.21 |
| 270 | Gardner | 74 | 301 | 0.25 |
| 271 | Hurdsfield | 72 | 248 | 0.29 |
| 272 | Briarwood | 71 | 188 | 0.38 |
| 273 | Havana | 71 | 497 | 0.14 |
| 274 | Golva | 70 | 385 | 0.18 |
| 275 | Jud | 70 | 122 | 0.57 |
| 276 | Manning | 70 | 288 | 0.24 |
| 277 | Pettibone | 70 | 219 | 0.32 |
| 278 | Englevale | 69 | 232 | 0.3 |
| 279 | Zeeland | 69 | 46 | 1.49 |
| 280 | Martin | 68 | 764 | 0.09 |
| 281 | Sentinel Butte | 67 | 65 | 1.03 |
| 282 | Driscoll | 66 | 344 | 0.19 |
| 283 | Lehr | 66 | 114 | 0.58 |
| 284 | Dawson | 65 | 257 | 0.25 |
| 285 | Mantador | 65 | 474 | 0.14 |
| 286 | Pekin | 65 | 191 | 0.34 |
| 287 | Flaxton | 64 | 98 | 0.65 |
| 288 | Warwick | 64 | 226 | 0.28 |
| 289 | Douglas | 63 | 240 | 0.26 |
| 290 | Hague | 63 | 222 | 0.28 |
| 291 | Pingree | 61 | 316 | 0.19 |
| 292 | Balta | 59 | 260 | 0.23 |
| 293 | Bathgate | 58 | 237 | 0.24 |
| 294 | Grace City | 58 | 209 | 0.28 |
| 295 | Great Bend | 56 | 119 | 0.47 |
| 296 | Hamilton | 56 | 196 | 0.28 |
| 297 | Milton | 56 | 100 | 0.56 |
| 298 | Brocket | 54 | 130 | 0.41 |
| 299 | Nome | 54 | 71 | 0.76 |
| 300 | Donnybrook | 53 | 215 | 0.25 |
| 301 | Fullerton | 53 | 136 | 0.39 |
| 302 | McHenry | 53 | 78 | 0.68 |
City Maps of United States
County Map of U.S. 50 States