Baku is situated on the western coast of Caspian Sea on the southern side of the Abseron Peninsula. Baku is the capital and largest city of Azerbaijan, as well as the largest city on the Caspian Sea and of the Caucasus region.
Location Map of Baku, Azerbaijan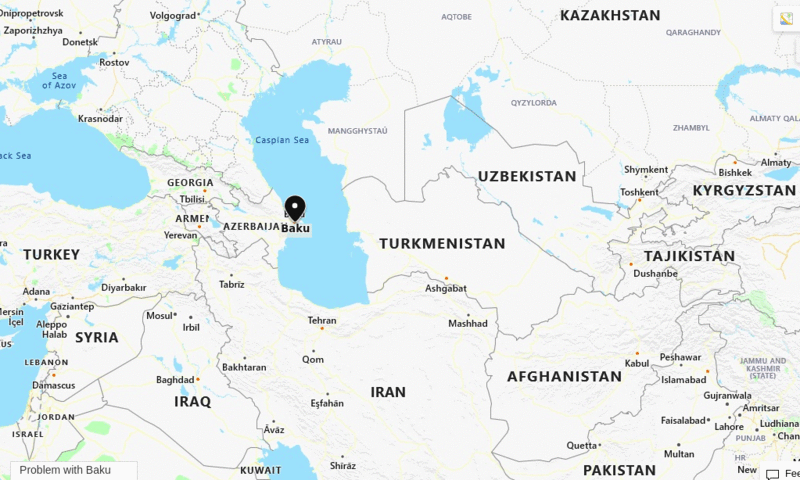 About Map: Map showing Where is Baku located in the Azerbaijan Map.
Where is Baku Located?
Baku, capital of Azerbaijan and also largest city on the Caspian Sea and of the Caucasus region. It lies on the western shore of the Caspian Sea and the southern side of the Abşeron Peninsula alongside the Bay of Baku. with an estimated population of 2,293,100 as of 2020. It covers an area of 830 sq mi (2,140 sq km).
Baku is located on the Caspian Sea's western coast. The largest city on the Caspian Sea and in the Caucasus is Baku, which is also the capital and biggest city of Azerbaijan. Baku is the largest city in the world that is below sea level and the lowest lying national capital in the world because it is 28 meters (92 feet) below sea level. The city of Baku is situated next to the Bay of Baku on the Absheron Peninsula's southern coast. In 2009, it was estimated that there were two million urban dwellers in Baku. The capital and only metropolis of Azerbaijan, Baku is home to around 25% of the nation's population. It is also known as the "Prime City" of Azerbaijan.
There are 48 townships and 12 administrative regions in Baku. These include the settlements on the islands of the Baku Archipelago and the town of Oil Rocks, which is situated in the Caspian Sea 60 kilometers (37 miles) from Baku and is built on stilts. In 2000, UNESCO listed the Shirvanshah's Palace, Maiden Tower, and Baku's Inner City as World Heritage Sites.
The town 'Baku' serves as Azerbaijan's industrial, cultural, and scientific hub. It is the headquarters of numerous large Azerbaijani organizations. Baku has developed into a significant location for global events in recent years. It held the 57th Eurovision Song Contest in 2012, the European Games in 2015, the 4th Islamic Solidarity Games, the European Grand Prix in 2016, the Azerbaijan Grand Prix in 2017, the final of the 2018–19 UEFA Europa League, and was one of the host cities for UEFA Euro 2020. Two million tonnes of general and dry bulk cargo can be handled annually at the Baku International Sea Trade Port.
Baku City Facts
| | |
| --- | --- |
| Country | Azerbaijan |
| Region | Absheron |
| Area | 2,140 km2 (830 sq mi) |
| Elevation | −28 m (−92 ft) |
| Population (2020) | 2,293,100 |
| Demonym(s) | Bakuvian (Bakılı) |
| Time zone | UTC+4 (AZT) |
| Postal code | AZ1000 |
| Area code(s) | 994 12 |
| Airport | Heydar Aliyev International Airport |
| Railway | Baku Railway Station |
| Climate | Temperate semi-arid climate |
| Largest industry | Petroleum |
| Website | www.baku-ih.gov.az/ |
Places to Visit in Baku
| | | | |
| --- | --- | --- | --- |
| Heydar Aliyev Centre | Atashgah Zoroastrian Fire | Museum of Modern Art | House of Government |
| Icherisheher | Dənizkənarı Milli Park | Martyrs' Alley | Palace of Happiness |
| Maiden Tower | Yanar Dag | Azerbaijan State Museum of Art | Baku Zoological Park |
| Palace of The Shirvanshahs | Fəvvarələr Meydanı | Baku Eye | Sabayil Castle |
| Flame Towers | The National Museum of History | Upland Park | Boyuk Zira Island |
| Azerbaijan Carpet Museum | Highland Park | Philarmonia Garden | Funicular Baku |
Location Map of Asian Countries