Doha is the capital and most populous city of Qatar.
Location Map of Doha in Qatar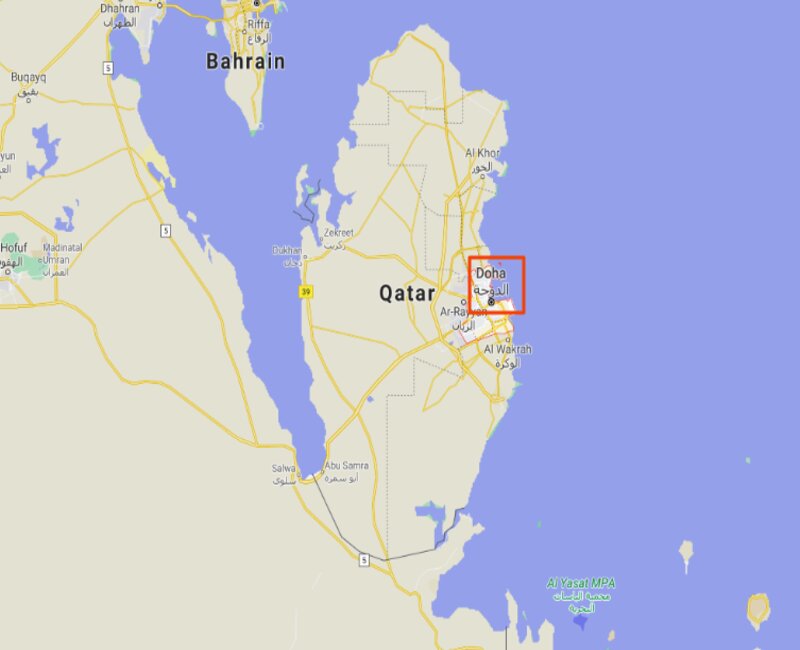 About Map: Map showing Where is Doha located in the Qatar Map.
Where is Doha Located?
Doha city is located on the east coast of the Qatar Peninsula in the Persian Gulf, South of Al Khor city and North of Al Wakrah city. Doha's latitude and longitude is 25.2854° N, 51.5310° E . Doha is the political and economic center of the country and also is one of the world's most important global cities, with an estimated population of 2,382,000 residents as of 2018, in an area of more than 132 square kilometres (51 square miles). Doha's economy is built primarily on the revenue the country has made from its oil and natural gas industries. Doha city is set to host the 2022 FIFA World Cup from 21 November to 18 December 2022.
Doha Facts & Geography
| | |
| --- | --- |
| Continent | Asia |
| Country | Qatar |
| Municipality | Ad-Dawhah |
| Coordinates | 25.2854° N, 51.5310° E |
| Established | 1825 |
| Area of Doha | 4,471 sq mi, 11,581 sq km |
| Population of Doha | 2,881,053 (UN Data) |
| Population Density | 18,000/sq km (47,000/sq mi) |
| Official Language | Arabic, Common languages (English) |
| Currency of Qatar | Riyal (QAR) |
| Doha Airports | Hamad International Airport(DOH), Doha International Airport(DIA) |
| Qatar Calling code | +974 |
| Doha Time Zone | AST (UTC+3) |
| Climate | Hot desert climate |
Places to Visit in Doha
Top Attractions in Doha are 1. Souq Waqif, 2. National Museum of Qatar, 3. Museum of Islamic Art, 4. The Pearl-Qatar, 5. Katara Cultural Village, 6. Villaggio, 7. The Corniche, 8. Qatar National Library, 9.Aspire Park, 10. State Grand Mosque
Location Map of Asian Countries