Moscow is the capital and most populous city of Russia. Moscow is situated on the Moskva River in the Central Russia. Moscow is the world's largest cities, the largest city by land area and the largest metropolitan area in Europe. The city covers an area of 2,511 square kilometres (970 sq mi).
Location Map of Moscow, Russia?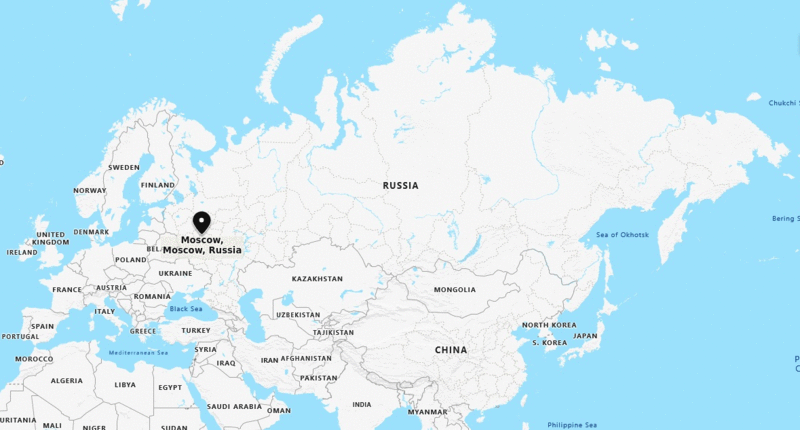 About Map: The map showing location map of Moscow in Russia.
Where is Moscow Located?
Moscow is located on the Moskva River in the western part of European Russia. Moscow is the capital city of Russian Federation. Moscow is most important political, economic, financial, scientific, religious, educational, cultural, and transportation center of Russia. A resident of Moscow is known as Moskvitch, and in English it is Muscovite.
Interestingly, as per the report published by Forbes Magazine 2011, Moscow has maximum number of billionaires (i.e. 79) in the world; it replaced the New York City. City has long history of serving as capital; its Kremlin is one of the popular sites which is also listed as World Heritage Site by UNESCO.
Surprisingly, Moscow has comprehensive transit network systems including four international airports, an extensive Moscow Metro, and nine railroad terminals. All these features collectively made Moscow as one of the most significant cities of the world.

Besides, Moscow is one of the most popular tourist's destinations of the world. It has various attractions that fascinate tourists to visit the place. Important of them are museums (most popular is the Tretyakov Gallery), art galleries, Moscow circus and various other landscapes.
Facts about Moscow City, Russia
| | |
| --- | --- |
| Continent | Europe |
| Country | Russia |
| Location | Western Russia |
| Federal district | Central |
| Established | 1147 |
| Administrative divisions | Moscow is divided into 12 administrative districts |
| Coordinates | 55°45′21″N 37°37′2″E |
| Area | 2,511 km2 (970 sq mi) |
| Elevation | 34 m (112 ft) |
| Population (2018) | 12,506,468 (1st) |
| Time zone | UTC+3 (MSK) |
| OKTMO ID | 45000000 |
| Area code(s) | 495, 498 and 499 |
| Country calling code | +7 (Russia) |
| International call prefix | "8~10" |
| Climate | Humid continental climate |
| Official language | Russian |
| High Speed Rails | Intercity-Express trains |
| Airport | Sheremetyevo International Airport(SVO), Domodedovo (DME), Vnukovo (VKO), Zhukovsky (ZIA), Ostafyevo (OSF) |
| Metero Rail | Moscow Metro |
| 9 Railway Terminal | Belorussky Rail Terminal, Kazansky Rail Terminal, Kiyevsky Rail Terminal, Kursky Rail Terminal, Leningradsky Rail Terminal, Paveletsky Rail Terminal, Rizhsky Rail Terminal, Savyolovsky Rail Terminal, Yaroslavsky Rail Terminal |
| Website | mos.ru |
Places to Visit in Moscow
| | | | |
| --- | --- | --- | --- |
| The Moscow Kremlin | The Pushkin State Museum of Fine Arts | Dormition Cathedral | Muzeon Park of Arts |
| Red Square | All-Russian Exhibition Center | Ivan the Great Bell-Tower | Apothecary Garden |
| St. Basil's Cathedral | Sparrow Hills | Poklonnaya Hill | Tomb of the Unknown Soldier |
| Lenin's Mausoleum at Red Square | Novodevichy Convent | Sokolniki Park | Izmailovsky Park |
| Bolshoi Theatre | Museum of Cosmonautics | Kuskovo Summer Palace | Nikulin Circus |
| Gorky Central Park of Culture and Leisure | Cathedral of Christ the Saviour | Moscow Zoo | Neskuchny Garden |
| Arbat Street | Tsaritsyno Museum-Reserve | Annunciation Cathedral | Museum-Estate Arkhangelskoye |
| State Historical Museum | Kolomenskoye | Izmailovo Kremlin | Hermitage Garden |
| The State Tretyakov Gallery | Ostankino Television Tower | Museum of the Great Patriotic War | Main Botanical Garden of the Russian Academy of Sciences |
| Armoury Chamber | Alexander Garden | Park Pobedy Na Poklonnoy Gore | Moskvarium |
Location Map of Russian Cities
Last Updated on: January 28, 2021