Greece is a country in southeastern Europe, with thousands of islands throughout the Aegean and Ionian seas. The Hellenic Republic, the official name of Greece. The country is bordered by Turkey, Albania, Bulgaria and North Macedonia. Greece shares maritime borders with Italy, Cyprus, Egypt and Libya. Athens its capital and largest city of Greece.
Location Map of Greece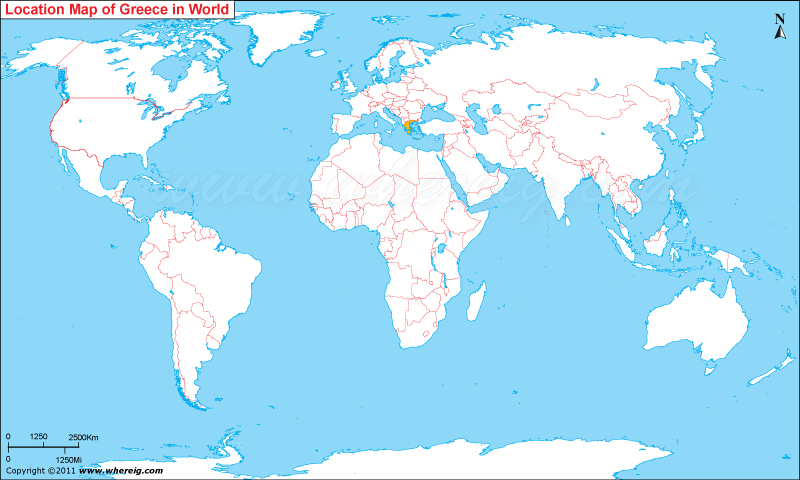 About Map: The map showing location of Greece in the World Map.
Where is Greece Located?
The given Greek location map shows that Greek is located in the south-eastern part of Europe continent. Greece map also shows that besides, the mainland, Greece is also constituted of hundreds of islands located into the Mediterranean Sea, Ionian Sea, and as well as in the Aegean Sea. However, the country also shares its international boundaries with Bulgaria, Republic of Macedonia, and Albania in the north and Turkey in the east. Furthermore, Aegean Sea lies in the east of the mainland, Mediterranean Sea in the south, and Ionian Sea in the west.
Interestingly, Greece is very ancient place where civilization had groomed; not only this, the modern democratic system had also been originated and developed in the Greece itself. Besides, other worldly recognized activities those had been developed here are Western philosophy, Western literature and historiography, political science, major scientific and mathematical principles, Western drama including both tragedy and comedy, and last but not the least i.e. the Olympic Games.
Because of much diversified topographic features and coastal location, Greece has three types of climate i.e. Mediterranean type - it is characterized with mild, wet winters and hot, dry summers. The regions comes under this category are the Cyclades, the Dodecanese, Crete, etc.
The Alpine type - it is found mostly in the mountainous areas of Northwestern Greece.
Temperate type - it is covers the northern part i.e. Thrace, Central Macedonia etc. And, it is featured as cold, damp winters and hot, dry summers.
The government type of Greece is a parliamentary republic. The President is use to be the head of the state. President of Greece is elected by the Parliament for a five-year term.
Moreover, the Greece tourism contributes maximum revenue to the country's annual GDP. This ancient region has plenty of places to visit. Some of them are declared as Natural Heritage site by the UNESCO. The capital city Athens is most important of them for the tourists of the world.
Facts about Greece
| | |
| --- | --- |
| Country | Greece |
| Continent | Europe |
| Where is Located | Greece is a country located in the Southern Europe |
| Coordinates | 39.0742° N, 21.8243° E |
| Capital | Athens |
| Greek Independence Declared | 25 March 1821 |
| Largest City | Athens |
| Neighboring Countries |  Albania, Bulgaria, Turkey, Macedonia |
| Administrative divisions | 13 regions |
| Area | 131,957 km2 (50,949 sq mi) (95th) |
| Population | 10,724,599[3] (85th) (2019 Est.) |
| Official Language | Greek (Official) |
| Religion | Eastern Orthodox Church) |
| Government | Unitary parliamentary republic |
| Legislature | Hellenic Parliament |
| Currency | Euro (€) (EUR) |
| ISO Alpha-2 Code | GR |
| ISO Alpha-3 Code | GRC |
| ISO Numeric Code | 300 |
| GDP | $310.743 billion(55th) (2019 Est.) |
| Calling code | +30 |
| Time Zone | EET (UTC+2), in Summer UTC+03:00 |
| Internet TLD | .gr |
Point of Interest in Greece
| | | | | |
| --- | --- | --- | --- | --- |
| Acropolis of Athens | Syntagma Square | Heraklion Archaeological | Vikos Gorge | White Mountains Protected Forest |
| Parthenon | National Archaeological | Colossus of Rhodes | Benaki Museum - Museum of Greek art, culture & history | Paraportiani Orthodox Church |
| Metéora Monasteries | Archaeological Site of Sounion | White Tower of Thessaloniki | Rocca a Mare Fortress | Navagio |
| Acropolis Museum, Athens | Melissani Cave | Monastery of Arkadi | Diktaion Andron | Acropolis of Rhodes |
| Delos | Mount Olympus | Akrotiri | Sarakiniko Beach | Fortress of Palamidi |
| Elafonisi | Old Temple of Athena | Odeon of Herodes Atticus | Preveli beach | Arch of Galerius |
| Mykonos | Corinth Canal | Old Venetian Fortress | Ancient Theatre of the Asklepieion at Epidaurus | Hadrian's Arch |
| Delphi Archaeological | Palace of the Grand Master of the Knights of Rhodes | Panathenaic Stadium | Bourtzi Castle | Museum of Cycladic Art |