As shown in the given Birmingham location map that Birmingham is located on the Birmingham Plateau in the centre of the West Midlands region of England. Birmingham is the second-largest city, urban area and metropolitan area in England.
Location Map of Birmingham, England (UK)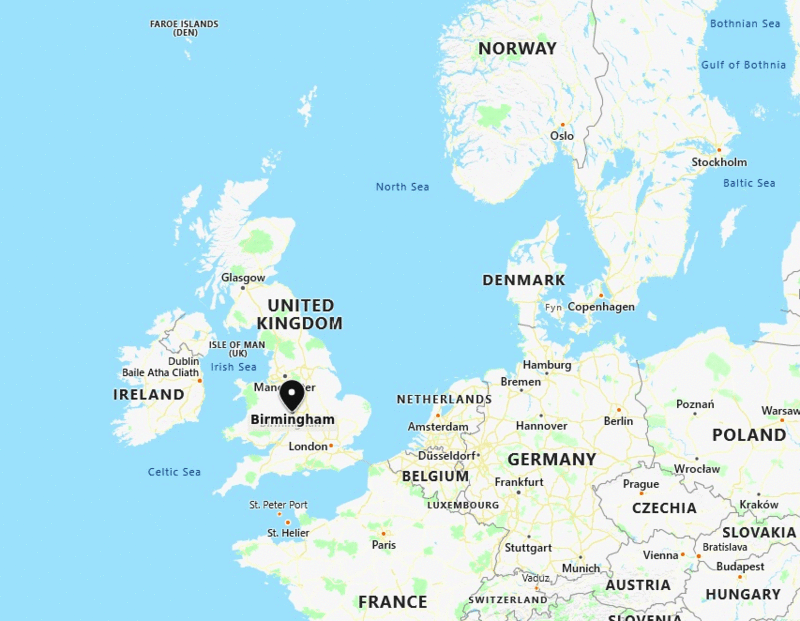 About Map:
The map showing location of Birmingham in the United Kingdom.
Where is Birmingham Located?
Birmingham is a city of a metropolitan borough in the West Midlands county of England. Birmingham's metropolitan area includes surrounding towns where people commute frequently. It's lies between latitudes 52.4862° North and longitude 1.8904° West. Birmingham City is one of the oldest regions that experienced the Industrial Revolution. Subsequently, the development of science and technology developed the city very fast. Hence, by 1790s, it was considered as the first manufacturing town in the world.
Birmingham Commonwealth Games 2022
Birmingham will host the 2022 Commonwealth Games, officially known as the XXII Commonwealth Games will be held in venues across Birmingham and the West Midlands from 28 July until 8 August 2022.
Get more information about Birmingham Commonwealth Games at official website https://www.birmingham2022.com
Birmingham City Facts
| | |
| --- | --- |
| Continent | Europe |
| Birmingham Location | West Midlands region of England |
| Birmingham Coordinates | 52.4862° N, 1.8904° W |
| Sovereign state | United Kingdom |
| Country | England |
| Region | West Midlands |
| Ceremonial county | West Midlands |
| Administrative HQ | The Council House, Victoria Squar |
| Population | 1,141,816 (2019) 2nd in England and UK |
| Population Density | 11,040/sq mi (4,262/ sq km) |
| Area | 103.4 sq mi (267.8 km2) |
| Postcode | B |
| Area Code(s) | 0121 |
| Time zone | UTC+0 (Greenwich Mean Time) |
| Area code(s) | 028 |
| Major Airport | Birmingham (BHX) |
| Birmingham Motorway | M5, M6, M40, and M42 motorways |
| Birmingham Railway Station | Birmingham New Street |
| Climate | Temperate Maritime |
| Elevation | 460 ft (140 m) |
| Universities in Birmingham | University of Birmingham, Aston University, Newman University, Birmingham City University, University College Birmingham and BPP University |
| Athletics Stadium | Alexander Stadium in Perry Park in Perry Barr, Birmingham |
| Website | www.birmingham.gov.uk |
Places to Visit in Birmingham City
| | | | |
| --- | --- | --- | --- |
| Cadbury World | Dudley Zoo and Castle. | Winterbourne House & Garden | Shri Venkateswara (Balaji) Temple, Tividale |
| National SEA LIFE Centre Birmingham | The Birmingham Botanical Gardens | Kingsbury Water Park | Birmingham City Council |
| Birmingham Museum & Art | Cannon Hill Park | The National Motorcycle Museum | Middleton Hall & Gardens |
| Thinktank Science Museum | Birmingham Wildlife Conservation Park | Walsall Arboretum | Brueton Park Lake |
| Black Country Living Museum | Sandwell Valley Country Park | Dudley Castle | Ikon Gallery |
| National Trust - Birmingham Back to Backs | LEGOLAND Discovery Centre & LEGO Store Birmingham | Victoria Square, Birmingham | |
Distance From Birmingham to Other UK Cities
| | | | |
| --- | --- | --- | --- |
| From Birmingham to City of London | 164 km (102 mi) | From Birmingham to Southend-on-Sea | 207 km (129 mi) |
| From Birmingham to Liverpool | 126 km (78 mi) | From Birmingham to Swindon | 103 km (64 mi) |
| From Birmingham to Leeds | 148 km (92 mi) | From Birmingham to Oxford | 92 km (57 mi) |
| From Birmingham to Bristol | 124 km (77 mi) | From Birmingham to Poole | 196 km (122 mi) |
| From Birmingham to Manchester | 113 km (70 mi) | From Birmingham to Huddersfield | 130 km (81 mi) |
| From Birmingham to Sheffield | 104 km (65 mi) | From Birmingham to York | 173 km (107 mi) |
| From Birmingham to Leicester | 55 km (34 mi) | From Birmingham to Ipswich | 213 km (132 mi) |
| From Birmingham to Islington | 162 km (101 mi) | From Birmingham to Blackpool | 167 km (104 mi) |
| From Birmingham to Coventry | 28 km (17 mi) | From Birmingham to Middlesbrough | 237 km (147 mi) |
| From Birmingham to Hull | 175 km (109 mi) | From Birmingham to Bolton | 128 km (80 mi) |
| From Birmingham to Bradford | 146 km (91 mi) | From Birmingham to Peterborough | 112 km (70 mi) |
| From Birmingham to Stoke-on-Trent | 61 km (38 mi) | From Birmingham to Stockport | 105 km (65 mi) |
| From Birmingham to Wolverhampton | 19 km (12 mi) | From Birmingham to Brighton | 220 km (137 mi) |
| From Birmingham to Plymouth | 281 km (175 mi) | From Birmingham to West Bromwich | 8 km (5 mi) |
| From Birmingham to Nottingham | 73 km (45 mi) | From Birmingham to Slough | 140 km (87 mi) |
| From Birmingham to Southampton | 179 km (111 mi) | From Birmingham to Gloucester | 72 km (45 mi) |
| From Birmingham to Reading | 131 km (81 mi) | From Birmingham to Cambridge | 141 km (88 mi) |
| From Birmingham to Derby | 57 km (35 mi) | From Birmingham to Watford | 138 km (86 mi) |
| From Birmingham to Dudley | 13 km (8 mi) | From Birmingham to Rotherham | 112 km (70 mi) |
| From Birmingham to Northampton | 74 km (46 mi) | From Birmingham to Exeter | 225 km (140 mi) |
| From Birmingham to Portsmouth | 195 km (121 mi) | From Birmingham to Eastbourne | 243 km (151 mi) |
| From Birmingham to Luton | 121 km (75 mi) | From Birmingham to Colchester | 202 km (126 mi) |
| From Birmingham to Newcastle upon Tyne | 278 km (173 mi) | From Birmingham to Dagenham | 175 km (109 mi) |
| From Birmingham to Preston | 153 km (95 mi) | From Birmingham to Crawley | 193 km (120 mi) |
| From Birmingham to Sutton | 172 km (107 mi) | From Birmingham to Sutton Coldfield | 11 km (7 mi) |
| From Birmingham to Milton Keynes | 92 km (57 mi) | From Birmingham to Blackburn | 146 km (91 mi) |
| From Birmingham to Sunderland | 272 km (169 mi) | From Birmingham to Oldham | 119 km (74 mi) |
| From Birmingham to Norwich | 217 km (135 mi) | From Birmingham to Woking | 159 km (99 mi) |
| From Birmingham to Walsall | 13 km (8 mi) | From Birmingham to Cheltenham | 66 km (41 mi) |
| From Birmingham to Bournemouth | 196 km (122 mi) | From Birmingham to Chelmsford | 182 km (113 mi) |
| From Birmingham to St Helens | 121 km (75 mi) | From Birmingham to Worcester | 39 km (24 mi) |
| From Birmingham to Rochdale | 127 km (79 mi) | Becontree toFromFrom From Birmingham | 173 km (107 mi) |
| From Birmingham to Gillingham | 207 km (129 mi) | From Birmingham to Worthing | 213 km (132 mi) |
Location Map of UK Cities