Bermuda is a British Overseas Territory in the North Atlantic Ocean, located in the North America Continent and lies between latitudes 32.20° North and longitudes 64.45° West.
Location Map of Spain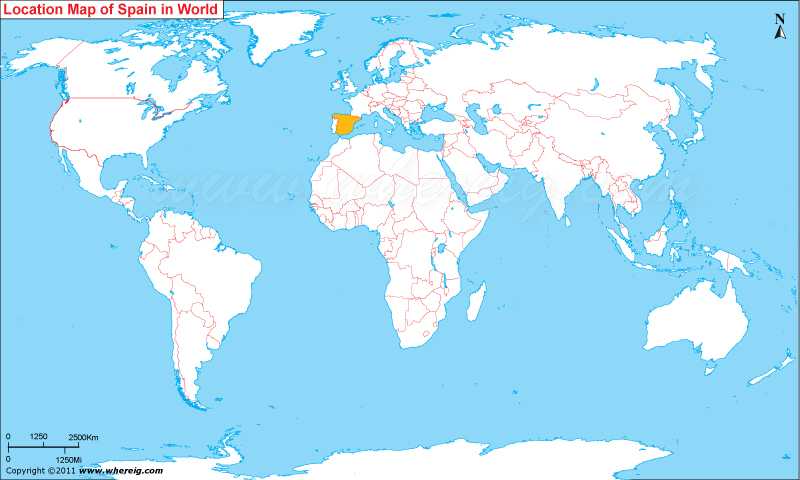 About Map:
Map showing Where is Spain located on the World Map.
Where is Spain Located?
The given Spain location map shows that Spain is located in the south-western part of Europe continent. Spain map also shows that Spain is located on the Iberian Peninsula. The country Spain shares its international boundaries with France and Andorra in the north and Portugal in the west. Besides, Bay of Biscay lies in the north, Atlantic Ocean in the north-west and south-west, Mediterranean Sea in the east, and in the south, Gibraltar Strait separates Spain from Africa continent. Largely, the country has three type of climate i.e. Mediterranean, Oceanic, and Semi-arid climate.
Apart from the mainland, Spanish Sovereignty also includes the Canary Islands in the Atlantic Ocean off the African coast, the Balearic Islands in the Mediterranean, and two autonomous cities in North Africa, Ceuta and Melilla, that border Morocco.
The capital city of Spain is Madrid. The government type of Spain is a parliamentary representative democratic constitutional monarchy featured with multi-party system. According to this system the Monarch is the Head of State and the President of the Government is the head of government. The executive power is vested in the government and the central legislative power is vested in the two chambers of parliament. Spain is a member of the United Nations, European Union, NATO, WTO, and OECD.
The economic system of Spain is one of the developed economies of the world. Above all, the Spain tourism is world-wide recognized. There are various landscapes along with beautifully developed cities. So tourism is in Spain is gradually growing.
Quick Facts About Spain
| | |
| --- | --- |
| Country | Spain |
| Continent | Europe |
| Where is Located | Spain is a country located in the Southern Europe. |
| Coordinates | 40.433333, -3.7 |
| Capital | Madrid |
| Largest City | Madrid |
| Neighboring Countries |  Andorra, France , Gibraltar, Portugal, Morocco  |
| Administrative divisions | 17 autonomous communities |
| Area | 505,992 sq km |
| Population (2020 census) | 47,450,795 (30th) |
| Official Language | Spanish |
| Currency | Euro (€) (EUR) |
| ISO Alpha-2 Code | ES |
| ISO Alpha-3 Code | ESP |
| ISO Numeric Code | 724 |
| GDP | US $1.349 trillion (2012) |
| Calling code | 34 |
| Time Zone | CET (UTC+1) |
| Internet TLD | .es |
Places to Visit in Spain
Some of the most beautiful cities in Spain are Granada, San Sebastian, Malaga, Barcelona, Toledo, Sevilla, Salamanca, Bilbao. See the most popular tourist places to visit in Spain.
| | | | |
| --- | --- | --- | --- |
| La Sagrada Familia | Mount Teide | Ciudad de las Artes y las Ciencias | Museo Nacional Centro de Arte Reina |
| Park Güell | Mercado de La Boqueria | Guggenheim Museum Bilbao | Playa del Inglés |
| Alhambra | Montjuïc | Timanfaya National Park | Caminito del Rey |
| Casa Milà | Plaza de España | Montserrat | Teide National Park |
| Casa Batlló | Picasso Museum | Ciutadella Park | Cap de Formentor |
| La Rambla, Barcelona | Alcazaba | Palau de la Música Catalana | Doñana National Park |
| Royal Alcázar of Seville | Mosque of Cordoba | Catedral-Basílica de Santa María de | Tibidabo Amusement Park |
| Plaza Mayor | Cathedral of Barcelona | Magic Fountain of Montjuïc | Torre del Oro |
| Museo Nacional del Prado | Catedral de Sevilla | Siam Park | Loro Park |
| Royal Palace of Madrid | Plaça de Catalunya | Camp Nou | Museu Nacional d'Art de Catalunya |
| El Retiro Park | La Giralda | PortAventura World | L'Oceanogràfic |
European Countries Location Maps
Location of European Cities
Updated On: November 27, 2022