As shown in the given Budapest location map that Hungary is located on the Danube River in central-north of Hungary. Budapest is the largest and capital city of Hungary.
Location Map of Budapest, Hungary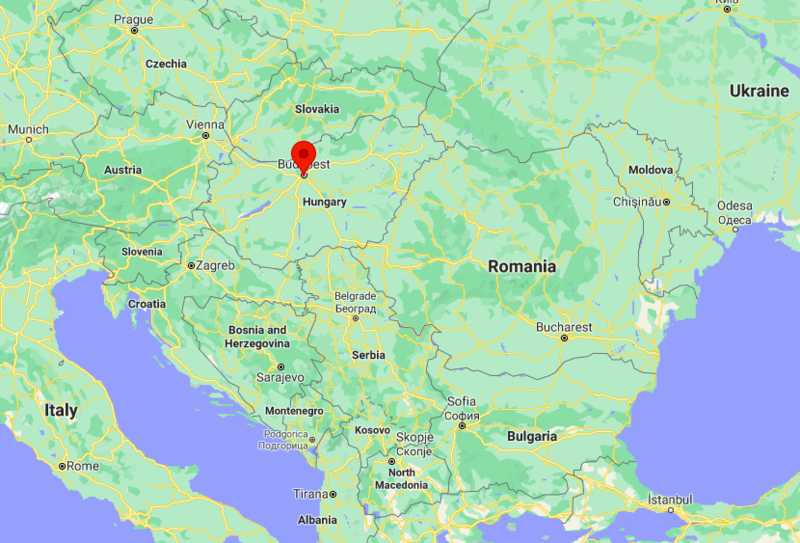 About Map: The map showing location of Budapest in Hungary.
Where is Budapest Located?
Budapest, capital and largest city of Hungary, and seat of Pest megye county. Budapest lies in Central Hungary, surrounded by settlements of the agglomeration in Pest county. By virtue of being a major city, Budapest is the center of political, industrial, commercial, transportation, and cultural activities. It has some of the significant sites those are listed as World Heritage Site including the Buda Castle Quarter, Heroes' Square, Andrássy Avenue, and the Millennium Underground Railway, the second oldest in the world. Some other surprising attractions are second largest synagogue, third largest Parliament building, about 80 geothermal springs, and the world's largest thermal water cave system.

Interestingly, it has several sobriquets more popular of them are Heart of Europe, Pearl of Danube, Capital City of Spas and Termal Baths, Capital city of Freedom, Capital City of Festivals, and City of the Lights.
Moreover, Budapest is the centre of services including financial counseling, money transactions, commercial, and estate services. In addition, Tourism is also worth to be mentioned that fascinates thousands of tourists every year.
| City | Distance | City | Distance |
| --- | --- | --- | --- |
| Distance from Budapest to Prague | 443 kilometres (275 mi) | Distance from Budapest to Moscow | 1,565 kilometres (972 mi) |
| Distance from Budapest to Milan | 788 kilometres (490 mi) | Distance from Budapest to Warsaw | 545 kilometres (339 mi) |
| Distance from Budapest to Athens | 1,122 kilometres (697 mi) | Distance from Budapest to Vienna | 216 kilometres (134 mi) |
Budapest City, Hungary - Informatiomn & Facts
Continent
Europe
Country
Hungary
Region
Central Hungary
Location
Budapest lies in Central Hungary
Coordinates:
47°29′33″N 19°03′05″E
Unification of Buda, Pest and Óbuda
17 November 1873
Boroughs
23 Districts
Government
Mayor - Council
Area Capital city
525.2 km2 (202.8 sq mi)
Urban Area
2,538 km2 (980 sq mi)
Metro Area
7,626 km2 (2,944 sq mi)
Elevation[3]
Highest (János Hill) 527 m (315 to 1,729 ft)
Lowest (Danube) 96 m
Population (2021)
1,771,865
• Density
3,388/km2 (8,770/sq mi)
Demonyms
Budapester, budapesti (Hungarian)
Time zone
UTC+1 (CET) | in Summer UTC+2 (CEST)
Postal code(s)
1011-1239
Area code
1
ISO 3166 code
HU-BU
NUTS code
HU101
Airport
Budapest Ferenc Liszt International Airport (BUD)
Website
https://www.budapestinfo.hu/en/
European Countries Location Maps
Location of European Cities