As shown in the given Copenhagen location map that Copenhagen is located on the eastern shore of the Zealand (Sjalland) Island and Amager Island. Copenhagen is the largest and capital city of Denmark.
Location Map of Copenhagen, Denmark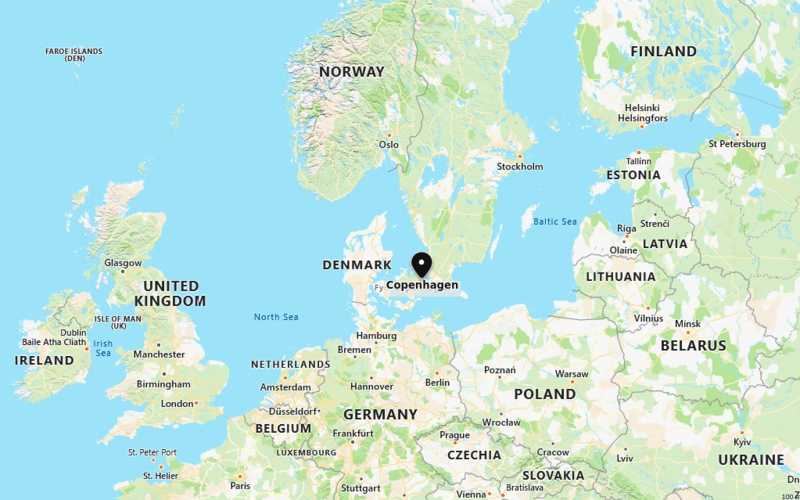 About Map: The map showing location of Copenhagen in Denmark.
Where is Copenhagen Located?
Copenhagen (Danish name is derived), the capital and largest city of Denmark, is located on the eastern coast of the island of Zealand, another part situated in the Amager Islands, and the strait of water that separates Denmark from Sweden, and that connects the North Sea with the Baltic Sea. Copenhagen City is composed of a major seaport and is the main commercial centre of the country. As of 1 January 2021, the city had a population of 794,128.
Copenhagen is quite old capital city of Denmark; it was incorporated as capital city of Denmark in 15th century. Since, then it has been experiencing growth of all sectors. Above all, the construction of Oresund Bridge in 2000, Copenhagen has become significant economic and commercial center in the region.
Moreover, because of all these reasons, Copenhagen has become the significant center of politics, business, media, Science, and culture. In the city, Life science, information technology, and shipping are areas of significant research and development that substantially contributes in the total revenue of the country.
Likewise, city has very much strategic location and well developed infrastructure with the largest airport in Scandinavia. It technological advancement has been done in such a way that it did not let to lose the natural beauty of the city. This is the reason that it is one of the most environmental friendly cities of the world. As per the report given by the research organization, Copenhagen has repeatedly been listed as one the cities with the best quality of life.
UEFA Euro 2020 - Copenhagen Stadium schedule, venues, teams
Saturday June 12 - Group B: Denmark vs Finland; Kick-off 5pm (Copenhagen)
Thursday June 17 - Group B: Denmark vs Belgium; Kick-off 5pm (Copenhagen)
Monday June 21 - Group B: Russia vs Denmark; Kick-off 8pm (Copenhagen)
Sunday June 27 - Game 5: Group D runners-up vs Group E runners-up; Kick-off 5pm (Copenhagen)
Copenhagen City, Denmark - Facts
Continent
Europe
Country
Denmark
Region
Capital
Municipalities
Copenhagen
Dragør
Frederiksberg
Tårnby
Coordinates:
55°40′34″N 12°34′06″E
Area
179.8 km2 (69.4 sq mi)
Highest elevation
91 m (299 ft)
Lowest elevation
1 m (3 ft)
Population (1 January 2021)
794,023
• Density
4,400/km2 (11,000/sq mi)
Demonym(s)
Copenhagener
Time zone
UTC+01:00 (CET), in Summer UTC+02:00 (CEST)
Postal code
1050-1778, 2100, 2150, 2200, 2300, 2400, 2450, 2500
Area code(s)
(+45) 3
Airport
Copenhagen Airport
Mtero
Copenhagen Metro
Climate
Oceanic climate
Website
international.kk.dk
Explore Location Map of Cities in Denmark