The given Malta location map shows that Malta is located in the southern Europe. Malta map also depicts that it is an archipelago which is located in the Mediterranean Sea.
Where is Malta Located in World Map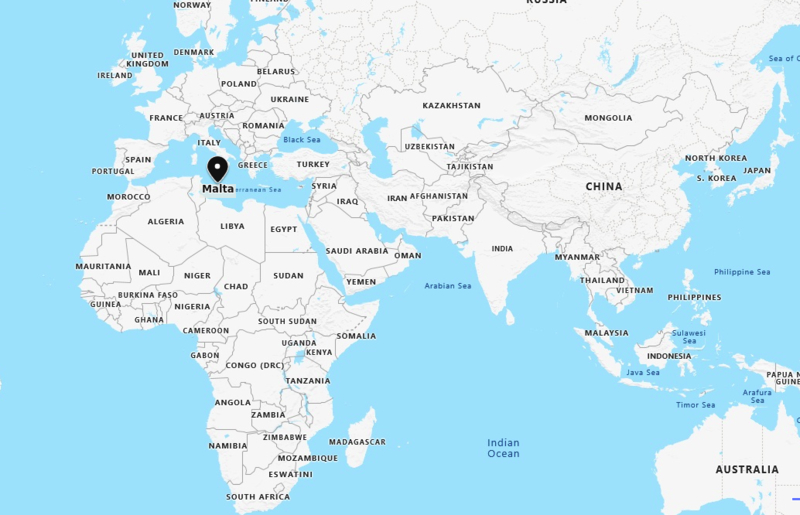 About Map: The map showing location of Malta in the World Map.
Where is Malta Located?
Malta officially known as the Republic of Malta, is a Southern European island country located in the central Mediterranean Sea. Malta is located about 288 km north from Tunisia and 93 km south of Italian island Sicily. With 300 sq. km area (approximately), Malta is one of the smallest and most densely populated island countries of the world. With a population of about 516,100, as of 2020 and an area of 316 km2 (122 sq mi) (185th rank in the World). Valletta is the capital city of the country. However, Birkirkara is the largest town in the region. Malta has two official languages i.e. Maltese and English whereby Maltese is being considered as the national language.
The government type of Malta is a republic featured with parliamentary system. However, this political system is inspired closely with the Westminster system. Besides, Malta is a member of the United Nations and also a member of the European Union.
Moreover, Malta is internationally known for its tourist resort along with numerous recreational areas and historical monuments. The small country has as much as nine UNESCO World Heritage Sites. Among them, most significant is the Megalithic Temples which are the oldest free-standing structures in the world. Thousands of tourists across the world use to visit the island for their holidays every year.
Information and Facts about Malta
| | |
| --- | --- |
| Country | Malta |
| Continent | Europe |
| Where is Located | Malta is a country located in the Southern Europe |
| Coordinates | 35°53'N14°30'E |
| Capital | Valletta |
| Largest City | Birkirkara |
| Neighboring Countries | Italy, Tunisia |
| Administrative divisions | 68 localities |
| Area | 316 km2 (122 sq mi) (185th) |
| Population | 514,564 (173rd) |
| Official Language | Koreantese, English |
| Currency | Euro (EUR) |
| ISO Alpha-2 Code | MT |
| ISO Alpha-3 Code | MLT |
| ISO Numeric Code | 470 |
| GDP | $11.260 billion 2012 estimate |
| Calling code | +356 |
| Time Zone | CET (UTC+1) In summer UTC+2 |
| Malta has three large natural harbours | Grand Harbour, Marsamxett Harbour, Marsaxlokk Harbour |
| Airport | Malta International Airport(IATA: MLA, ICAO: LMML) |
| Malta three largest islands | Malta, Gozo (Għawdex), and Comino (Kemmuna) -are inhabited. |
| Internet TLD | .mt |
European Countries Location Maps
Location of European Cities