Where is Kingston Upon Hull Located in the UK Map? Kingston Upon Hull is a city on the North side of the River Hull where it meets the Humber Estuary, 25 miles (40 km) from the North Sea
Location Map of Kingston upon Hull, England (UK)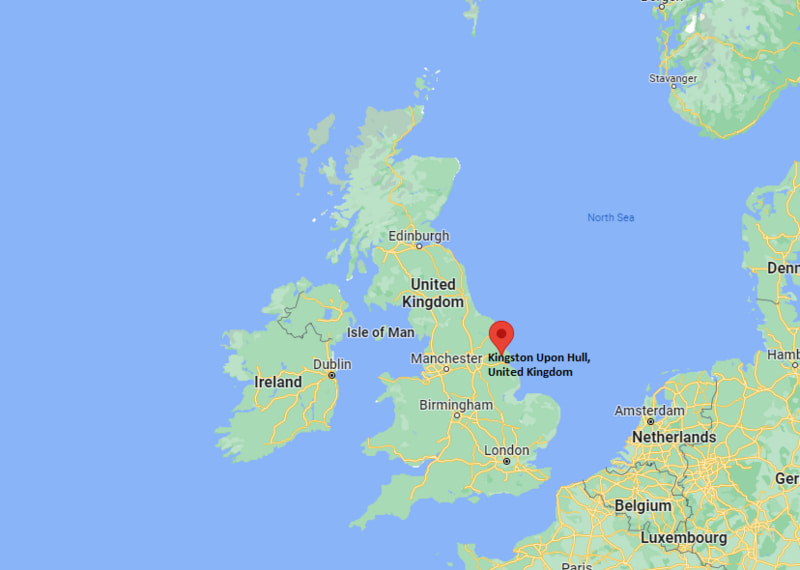 About Map:
The map showing location of Kingston upon Hull, England in the United Kingdom (UK).
Where is Kingston upon Hull Located?
Kingston Upon Hull is a city on the North side of the River Hull where it meets the Humber Estuary, 25 miles (40 km) from the North Sea It lies between latitudes 54.5742° N and longitudes 1.2350° W. Kingston Upon Hull has a total area of 71.5 square miles, with a population of 259778 people.
Kingston Upon Hull City Facts
| FACTS | Info |
| --- | --- |
| Sovereign State | United Kingdom |
| Country | England |
| Continent | Europe |
| Ceremonial county | East Riding of Yorkshire |
| Location | The North side of the River Hull where it meets the Humber Estuary |
| Coordinates | 53.7676° N, 0.3274° W |
| Area | 71.5 km2 |
| Population | 259,778 |
| Population Density | 3,633/km2 |
| Demonym(s) | Hullensian |
| Currency | Pound sterling (GBP) |
| Time zone | GMT (UTC 0) and BST (UTC+1) in summer |
| Country code | 44 |
| Postcode areas | HU |
| Postcode | HU1 |
| Dialling codes | 1482 |
| Climate | Temperate climate |
| Airport | |
| Nearest Airport | Humberside Airport (HUY / EGNJ) |
| Official Website | hull.gov.uk |
Location Map of UK Cities