The Taj Mahal is located on the right bank of the Yamuna River in a vast Mughal garden that encompasses nearly 17 hectares, in the Agra District in Uttar Pradesh.
Location Map of Taj Mahal, India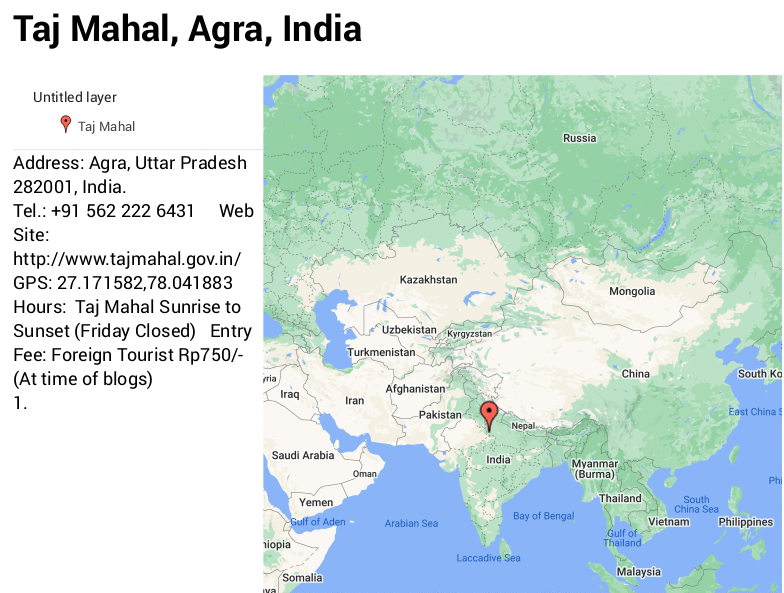 About Map - Map showing Location of Taj Mahal in the India Map.
Where Taj Mahal Located?
The Taj Mahal is located in the Agra District of Uttar Pradesh on the right bank of the Yamuna River in a huge Mughal garden that spans almost 17 hectares. Shah Jahan, the Mughal emperor, constructed it in honor of his wife Mumtaz Mahal. The construction of the Taj Mahal started in the year 1623 AD and completed in the year 1648 AD. The mosque, the guesthouse, and the main entrance on the south side of the Taj Mahal were all finished by 1648. Later the exterior courtyard and its cloisters had been constructed by the year 1653 AD. A number of historical and Quranic inscriptions in Arabic script have made it easier to determine the Taj Mahal's chronology. The Taj Mahal's chief architect was Ustad-Ahmad Lahori.
The Taj Mahal is an architectural style masterpiece in terms of conception, design, and implementation, and it has exceptional aesthetic qualities in terms of balance, symmetry, and the graceful blending of numerous parts. The Taj Mahal complex as a whole, including its main gate, guesthouse, mosque, and tombs, is kept intact. The Taj Mahal is regarded as the pinnacle of Indo-Islamic architecture. Its well-known architectural beauty features a rhythmic blend of solids and voids, concave and convex, and light shadow; such as arches and domes further strengthen the attractive aspect.
The monument is highlighted by the color combination of a rich green landscape, a crimson road, and a blue sky above it. It is a unique monument because of the marble relief work and the inlay with precious and semi-precious stones.
The horticultural planners and architects of Shah Jahan made some genuinely amazing innovations, which give Taj Mahal its uniqueness. One illustration of brilliant planning is the positioning of the tomb at one end of the quadripartite garden rather than in the exact center, which provided the monument's overall appearance rich depth and perspective in the distance.
In 1983, the Taj Mahal was declared a UNESCO World Heritage Site in recognition of its status as "the jewel of Muslim art in India and one of the universally admired masterpieces of the world's heritage".
Taj Mahal Facts & Information
The Taj Mahal was designated as a UNESCO World Heritage Site in 1983.
Address
Taj Road, Agra, Uttar Pradesh 282001, India
Coordinates
27°10′30″N 78°02′31″E
Title
New 7 Wonders of the World
Designate
UNESCO World Heritage Site
Area
17-hectare (42-acre)
Height
73 m (240 ft)
Built
1632-53
Built for
Mumtaz Mahal
Construction started
1631
Built
1632-53
Built for
Mumtaz Mahal
Architects
Ustad Ahmad Lahouri, Ustad Isa
Visitors
7-8 million in 2014
Entry Time
06:00 to 19:00 weekdays expect Friday
Closed
Taj Mahal is closed on every Friday.
Entry Tickets
Indian - INR 50/-
FOREIGNER/NRI - 1100/-
SAARC/BIMSTEC - 540/-
No entry fee for children below 15 years (both Indian & Foreigner)
Tourist must carry
Identity Proof issued by Govt. Authorities.
How to Reach Taj Mahal in India
By Air - Pandit Deen Dayal Upadhyaya Airport is situated 5 km away from Agra city
By Train - Agra Cantt Railway Station
Website
www.tajmahal.gov.in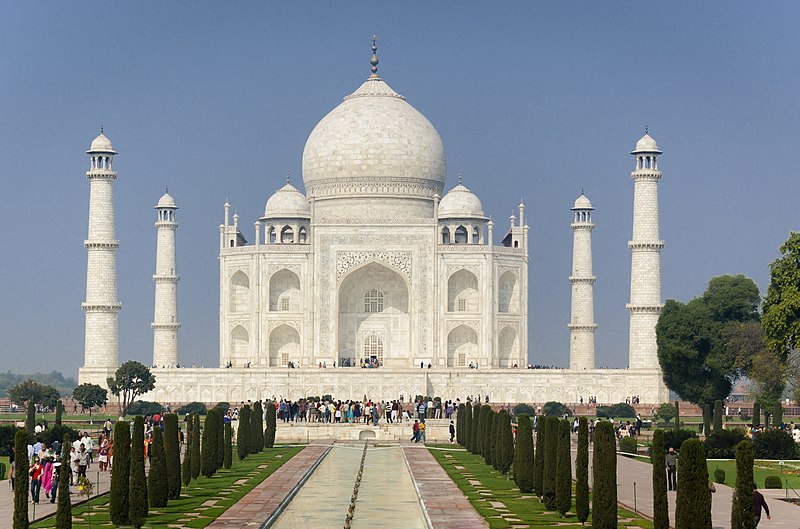 World Travel Destinations